Chemin de Saint Jacques (The Chemin)
34 days / Self-guided walking
Le Puy to St Jean Pied de Port
Chemin de Saint Jacques (The Chemin)
Thought of as the French section of the Camino de Santiago, this 740-kilometre trail takes pilgrims from the historic town of Le-Puy-en-Velay to St Jean Pied de Port, a small town synonymous with the Camino at the foot of the mighty Pyrenees.
DURATION/LENGTH
34 days/740 kms
START/END POINT
Le Puy to St Jean Pied de Port
PRICE P/P TWIN SHARE
From EURO 3,650 / AUD 5,880
Make Enquiry
SAVE/PRINT ITINERARY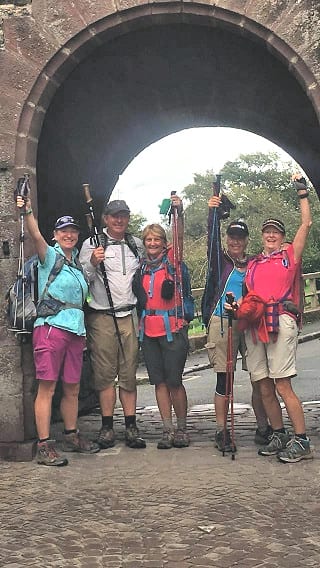 It sometimes feels like France exists to be walked through. There's the world-class wine; the decadent food; rustic villages serving piping-hot pastries. The Chemin de Saint Jacques takes in some of the most beautiful countryside in the country as well as years of medieval history, brought to you by the friendly faces of countless generous hosts along the way. Delivering you to historic places like Le Puy, Condom and Cahors, the Chemin may be quieter than Spain's Camino Frances, but that's in no way a reflection of the experience. If you're after relaxed walking amid superb landscapes with unforgettable food and wine along the way, a walk through France should be at the top of your list.
Day 1 | Arrive in Le Puy-en-Velay
Nestled between the Auvergne volcanoes and the Rhone Alpes valley, Le Puy is an old city with fantastic views of the surrounding mountains. It's an absolute delight arriving in this wonderful French village, which is known for its green lentils and as a gateway to the Camino de Santiago. The Notre Dame Cathedral is a 12th-century marvel and where you'll begin the Chemin de Saint Jacques de Compostela tomorrow morning.
Day 2 | Le Puy-en-Velay – Saint-Privat-d'Allier | 24 km / 5–6 hours
Your journey along the Chemin de Saint Jacques begins by the cathedral and takes you through the stunning mountains of the Velay massif. Saint-Private-d'Allier is a tiny, picturesque village overlooking the exceptional Allier Gorges, located in the south of Auvergne, and is the perfect place to spend your first evening enjoying a delicious evening meal, some French wine and a good night's rest after a tiring yet thrilling day.
Day 3 | Saint-Privat-d'Allier – Saugues | 20 km / 4–5 hours
A challenging walk awaits today but the rewards are well worth the effort, with wonderful views, picturesque villages and rural communities dotted along the way before arriving in Sauges. At the entrance to the town, whose historical centre was mostly destroyed by a fire in 1788, pilgrims will be greeted by an impressive wood carving of the beast of Gevaudan, a wolf-dog crossbreed that terrorised the region in the 18th century. There are thought to have been some 200 attacks, half of which were fatal, between 1764 and 1767 before the beast was finally killed.
Day 4 | Saugues – Les Faux | 26 km / 7 hours
Continue along the path through the farming area of Le Sauvage, an area that dates back to the time of the Templars. There are plenty of spots to stop for a picnic, as well as a number of bars and cafes serving food and coffee, before arriving in the small village of Les Faux.
Day 5 | Les Faux – Aumont-Aubrac | 21 km / 5 hours
Depart Les Faux in the morning and make your way – at your own pace – to the town of Aumont-Aubrac, which has always had a strong affiliation with the Camino de Santiago. Be sure to try 'aligot', a delicious local dish consisting of melted cheese blended with mashed potatoes and garlic. It's phenomenal stuff and given all the walking you're doing, there's no need to feel guilty about reaching for a second – or third – helping.Day 6 | Aumont-Aubrac – Nasbinals | 26 km / 7 hours
With wide pastures and narrow paths flanked by stone walls, the Aubrac plateau is a truly lovely place to walk. You'll no doubt see the local Aubrac cattle out in the fields, as well as the beautiful granite fountain in the village of Rieutort, with plenty of sleepy villages and remote farmhouses dotting the landscape throughout the day. This region is known for its knife industry, with around 30 local craftsmen employed in making the Laguiole knife in nearby Laguiole. After arriving in Nasbinals, it's well worth taking some time to visit the 11th-century Romanesque church, which was built in the shape of a Latin cross.
Day 7 | Nasbinals – St-Chely | 17 km / 4 hours
Today's entire stretch of walking is listed as a UNESCO World Heritage Site as the Camino ascends to one of its highest points before descending into the historic hamlet of Saint-Chely d'Aubrac. This pretty little town is accessed via the World Heritage-listed Pilgrim Bridge, on which the cross of Saint-Chely sits, and has a lovely church that's worth visiting too. The landscapes today are quite beautiful, with wide open pastures, quiet rural lanes and rolling green hills that never seem to end.
Day 8 | St-Chely – Saint-Come-d'Olt | 16 km / 3 hours
Spend the day walking in and out of beautiful beech and chestnut forests en route to the medieval village of Saint-Come-d'Olt, described as being one of the nicest villages in all of France thanks to its historic old quarter and an impressive church with a unique twisted spire. The village is reminiscent of a fairy tale, and the magic of the Camino de Santiago flows up and down its cobbled streets.
Day 9 | Saint-Come-d'Olt – Espalion | 8 km / 2–3 hours
Enjoy a shorter day and a leisurely stroll as you descend from the Aubrac plateau to the attractive village of Espalion, set on the banks of the Lot River. After wandering over the World Heritage-listed bridge, you may wish to explore the markets, enjoy a meal at one of the  world-class restaurants, visit the church or the old palace, or simply stroll around the village and soak up the provincial atmosphere.
Day 10 | Espalion – Golinhac | 27 km / 6–7 hours
Highlights today include the walk up Mount Rouergate, from where you'll enjoy stunning views of the Lot Valley, and the beautiful church at Bessuejouls, not to mention the impressive castle that watches over the medieval village of Estaing. After walking alongside the Lot River, you'll eventually reach Golinhac, your destination for the evening. This appealing village has an abundance of rural charm and there are plenty of good vantage points to catch the evening's sunset.
Day 11 | Golinhac – Conques | 21 km / 5 hours
Walk through peaceful woodland countryside to arrive in Conques, an incredible town that has been welcoming pilgrims for centuries. The Abbey Church of Sainte-Foy is a jaw-dropping architectural marvel and contains a number of treasured relics including a jewel-encrusted letter 'A', said to have been gifted by Charlemagne himself, as well as the arm of Saint George the Dragon Slayer. There's also the Reliquary of Sainte Foy, a wooden statute covered in gold and gems that has a piece of Saint Foy's skull embedded in its bust. Conques is undoubtedly one of the highlights of the entire trail.
Day 12 | Conques – Decazeville | 20 km / 5 hours
Cross the World Heritage-listed bridge over the River Dourdou as you depart Conques and climb to the Chapel of Sainte-Foy. From here, you'll pass through forests, lush green fields, the village of Noailhac and the Chapel of Sainte-Roch before arriving in Decazeville, a town created during the Industrial Revolution to exploit local coal reserves. Despite its industrial history, Decazeville is still a lovely little town nestled between rolling green hills.
Day 13 | Decazeville – Figeac | 33 km / 7–8 hours
Start the day with fine views back towards Decazeville as you continue along the Chemin de Saint Jacques towards the Spanish border. As you reach Figeac, you'll cross from the Aveyron region into Le Lot, again walking through farmlands and fields and along quiet rural roads. Figeac is said to have been founded in 753 by Pepin the Short, who saw two doves form a cross in the sky and decided to build a monastery to honour God. The town of Figeac popped up around the site of the monastery and has hosted pilgrims ever since.
Day 14 | Figeac – Cajarc | 31 km / 7–8 hours
Depart Figeac and tackle an ascent to a high plateau offering up fantastic views of the surrounding landscapes. As you walk to Cajarc, a lovely village on the banks of the Lot River, you'll pass many 'caselle', which are stone shelters for shepherds. They're great spots to take a break and relax throughout the day. Cajarc has been inhabited since the Roman period and its town centre is a joy to stroll through at the end of a long day's walk.
Day 15 | Cajarc – Varaire | 19 km / 4 hours
Today's walk takes you through world-renowned truffle territory. The locals use pigs or trained truffle dogs to seek out the incredibly expensive – and tasty – black truffles, which you may be able to sample after arriving in Varaire.
Day 16 | Varaire – Cahors | 32 km / 7 hours | Optional rest day in Cahors
Follow the Camino as you pass more of the stone shelters typical of the region before stumbling upon fantastic views of the medieval town of Cahors. This provincial city of approximately 20,000 people is an absolute joy to explore and we highly recommend taking a rest day here to explore. Old Cahors and St Stephen's Cathedral are wonderful, as is the Pont Valentre bridge, which has become a symbol of the city.
When it comes to food, you cannot leave without trying the Croque Quercynois, which is a local version of the French favourite, with delicious local goat's cheese lawyered with smoked ham. Add a glass of the black wine of Cahors – a chilled malbec combined with splashes of a local walnut liqueur and crème de cassis – and you've got yourself a meal fit for a king or queen, let alone a humble pilgrim.
Day 17 | Cahors – Montcuq | 32 km / 8 hours
After what has hopefully been a relaxing break in Cahors, the morning presents quite a decent ascent out of town, beginning with the steps of the 14th-century bridge spanning the Lot River. From here, you'll pass the villages of Labastide-Marnhac, Hospitalet and Lascabanes, the last of which has a lovely chapel where you can enjoy a break. Lascabanes once hosted a pilgrim's hospital in the 15th century and the chapel still offers a pilgrim blessing every evening. Your final destination, Montcuq, is a hilltop town with a wonderful medieval feel to it – a great spot to put your feet up after a long day's walk.
Day 18 | Montcuq – Lauzerte | 14 km / 4 hours
An undulating day today, characterised by more farmland than woodland as on previous sections. That said, it's a shorter day and you'll end up in the beautiful village of Lauzerte, which has quite a fascinating – and sometimes violent – history dating back to the Romans, including the occupation by the English during the Hundred Years' War. These days, the small town has a thriving arts community, not to mention some wonderful architecture.
Day 19 | Lauzerte – Moissac | 27 km / 6 hours
Despite the distance, the walking today is fairly easy and enjoyable. We recommend an early start so you can spend as much time as possible enjoying the quaint village of Moissac. The impressive Saint Pierre Abbey, which was founded in the 7th century, is well worth a visit once you've settled in.
Day 20 | Moissac – Auvillar | 21 km / 5 hours
Auvillar is regularly referenced as one of France's most beautiful villages and the path from Moissac isn't too bad either. You'll follow the Garonne River to tiny Boudou, providing stunning views of the valley for most of the day, before walking alongside the canal to climb up towards Auvillar. Set on a rocky outcrop overlooking the Garonne River, Auvillar's views are expansive during fine weather, while the main town square is oozing with provincial charm.
Day 21 | Auvillar – Lectoure | 32 km / 8 hours
Another long day but one featuring acres of sunflowers along the way, which are sure to put a smile on your face. You'll pass through the town of Miradoux, which is worth stopping in to visit its Gothic church. Lectoure – your final destination today – is a historic walled town with an impressive cathedral. It has a rich history and was once the main residence of the Counts of Armagnac, with a former bishop's palace and the ancient Fountain of Diana. These days, it is the perfect place to spend an evening on the Chemin de Saint Jacques, offering expansive views of both the Gers Valley and the Pyrenees mountain range.
Day 22 | Lectoure – La Romieu | 19 km / 5 hours
The first local you'll meet in La Romieu is the World Heritage-listed Collegiate Church of St Peter La Romieu, which will wave you in from a distance. The word 'Romieu' is said to come from a phrase meaning 'pilgrim of Rome', thanks to two German monks who, in the late 11th century, decided to create a refuge for wanderers here. The village grew in importance as the years went on, but is now mostly frequented by pilgrims on the road to Santiago.
Day 23 | La Romieu – Condom | 14 km | Optional rest day in Condom
An easy walk today will bring you across mainly flat terrain, along crop-lined paths, most of the way to Condom. Built on the banks of the River Baise, Condom is the capital of Armagnac and a charming town complete with impressive 18th-century mansions and the 16th-century Cathedral of St Peter. We definitely recommend taking an extra day here to soak up the atmosphere. The Armagnac Museum is a must-see for lovers of brandy, while the pommes aligot – a classic French dish – is the perfect refuelling food, complete with mashed potatoes, garlic and melted cheese. If you've already had your fill of pommes aligot (which is impossible, we say), then a flaky croissant and hot café au lait should do the trick too.
Day 24 | Condom – Montreal | 16 km / 4 hours
The fantastic scenery as you head into Armagnac country is matched by the aesthetic splendour of Montreal-du-Gers, your destination for the evening. Some of France's largest vineyards are located around the town, with some 4500 hectares of wine-making fruit, including the region's famous brandy. The food, too, is phenomenal, with duck, confit and foie gras sure to tickle the tastebuds of those pilgrims who consider themselves to be foodies. The Villa of Seviac, a restored 4th-century luxury complex, is worth visiting to see its famous set of mosaics, the largest in all of France.
Day 25 | Montreal – Eauze | 17 km / 4 hours
Continue walking through wine country, which is always a pleasant experience, until you reach the hamlet of Lamothe. From here, you'll enjoy some really stunning scenery and fine views as you descend to the valley floor, before a steady, uphill trail takes you into the village of Eauze.
Day 26 | Eauze – Nogaro | 21 km / 5 hours
Another steady, relatively easy path takes you through green countryside surrounded by endless beauty. Nogaro is home to another large brandy distillery, so don't hesitate to enjoy a glass or two after dinner.
Day 27 | Nogaro – Aire-sur-l'Adour | 28 km / 6 hours
The vineyards begin to dwindle today but the pine trees are a welcome replacement, as are the quaint villages dotted along the route. There will be some road walking, though you're more likely to encounter a tractor than any traffic. Aire-sur-l'Adour is set on the banks of the Adour and has a lovely church dedicated to Saint Quiteria, who is said to have been beheaded here in the 2nd century.
Day 28 | Aire-sur-l'Adour – Arzacq-Arraziguet | 34 km / 8 hours
Today's long walk is demanding but manageable and follows the path along flat terrain for most of the day. A highlight for pilgrims is the stained-glass window featuring Saint James at the parish church of Saint Pierre.
Day 29 | Arzacq-Arraziguet – Arthez-de-Bearn | 30 km / 7 hours
The path is characterised by rolling hills and quaint villages throughout the day with stops at Louvigny and Larreule. The latter houses a 10th-century Benedictine monastery, which was a very important stop for pilgrims in the Middle Ages. Continue from here to Arthez-de-Bearn, which is a nice surprise at the end of the day and has some distinctive Basque architecture to enjoy.
Day 30 | Arthez-de-Bearn – Navarrenx | 32 km / 7 hours
Navarrenx is a special town and one of the oldest cities in the province. Its history dates back to the first century, while the town is recorded in a medieval manuscript from the 11th century under the name of 'Sponda-Navarrensis', which means the 'edge of the Navarre'. The walking today features beautiful scenery all the way, with some small hills, tree-lined roads and, eventually, the blackened protective walls of Navarrenx.
Day 31 | Navarrenx – Aroue-Ithorots-Olhaiby | 19 km / 4 hours
Today you'll officially enter French Basque country and be rewarded with some lovely woodland walking and quiet, peaceful countryside. It's worth hunting down some local delicacies now you're in the Basque region. Keep an eye out for dishes featuring tolosa black beans, paprikas from LEkeitio, Idiazabal sheep's cheese, txakoli (sparkling white wine) and Basque cider, not to mention the ubiquitous 'pintxos', the Basque equivalent of Spanish tapas.
Day 32 | Aroue-Ithorots-Olhaiby – Larceveau | 28 km / 6–7 hours
An exciting moment today as you experience your first real views of the majestic Pyrenees mountains. It's a long walk, but the perfect day to reflect on your journey through France so far and the joys of the Chemin de Saint Jacques.
Day 33 | Larceveaux – St Jean Pied de Port | 21 km / 5 hours
Your final day along the Chemin de Saint Jacques is one you'll never forget. It's a testament to the idea that all good things – no matter how long they last – must eventually come to an end. Walking into St Jean Pied de Port, a beautiful village surrounded by the Pyrenees' peaks, comes with an overwhelming sense of achievement, and you'll meet many pilgrims who are just preparing to take their very first steps into the mountains on their way to Santiago de Compostela. There's a special energy in town – a feeling of happiness, of anticipation, wrapped up in excitement and emotion. It really is the perfect place to finish your journey.
Day 34 | Finish in St Jean Pied de Port
Your journey along the Chemin de Saint Jacques comes to an end this morning after breakfast. Although there are plenty more steps to take to Santiago de Compostela!
Visit www.wanderingtheworld.com.au for more information.
Inclusions
33 nights accommodation, all carefully selected to enhance your Camino experience
Private en-suite facilities
Daily luggage transfers from hotel to hotel (1 x 13kg bag unless indicated otherwise)
Daily breakfast
Information packs with route maps and instructions on how to locate hotels
Luggage identification tags
Pilgrim's passport
Emergency contact details and 24/7 local on-the-ground support
Pre-departure and ongoing support from Australian office
Optional Inclusions
Three-course dinners with local wine
Suggested rest days as outlined in itinerary or if required
Upgraded accommodation including paradors, country properties and premium/high-end styles
Private vehicle transfers to the trip's starting point
Single supplement for your own room
Additional night's accommodation before or after trip (please advise at time of booking)
Not Included
Flights
Travel to trip's starting point
Transfers not already outlined in detailed trip itinerary
Lunches
Accommodation
We know from personal experience that a good night's rest can make or break a trip, which is why we carefully hand-select all our accommodation. We ensure that our knowledge and firsthand experience of the best places to stay is passed on to all our walkers.
Your accommodation along the Camino is booked in advance, on a twin-share basis with private facilities, and chosen to make your pilgrimage experience as rewarding as possible. You may be staying in a refurbished farmhouse, some of which have been in the same family for centuries, or perhaps a boutique hotel with a chef who would not be out of place in a Michelin-starred restaurant. There are unique properties scattered throughout the different routes including converted monasteries, lighthouses and tiny B&Bs with the most generous hosts you could possibly imagine. Best of all, you'll always have private en-suite facilities. Wherever you end up, you'll be well looked after, warm and comfortable and, most importantly, ready to tackle the next day's walk.
Single supplements are also available so you can enjoy your room with private en-suite. This supplement will apply if you are travelling alone or if there is no gender-share option. You can request a shared room through Wandering the World at the time of booking, however this is not guaranteed.
There are opportunities to upgrade to more luxurious lodgings in many places along the Camino. These are perfect for celebrating special occasions and milestones, or even to enhance your entire journey. We can recommend some very special, unique places to indulge in the Camino hospitality in spectacular style, so please ask us about these options when booking.
Food & Dining
The local cuisine is a definite highlight of your walk. The Camino regions are famous for their culinary delights, and you'll end up exploring the destination using not only your feet, but also your taste buds.
Breakfast at your place of accommodation is usually continental style and may include cereals, yoghurt, bread, pastries, ham, tea, coffee and juices.
Lunch – at your own expense – will depend on where you are on your walk and what is available. It's often purchased at a local café or bar, with choices along the trail perhaps including Spanish omelette (tortilla Espanola), tuna empanadas, soups or sandwiches (boccadillo). Alternatively, you may wish to enjoy a picnic in a perfect spot along the path.
Evening meals are a hearty, three-course affair known as the 'pilgrims' menu'. These usually consist of a salad or soup to start, followed by a choice of a meat or pasta dish, then finishing with a dessert. This is always accompanied by a bottle of local wine, of course. On occasion, the owner of the accommodation may be in the kitchen preparing the house special, which will not disappoint.
Most evening meals are included on guided group trips, and for self-guided itineraries Wandering the World can include as many evening meals as you wish. We may strongly recommend this in some places because it's either been a long walking day or there are limited choices available in certain destinations. We can share our advice and talk to you about this at the time of booking. We can accommodate most dietary requirements, so please let us know in advance.
THE WALKING
Although this trip is escorted/hosted and you are part of a group, you are free to walk each day at your own pace and in your own time.
TRIP GRADE
Challenging – This itinerary is designed with more experienced walkers in mind. Averaging 20-25 kms per day, approximately 7-8 hours.  Longer pilgrimages will generally have some longer walks of 30km plus days as per the itinerary. Surfaces may be uneven at times with regular ascents and descents, and sometimes in more remote areas. A good base level of fitness and experience in walking is recommended.
LUGGAGE TRANSFERS
Wandering the World arranges a daily luggage transfer to maximise your comfort and enjoyment, so all you need to carry is a day pack. Luggage allowance is one bag per person of no more than 13kg.  Your luggage must be left in the reception of your hotel before breakfast (8 am) each day.
Please note:
It is essential to attach the bag tag provided to ensure your luggage is delivered to your next accommodation.
Only one bag will be moved each day and additional charges will apply if your bag is heavier than 13kg.
Should you require special arrangements for additional luggage transfers, these can be made ahead of time and must be paid as part of your final payment to Wandering the World.
GROUP SIZE
Wandering the World's guided groups have a maximum group size of 12 participants. This small group size means that we have the flexibility to stay in a wider range of accommodations, can dine together in the evenings, have the freedom to walk alone or together, and there are more opportunities to get to know your travelling companions.
TRANSFERS/TAXIS
If, for any reason, you wish to shorten your walking day, there are options along the Camino and in the villages to arrange a taxi.
On some itineraries, there are times when Wandering the World may arrange a transfer for you or can do so at your request. This might happen where small villages do not have accommodation with private facilities, for example, or when we want to take you to a special country property that we know you are going to love. In this case, Wandering the World will either arrange a transfer for you or suggest a taxi.
Transfers on the Camino are common in parts. A simple procedure is outlined in your trip notes explaining the details of your private transfer, the designated meeting point and the agreed transfer time.
WEATHER
The weather and climate on the Camino can vary from country to country, region to region and, of course, from day to day. Each season has its own benefits, with long, warm and sunny days in spring and early summer, while early spring and late autumn tend to enjoy cooler walking temperatures. Some sections may be too hot for walking mid-summer, while others are more likely to be wet at certain times. The experts at Wandering the World can discuss your preferences and guide you when you are planning your trip.
Once you've started your walk, the weather can play an important role in your overall enjoyment of the journey. Checking the forecast can be a great help when planning your days. If you do strike hotter weather, leaving early to avoid the warmest part of the day will make a huge difference.
24/7 SUPPORT & CARE
Your information pack will include details of local emergency contacts and international contacts. We have local, on-the-ground support to provide any assistance you may require and we'll also check-in with your hotel at the end of each day to ensure that you've arrived safely.
GETTING THERE / GETTING HOME – see below
This itinerary begins in Le-Puy-en-Velay and ends St Jean Pied de Port.
The closest airport to Le-Puy-en-Velay is Lyon Airport and there are many flights into Lyon from the UK and Europe.
There are bus, train & flight options for arriving and departing your walking commencement destination.
Train bookings are recommended.  Please note you can only book two months in advance of the date of travel.
Getting to Le-Puy-en-Velay
The closest international airport to Le-Puy-en-Velay is Lyon Airport, approximately 150km away. There are many flight options from the UK and Europe into Lyon. From Lyon you can take a train to Le-Puy-en-Velay (approximately 2.5 hours).  Train schedules and costs can be found on the   SNCF website.
Returning from St Jean Pied de Port
It is possible to take the train to all the recommended airports.
To Biarritz Airport you can take a train to Bayonne, then another train to Biarritz and from here a bus to the airport.
To Bordeaux Airport you can also take a train to Bayonne, then onto Bordeaux and a bus to the airport.
Train schedules and costs can be found on the SNCF website.
INSURANCE
Insurance is compulsory for everyone who travels with Wandering the World. The insurance policy must include cover against personal accident, medical expenses, emergency repatriation and personal liability. Wandering the World recommends insurance coverage for cancellation to be taken at the same time your deposit is paid, as no exception to the cancellation provisions can be made.
BOOKING AND TRAVEL TERMS AND CONDITIONS
Wandering the World's full booking terms and conditions are available upon request and will also accompany your initial invoice for deposit.
"An early church service to bless the pilgrim is the starting point for this picturesque walk to the base of the Pyrenees. You'll experience France in all its glory, from great wine to hearty food to delicious cheese. I don't think I'll ever get over the scrumptious meal cooked by Jean Pierre as his wife washed our clothes. The wines from his cellar, and the food from his kitchen, are served with a big smile and a look of such satisfaction, I'm so glad to have stayed for two nights. When it comes to the Chemin, the walking is some of the best I've encountered. There's so much time spent in fields and the countryside – it's simply superb".  – Glenyce, Founder of Wandering the World.