England : Coast to Coast Walk across England
19 days / Guided walking
St Bees to Robin Hood's Bay
Coast to Coast Walk across England
A classic long-distance walk that crosses the width of England, the Coast to Coast takes you through a real cross-section of England's finest landscapes, places celebrated for their unimaginable beauty.
DURATION/LENGTH
19 days/315 kms
DATES
June 18 & September 4, 2023
START/END POINT
St Bees to Robin Hood's Bay
PRICE P/P TWIN SHARE
From GBP 2,570
Make Enquiry
SAVE/PRINT ITINERARY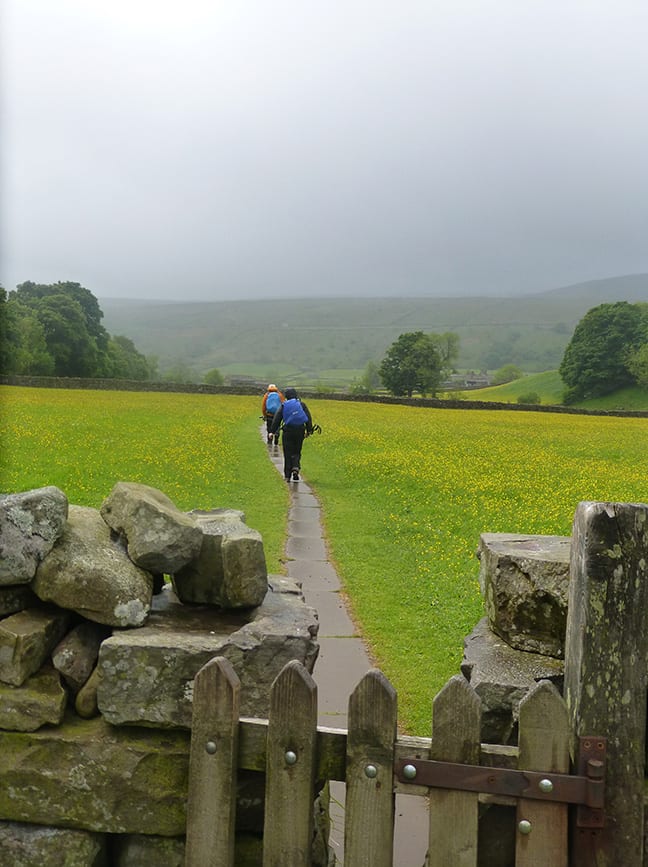 Beginning in St Bees and finishing in Robin Hood's Bay, this 315-kilometre trail traverses England from the Irish Sea in the west to the North Sea in the east. Between these two points you'll encounter the rugged mountains and beautiful lakes of the Lake District, the Yorkshire Dale's stunning valleys, and the windswept beaches on either side of the country.
The route also visits a number of picture-perfect villages that epitomise the nostalgia of old Britain. Think cosy pubs, roaring fires, tea shops and villages greens – not to mention some incredibly welcoming characters. While you're not putting your feet up and enjoying a hearty meal and real ale, you'll be walking a mixture of longer and shorter days through some truly memorable landscapes.
Day 1 | Arrive in St Bees
Your Coast to Coast walk begins in St Bees, a small village by the Irish Sea on England's western coast. It's a beautiful little village with a history dating back over a thousand years, as well as access to the World Heritage-listed English Lake District National Park, which is just a few kilometres to the east. After a satisfying feed of pub grub, enjoy a good night's rest in preparation for tomorrow's adventure.
Day 2 | St Bees – Ennerdale Bridge | 22.5 km
After a full English breakfast in the morning, your walk along the Coast to Coast track follows a footpath along the top of the towering sandstone cliffs at St Bees Head before heading east across farmland. Keep an eye out for horses, cows and birdlife as you follow the path. You'll enjoy 360-degre views from the summit of Dent Fell before descending to Ennerdale Bridge, a tiny village located right on the western edge of the stunning Lake District National Park.
Day 3 | Ennerdale Bridge – Rosthwaite | 23 km
Start the day with a lovely walk along the shores of Ennerdale Water, the most western of the Lake District's lakes. You'll follow the path through the forest to reach the remote Black Sail Youth Hostel, which is hidden away in one of the Lake District's most dramatic locations. With just 16 beds, it's accessible only on foot and surrounded by steep hills.  From here, you'll climb to Honister Pass at 580 metres before descending to the unbelievably picturesque valley of Borrowdale, considered by many people to be the most beautiful valley in all of England. Competition aside, there's one thing for certain – you won't be disappointed by the scenery.
Day 4 | Rosthwaite – Grasmere | 14.5 km
A shorter day gives you more time to soak up the immense beauty of the Lake District. Spend the day crossing the fells (hills) from Rosthwaite to Grasmere, a village of unparalleled charm right in the middle of the national park. This is where William Wordsworth once lived and taught and you can visit Dove Cottage – his home – which is now a museum dedicated to the Romantic poet. He was laid to rest in the lovely St Oswald's Church in 1850, four years before the world-famous Grasmere gingerbread was first made, and walkers can visit the store for a well-earned treat. It's also worth saving some room for a cuppa at Baldry's Tea Rooms, where the ultimate temptation is the luscious lemon meringue pie.
Day 5 | Grasmere – Patterdale | 14.5 km
Though today's walk is once again a shorter one, there's a lot of climbing to do out of Grasmere. The Coast to Coast route takes you over the Helvellyn range, either through the pass at Grisedale Tarn (610 m) or via the summit of Helvellyn. At 950 metres above sea level, Helvellyn is England's third-highest mountain and while it can be a tiring climb, the views are certainly worth making the effort. The route eventually descends into Patterdale, a small village at the foot of the Ullswater, which is a popular base for hikers during the summer.
Day 6 | Patterdale – Shap | 26 km
Prepare for a walk down High Street. No, not the main thoroughfare of Patterdale, instead you'll be following the ridgeline of a peak named High Street, then climbing to 770 metres at Kidsty Pike – the last Lakeland summit of the Coast to Coast walk.
The route today features the largest daily ascent and descent of the entire walk, a testing but rewarding challenge for your hiking muscles. From Kidsty Pike, the path follows a lake to a dam near tiny Burnbanks, then continues to the village of Shap through pastures and along serene riverbanks. Though Shap is small, it has a number of shops and – you guessed it – several pubs, as well as the ruins of an abbey built in 1199.
Day 7 | Shap – Orton | 13 km
The scenery today is quite different to any other stage of the Coast to Coast walk thanks to a mixture of moors, farms and limestone cliffs. The grass is green, the sky is – hopefully – blue, and road to Orton is paved with…dirt, mainly. Orton is a lovely little village and home to a chocolate factory, where you can stock up on snacks for the next few days, as well as a very friendly pub. The village was first established in the 13th century and is the birthplace of George Whitehead, one of the founding members of the Quakers religious movement, which began meeting in 1653.
Day 8 | Orton – Kirkby Stephen | 21 km
The route today takes walkers out of Orton, past Sunbiggin Tarn and through the beautiful valley of Smardale, which once had a railway running through it. From here, you'll climb Smardale Fell and eventually descend into Kirkby Stephen, a rustic market town with a lovely church, which is popular with walkers and tourists visiting the Upper Eden Valley.
Day 9 | Kirkby Stephen – Keld | 19.5 km
Spend the morning following the path through the gorgeous Pennine Hills. While the original route takes walkers over the summit of Nine Standards Rigg, it's likely there'll be diversions due to both erosion and nearby grouse-shooting. With views of the Lake District behind and the Yorkshire Dales ahead, the most difficult choice you'll face is whether to walk facing backwards or forwards, though we strongly recommend facing forwards.  You'll enter the Yorkshire Dales National Park during the descent to Keld, which also marks the approximate half-way point of the Coast to Coast track.
Day 10 | Keld – Reeth | 18 km
Walkers are faced with a couple of options today. You can either follow the official route, forged by Alfred Wainwright, which stays high above the valley along old mining trails, or tread the valley route along the River Swale. This option takes in classic English scenery – green meadows, stone buildings and picturesque rural villages, with several pubs that are perfect for a lunch break. The village of Reeth is set around a large village green and has a number of craft shops, tea houses, restaurants and pubs.
Day 11 | Reeth – Richmond | 17 km | Optional rest day in Richmond
Your destination today is Richmond, the largest settlement on the Coast to Coast path. To get there you'll enjoy a walk through the valley of Swaledale, passing both the ruins of Marrick Priory and Marske, a very pretty village set above the River Swale. Richmond is a beautiful town – it was named UK Town of the Year in 2009 – and sits on the edge of the Yorkshire Dales National Park. Richmond Castle, in the centre of town, is a major tourist attraction, while the Georgian Theatre Royal is one of Britain's oldest surviving theatres. There are plenty of interesting shops and atmospheric pubs to potter around in, as well as some extremely charming locals who will no doubt be more than happy to give you a history lesson or two.
Day 12 | Rest day in Richmond
Enjoy an extra day in Richmond to do as you please. There are plenty of tea shops, bookshops and notable buildings to keep one occupied for the day, or perhaps you'd prefer to take a stroll to Richmond Falls or further afield. Perhaps visit a local beer cellar offering up brews from around the world with tasty food to match. Richmond is the perfect place to rest up for the rest of the Coast to Coast rail and you'll likely meet like-minded walkers in town with whom you can share tales of past adventures.
Day 13 | Richmond – Danby Wiske | 22 km
Lace your hiking boots up once more for a day of walking through fields and along country lanes and quiet footpaths. You'll be travelling across the Vale of York, which is between the Yorkshire Dales and the North York Moors national parks. Your destination, Danby Wiske, is home to just a few hundred people though it also has a phenomenal pub – the White Swan – that was built way back in the 1600s and contains all the important hiking amenities like a log fire and real English ales.
Day 14 | Danby Wiske – Ingleby Cross | 14 km
Continue your approach to the hills of the North York Moors along this 14-kilometre section of the Coast to Coast path. The day finishes in the village of Ingleby Cross, which some say is the home of the Yorkshire pudding.
Day 15 | Ingleby Cross – Clay Bank Top | 19 km
A change of scenery today as you leave the farmlands behind and tread the stunning heather moorlands of the New York Moors. You'll visit the village of Osmotherley, which has a lovely church and quaint village store, before continuing into the hills and North York Moors National Park. There'll be a number of ascents and descents as you cross the Cleveland Hills to Clay Bank Top, your destination for the evening.
Day 16 | Clay Bank Top – Blakey | 14 km
A shorter day, complemented by relatively easy walking, means you can really spend some time enjoying being out in the moors. There are expansive views in all directions and it's a landscape that will quickly worm its way into your heart. Along the way you'll climb to Urra Moor, the highest point in the North York Moors, before arriving in Blakey.
Day 17 | Blakey – Egton Bridge | 19 km
From Blakey you begin you begin walking the last couple of sections to Britain's eastern coastline. Today you'll follow the journey of the River Esk, walking through the pleasant woodlands in the valley until you reach Egton Bridge, another little village with a lovely old pub.
Day 18 | Egton Bridge – Robin Hood's Bay | 26 km
The final leg of your Coast to Coast adventure is one to enjoy with some testing ascents as you continue across the heather moors. The route finishes with a bang as you walk along the top of the imposing coastal cliffs that look out to the North Sea. A steep finish will deliver you in Robin Hood's Bay, an old fishing village with a storied tradition of smuggling. It's not hard to see why – the village's winding cobbled streets were practically made for stories. In fact, Bram Stoker's Dracula had several scenes set here. Robin Hood's Bay is an exciting, fitting place to finish your Coast to Coast walk and there are plenty of places to celebrate your achievements in town.
Try the freshly caught seafood and local produce that can be found on most menus, as well as their very own Baytown Brewery beers and spirits. It's worth noting that Robin Hood's Bay is currently home to the most northerly vineyard in Europe, though it's still very young and is yet to produce any wine – just another reason to come back then.
Day 19 | Finish in Robin Hood's Bay
Your walk officially comes to an end after breakfast this morning and you can now say that you've walked all the way across England.
Visit www.wanderingtheworld.com.au for more information.
Inclusions
18 nights accommodation, all carefully selected to enhance your walking experience
Private en-suite facilities
Daily luggage transfers from hotel to hotel (1 x 20kg bag unless indicated otherwise)
Daily full English breakfast
List of suggested places to dine in the evening
Information packs with route maps and instructions on how to locate hotels
Luggage identification tags
Emergency contact details and 24/7 local on-the-ground support
Pre-departure and ongoing support from Australian office
Optional Inclusions
Suggested rest days as outlined in itinerary or if required
Upgraded accommodation choices such as premium/high-end style
Private vehicle transfers to the trip's starting point
Single supplement for your own room
Additional night's accommodation before or after trip (please advise at time of booking)
Not Included
Flights
Travel to trip's starting point
Transfers not already outlined in detailed trip itinerary
Dinners
Lunches
Accommodation
We know from personal experience that a good night's rest can make or break a trip, which is why we carefully hand-select all our accommodation. We ensure we pass on our knowledge and firsthand experience of the best places to stay to all our walkers.
Your accommodation along the trail is booked in advance and is chosen to make your walking experience as rewarding as possible. Our carefully selected guest houses, inns and hotels, often steeped in history, offer a charming, cosy feel, all with private en-suite facilities. Knowing you have delightful and characterful accommodation waiting for you makes all the difference.
All our places we stay in the UK and Ireland are chosen to keep you comfortable and content. From quaint B&Bs to refurbished highland manor houses complete with roaring fires and rare whiskies, the comfort of our accommodations is matched only by the views.
Single supplements are available so you can enjoy your own room with private en-suite, and a single supplement will apply if you are travelling alone, or if there is no gender share option.  However, you can request a shared room through Wandering the World at the time of booking, however this is not guaranteed.
In many places along the trails there are luxury, upgraded options available. Perfect for a special occasion, to celebrate a milestone or to enhance your entire journey should you choose. We can recommend some very special, unique places to indulge in the local hospitality in extraordinary style. Please ask us about these options.
Food & Dining
Walking and eating go hand in hand and your wander through this spectacular countryside gives you ample opportunity to experience each regions finest produce and cooking.
Breakfast at your place of accommodation, is always a highlight and you will start your day well fuelled. Enjoy a hearty, full cooked breakfast with all the trimmings, as well as fresh fruits, cereals, yoghurt, tea, coffee, and juices.
Lunch, at your own expense, will depend on where you are on your walk and what is available.  You may discover local cafes or a pub en route to order some local fare. Some days you will need to carry your own picnic lunch, which can be arranged the evening prior, through your accommodation. Keep on the lookout for a traditional scones and cream afternoon tea to reward yourself at the end of your walking day.
Having walked these routes many times, Wandering the World is in the know as to where our walkers can enjoy a great evening meal. Dinner is your own choice and expense and we provide many suggestions on where to dine.  Ambient and traditional places where you can delight in a traditional Irish stew, freshly caught Scottish Salmon, good old Bangers and Mash or other home cooked dishes these regions are well known for.
THE WALKING
Although this trip is guided and you are part of a group, during each day, you are free to walk at your own pace, in your own time.
TRIP GRADE
Moderate – This itinerary is carefully designed for easy to manage walking days. Averaging less than 20km on most days, approximately 4-6 walking hours. Surfaces are fairly even with moderate ascents and descents. A reasonable level of fitness is recommended.
Given you only need carry a lightweight day bag, this trip is very manageable for those new to walking holidays. Preparation and training make all our walks more enjoyable.
LUGGAGE TRANSFERS
For your comfort and enjoyment Wandering the World arrange a daily luggage transfer. All you need to carry is a day pack and be free to enjoy your walking. Luggage allowance is one bag per person of no more than 20kg. Luggage must be left in the reception of your hotel before breakfast (8am) each day, before you move on.
It is essential to attach the bag tag provided to ensure your luggage is delivered to your next accommodation.
*Please note only one bag will be moved each day, additional charges will apply if your bag is heavier than 20kg. Should you require special arrangements for additional luggage transfers, this can be booked ahead of time and must be paid as a part of your final payment to Wandering the World.
GROUP SIZE
Wandering the World guided groups have a maximum group size of 12 participants. This small group size has many advantages including flexibility to stay in a wide range of accommodation options, dining together of an evening, the opportunity to get to know your travelling companions, and the freedom to walk alone or together.
TRANSFERS/TAXIS
There may be options to amend your itinerary or shorten your walking day that include a transfer. Adding in extra days is also an option. Please talk to us about this when planning your trip.
On some itineraries, there are times when Wandering the World may arrange a transfer for you or can do so at your request. For example, this might be where small villages do not have accommodation with private facilities, or we want to take you to a special out of the way hotel we know you are going to love. In this case Wandering the World will either arrange a transfer for you or suggest in your trip notes that you will need a taxi at your own expense.
WEATHER
The weather and climate in the United Kingdom varies from region to region, and of course from day to day. Each season has its benefits, with lovely long warm and sunny days in Spring and early Summer, to cooler walking temperatures early Spring and late Autumn. Some walks may be too hot or wet at times. Talk to Wandering the World when making your plans and to discuss your preferences. Our expertise can guide you.
Once on your walk, the weather can play an important part on the enjoyment of the journey.  Checking the forecast can assist with your plans.  If you strike warm weather, which you think may be uncomfortable, leaving early to avoid the hottest part of the day can make a difference.
24/7 SUPPORT & CARE
Your information pack will include details of local emergency contacts and international contacts.
We have local on the ground support to give you any assistance you may need.
We also check in with each hotel at the end of each day to ensure your arrival.
GETTING THERE / GETTING HOME
This itinerary begins in St Bees and ends in Robin Hood's Bay.
The closest airports to St Bees are London (All),  Manchester or Newcastle
There are bus, train & flight options for arriving and departing your walking commencement destination.
Remember rail bookings are recommended, and in some instances you can only book two months in advance of the date of travel. 
By Rail:
There is a regular train service from Manchester Airport to St Bees via Carlisle (journey time approximately 4 hours).
Nearest Railway Station: Carlisle & St Bees train stations.
There are many train services from London Euston to Carlisle, change trains for St. Bees (journey time 5 hours).
There are services from Glasgow to St. Bees, change trains at Carlisle (journey time 3 hours 20 minutes).
Getting to St Bees
There are train services from London Euston to Carlisle, change train for St. Bees (journey time 5 hours) and from Glasgow to St. Bees, change trains at Carlisle (journey time 3 hours 20 minutes). If there are four of you the journey will be cheaper by taxi than by train.
Returning from Robin Hood's Bay
From the end of the walk at Robin Hood's Bay you can travel onwards by all forms of public transport as it is well linked.
By Rail:
From Robin Hood's Bay take a taxi (30 minutes) or bus (1 hour) to Scarborough. Regular train services operate from Scarborough via York to London Kings Cross (journey time 3 hours) and North to Edinburgh on the East Coast mainline (journey time 3 hours 40 minutes).
By Bus:
National Express  coaches serve York. 
INSURANCE
Insurance is compulsory for everyone who travels with Wandering the World. The insurance policy must include cover against personal accident, medical expenses, emergency repatriation and personal liability. Wandering the World recommends insurance coverage for cancellation to be taken at the same time payment is made, as no exception to the cancellation provisions can be made.
BOOKING AND TRAVEL TERMS AND CONDITIONS 
Wandering the World's full booking terms and conditions are available upon request and will also accompany your initial invoice for deposit.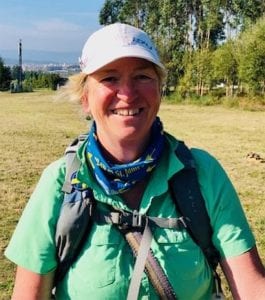 "This walk is the next on my list. I simply cannot wait to get walking through the national parks on the Dales and across the Moors. Walking across England is no mean feat, with the 315-kilometre path being the longest in the country. It's packed with beauty and history and while the landscapes are certainly breathtaking, it's the tiny villages and their enthusiastic inhabitants that will no doubt leave an impression. I'm sure they'll be keen to fill in all the gaps that Alfred Wainwright wanted to when he created the trail to encourage people to walk and care for the hills".  – Glenyce, Founder of Wandering the World.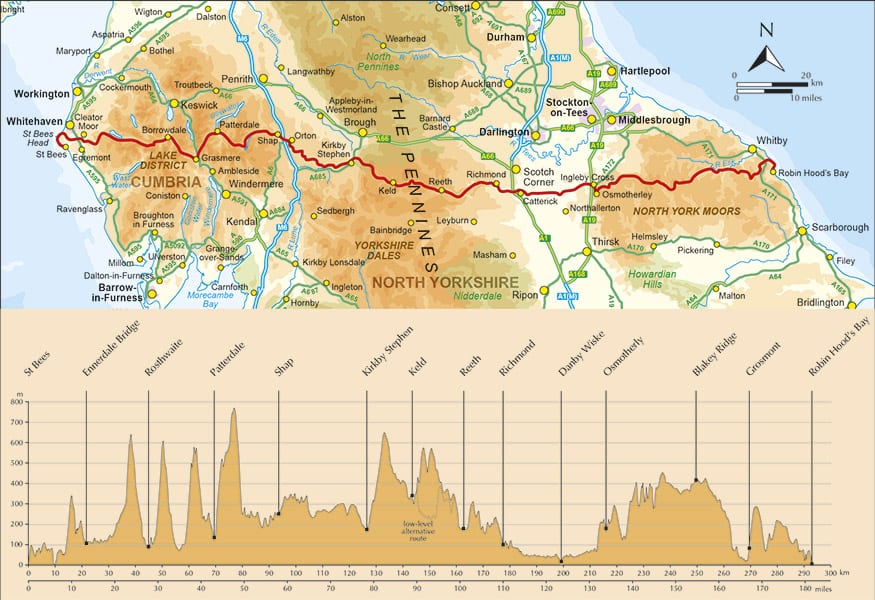 The walk was nothing short of great! Each evening after 'walking up hill and down dale' we had warm, comfortable accommodation and importantly the ability to dry our boots!  Our accommodation varied between BnBs and hotels with welcoming and helpful hosts. Having luggage transported meant we could enjoy and appreciate the walking and scenery.
Nothing is too much trouble for Glenyce, and her team and they take great effort to forge cohesion within the group. 
Mary McG, Coast to Coast, 2019