Northern Territory: Kakadu, Arnhem Land, Nitmiluk & Litchfield
8 days / Guided walking
Darwin to Darwin
Northern Territory: Kakadu, Arnhem Land, Nitmiluk & Litchfield
Explore on foot the picturesque areas of Kakadu, Arnhem Land, Nitmiluk and Litchfield National Parks, famous for its many ancient Aboriginal sites and abundance of flora and fauna. Be drawn to the ancient sandstone country of Nitmiluk National Park and the majestic Nitmiluk (Katherine) Gorge with spectacular cliffs that glow in the changing light. Walk the finest trails in the Top End. Swim under cascading waterfalls, walk among rugged escarpments, view aboriginal rock art, spot giant crocodiles harmless to humans, and enjoy the myriad of bird life.
DURATION/LENGTH
8 days/60 kms
DATES
July 1 & July 20, 2022
START/END POINT
Darwin to Darwin
PRICE P/P TWIN SHARE
From AUD 3,865
Make Enquiry
SAVE/PRINT ITINERARY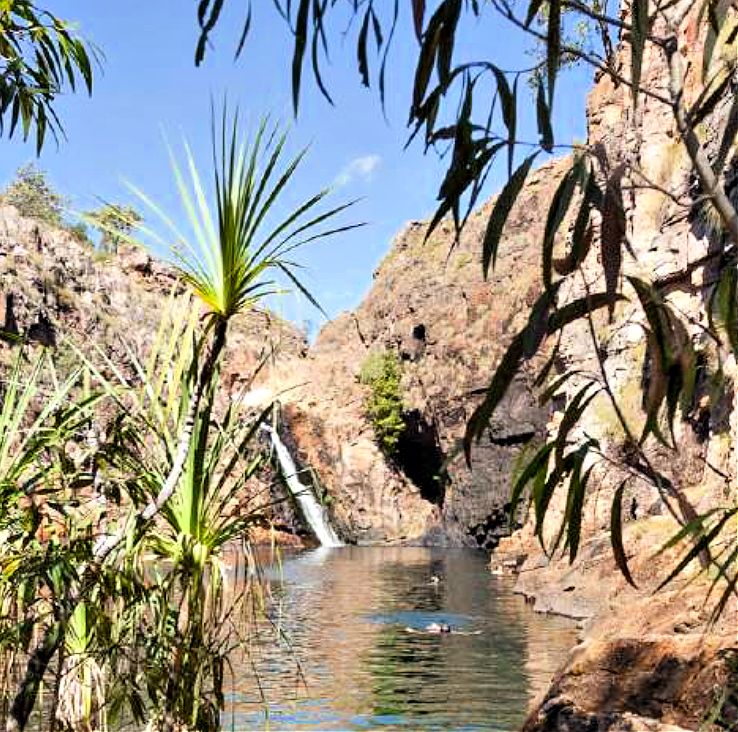 Make your own way to Darwin and we will take care of the rest. On this 8 day adventure, you will experience waterfalls, crocodiles and a plethora of bird life and we include a river cruise to add to your experience.
We stay in the heart of Kakadu, in a natural bush setting near Katherine Gorge and close to the entry of Litchfield National Park. In Kakadu we stay in lodge style rooms at Kakadu Lodge. Each lodge room contains a Queen bed, Air conditioning, television and refrigerator. Communal bathroom and kitchen facilities are close by. After a day's touring return to the relaxation of the magnificent lagoon style pool, which is surrounded by lush tropical gardens & is complemented by the Poolside Bar & Bistro. At Katherine we are on a rural property located mid-way to the Gorge and township. Our accommodation is in powered glamping tents. At our private camp, there is an enclosed common dining area, with 240-volt electricity, full fridge and freezer facilities. Group meals are served and enjoyed in this space. At Litchfield we are located near the entry of Litchfield National Park staying in lodge style rooms. Relax at the end of a long day with a swim in the nearby swimming pool.
Day 1 | Drive Darwin to Kakadu, Mamukala wetland walk | 3 km / 1-2 hours
Our first stop en-route to Kakadu is at the picturesque Mary River Corroboree Billabong. This morning we board a boat for a leisurely cruise along the billabong which is part of the Mary River Wetlands, and home to the largest concentration of saltwater crocodiles in the world. Sit back and observe the crocodiles as well as a vast variety of birds and other local wildlife in their natural environment.
After morning tea, our next stop is at the picturesque Mamukala wetlands for a lovely 3km walk. Mamukala is beautiful all year round and there is a myriad of bird life here as they congregate to feed. An observation platform allows you to view the birdlife. It's here we enjoy our lunch.
Enjoy some free time exploring the Lodge or swimming in the tropical pool before pre-dinner nibbles are served which is a two-course meal expertly prepared by our guides.
Day 2 | Arnhem Land, Injalak Hill walk | 4 km / 3 hours
Today we embark on an unforgettable cultural day tour into Arnhem Land. We head into Arnhem Land via Cahills crossing, be sure to keep a sharp eye out for saltwater crocodiles which frequently inhabit this area.
This road takes us to the Injalak Arts Centre where we join up with our indigenous guide. Heading further into Arnhem Land we stop at Injalak Hill. Here we begin our walking journey up the Hill, expertly lead by our local guide. The guide will impart some fascinating historical information about the area, and the rock art.
Our lunch stop is atop the rocky escarpment, where the view out over the floodplains is simply breathtaking. Then it's back to the Arts Centre for an opportunity to browse or purchase art items from this non – profit Aboriginal organisation, and watch local Aboriginal people painting and weaving pandanus baskets. With its stunning scenery of billabongs, birds, escarpments Arnhem Land is truly a place where you can experience this unique untouched have of the Northern Territory.
Ubirr is our next destination for this afternoon. Here embark on an easy 1km circular walk followed by a moderately steep climb to a rocky outlook, where we have the opportunity to view Kakadu rock art. There are three main sites of rock art to experience at Ubirr. You will see representations of the many animals the Aboriginal people hunted. Important Dreamtime ancestors such as the Namarrgarn Sisters and a magnificent Rainbow Serpent are also represented in their respective galleries.
Day 3 | Nourlangie, Barrk Sandstone Walk | 16 km / 6 hours
We have an early start today after breakfast and making lunches. Today we visit the unforgettable Nourlangie Rock Art site and embark on the 12km Barrk Sandstone Walk. At Nourlangie you can see how local Aboriginal people lived in this area through changing times. Environmental and social changes are reflected in the rock art and in the ground, where archaeologists have uncovered over 20,000 years of Aboriginal occupation. The walk here takes you through what was a wet season home for generations of Aboriginal people. The rock art here is simply astounding and you will see the world-famous Namarrgon, lightning man, (among many others) at Anbangbang gallery.
The beautiful walk around Anbangbang Billabong is not to be missed and you get a spectacular view of Nourlangie from this trail. A myriad of birdlife can also be spotted here from Jabiru to Brolga, magpie geese to spoonbills. (of course, NO swimming). NB: Depending on the wet season access to this site may be limited. The Barrk Sandstone Walk takes you from Anbangbang Gallery to the top of Burrunggui (Nourlangie), across the top then down a gully to the woodland at the base. The ground is rough in places and there are some steep slopes. If you choose to embark on this walk you will need to complete the full 12kms as there is no access mid-way to finish the walk early. This is a more challenging day, we walk up to 16km which is a moderate to difficult grade.
After spending the day around Nourlangie we head back to our accommodation for pre-dinner nibbles followed by a two-course dinner prepared by your guides.
Day 4 | Bitter Springs |
Today we can go swimming so bring your bathers and towel. Bring your usual 2-4 litres of water.
After breakfast, we pack up our gear and head south towards Pine Creek. Our morning tea stop is at the Pine Creek picnic area. We continue on south to Bitter Springs where you can lay back in the spring- fed thermal pools amid palms and tropical woodlands in Elsey National Park, found by surveyors for the Overland Telegraph Line.
Day 5 | Nitmiluk National Park | 10 km / 3 hours
After breakfast, we head off for Nitmiluk National Park. Here we do the lovely walk around the gorge and up to Jeddhas lookout which takes approx 3 hours. Views of the second gorge are spectacular from Jedda's Rock and the upper gorge area. This walk traverses the sandstone escarpment through rock platforms and gullies. After lunch, we board our Nit Nit Dreaming cruise which travels along the Katherine Gorge. You will discover the cultural significance of the first 2 gorges to the traditional landowners – the Jawoyn people. On this cruise, you will enjoy a journey of discovery through the magnificent Nitmiluk Gorge.
Day 6 | Edith Falls | 8 km / 3 hours
After breakfast and lunch making, we pack up and head off for Edith Falls. Here we walk the 8 km return trip to magnificent Sweetwater Pool. Sweetwater Pool is a beautiful place for swimming and relaxing. Indulge in a tranquil dip and then find a spot on a flat ledge to warm yourself, and have some lunch. If you're lucky you may see several species of turtle and birds.
We then head off to Litchfield National Park, with a 20-minute stop enroute at Adelaide River for fuel, here you can purchase ice creams and drinks if you wish.
Day 7 | Litchfield National Park | 12 km / 5 hours
We depart for the day after breakfast and lunch making. Today we visit Wangi Falls, Walker Creek and Green Ant Falls. Wangi Falls is one of Litchfield's most popular and easily accessible attractions. On this short walk you climb to the top of the escarpment for a great view, and then wander back down to the base of the falls to have a swim.
At Walker Creek we walk about 5km and hike alongside the crystal clear water course. We can pause for a refreshing dip in one of the many pristine waterholes and enjoy the tranquility of this amazing national park. Spot local wildlife including wallabies and possums or listen to some of the curious bird calls from the variety of birdlife that also inhabit this forest area.
The Green ant Creek walk meanders through rainforest to another attractive plunge pool. Typically un-crowded there is abundant birdlife to spot – look out for colourful red-winged parrots, double-bar finches or kingfishers.
This evening you will be dining at the Litchfield Tourist Park Restaurant (guest own expense).
Day 8 | Litchfield National Park, Florence Creek Walk | 5 km / 3 hours
Our last day on tour today. After breakfast and lunch making, we pack up the trailer and visit Tolmer Falls, Florence Falls, Buley Rockholes and the magnetic termite mounds.
We walk to the lookout at Tolmer Falls where we stand on the viewing platform to see the water cascading over escarpments into a deep plunge pool.
The Florence Creek Walk links Florence Falls and Buley Rockhole (both offering beautiful swimming opportunities). We can start the walk at either end, and follow the trail through cool monsoon rainforest. As you walk, look out for birdlife, including kingfishers, honeyeaters, fairy-wrens and pigeons. Other wildlife to spot includes brown bandicoots and northern quolls. Or you might see black flying foxes (bats) roosting in the trees.
One of Litchfield National Park's most impressive sights is the hundreds of termite mounds standing up to two metres high in a wide swathe of empty ground. Up to 100 years old, these structures are unique to northern Australia. Stroll through the area and marvel at what are enormous magnetic compasses, with their thin edges pointing north-south and broad backs east-west.
We'll then head off and return to Darwin about 5pm.
Included
• Return transfers from Darwin CBD
• 7 nights accommodation with 3 nights in Kakadu, 2 nights in Katherine and 2 nights in Litchfield in unique and comfortable motel and lodge style accommodation
• 7 breakfasts, 8 lunches, 6 dinners
• Trail mix, nibbles, fresh fruit
• Two boat cruises
• Professional guiding and support each day
• All national park entry fees
Optional Inclusions
• Single supplement for your own room
Not Included
• Travel to trip's starting point (Darwin)
• Transfers not already outlined in detailed trip itinerary
TRIP GRADE
Moderate – This itinerary is carefully designed for easy to manage walking days, with some challenging parts on a couple of the days.
INSURANCE & MEDICAL COVER
For our Wandering the World Australian walks, we strongly recommend suitable travel insurance to cover any loss which may be suffered due to your need to cancel your trip for any personal reason. We also strongly recommend checking you have adequate medical cover to support you in the unlikely event of an accident while travelling and walking.
BOOKING AND TRAVEL TERMS AND CONDITIONS
Wandering the World's full booking terms and conditions are available upon request and will also accompany your initial invoice for deposit.