Ireland : The Dingle Way
10 days / Self-guided walking
Tralee to Tralee
The Dingle Way
Immerse yourself in the rugged beauty of the wild Atlantic as you walk the Dingle Way through some of Ireland's most breathtaking landscapes.
DURATION/LENGTH
10 days/179 kms
DATES
Any date to suit you
START/END POINT
Tralee to Tralee
PRICE P/P TWIN SHARE
From GBP 1,400
Make Enquiry
SAVE/PRINT ITINERARY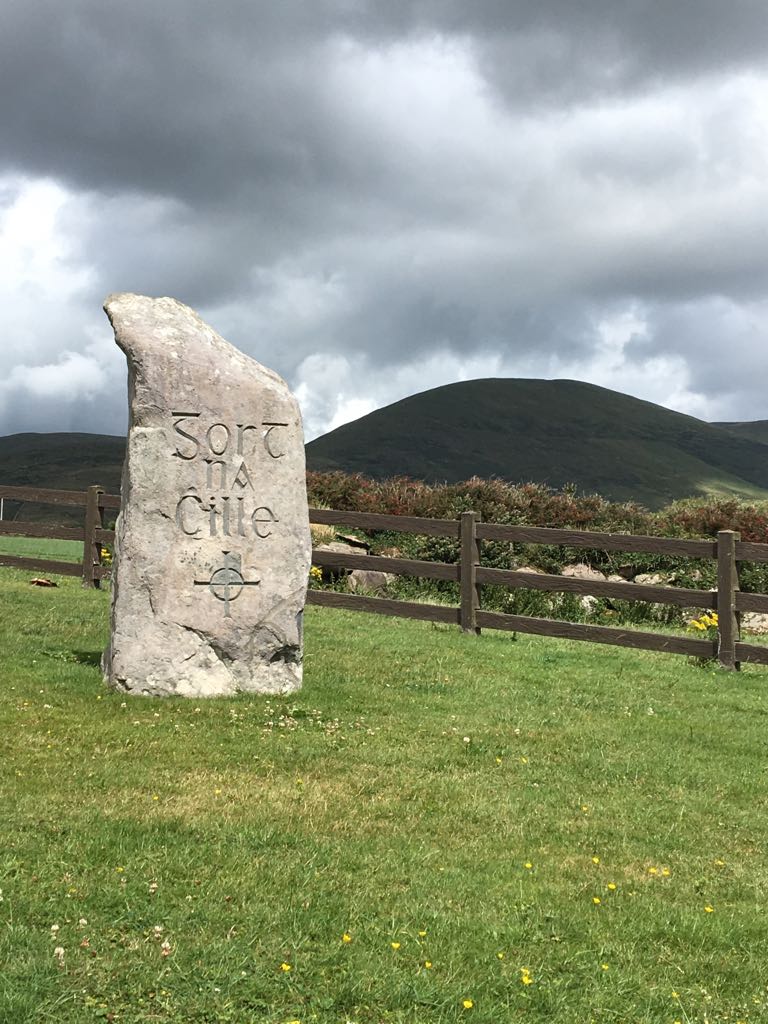 This 10-day loop, beginning and ending in Tralee, sees walkers tackling the peaks, beaches and rolling green hills that make Ireland one of the most beautiful destinations in the world. With an abundance of wildlife, cultural heritage and human history, the Dingle Way ticks all the boxes for a world-class walk. The itinerary includes a rest day in Dingle, where you can soak up the 'real' Ireland in authentic pubs where the music never (well, hardly ever) stops. The first stage – from Tralee to Dingle – also ticks off the entirety of the Kerry Camino, which was inspired by Spain's Camino de Santiago.
Day 1 | Arrive in Tralee
The Dingle Way commences in the town of Tralee, an Irish town famous for its Rose of Tralee competition. It sees women from Ireland's 32 counties come together as a celebration of the aspirations, intellect, social responsibility and Irish heritage of modern young women in Ireland. The winner is crowned the Rose. Set by the River Lee, Tralee is chock full of Irish history and culture and a great town to get a feel for the country before setting off on your walk tomorrow morning.
Day 2 | Tralee – Camp | 17.5 km
Begin your walk along the Dingle Way, also encompassing the Kerry Camino, beside the Kerry County Museum. The first day's route follows the slopes of the Slieve Mish mountains, where you'll enjoy fine views of Tralee Bay. Pass ruins of early Christian and pagan sites, as well as lush green farmland, as you walk to the village of Camp, which is considered the gateway to the Dingle Peninsula.
Day 3 | Camp – Annascaul | 17 km
Depart Camp with a gradual climb along small roads and farm tracks, making your way past the Moanlaur and Slieve Mish mountains. You'll soon enjoy expansive views across Dingle Bay and may even see the peaks of the MacGillycuddys – Ireland's highest mountains – in the distance if the weather is clear. Your destination this evening is the lovely village of Annascaul, which you'll reach with an easy walk via Inch Strand, a wildlife sanctuary and beach popular with swimmers, surfers and anglers.
Day 4 | Annascaul – Dingle | 22 km | Optional rest day in Dingle
The beautiful Annascaul Lake will greet you on your way out of town this morning. Then, edge around Acres Hill to the remains of Minard Castle, a 16th-century fortification, eventually turning inland to the village of Lispole, passing green fields all the way. From here, the path ascends An Cnoc Maol Mor before descending into Dingle town, your overnight destination.  Tonight, you can also celebrate completing your Kerry Camino.   While the Dingle Peninsula is known for its rugged scenery, Dingle town is known for its Irish culture. The locals still speak the native tongue and, even more impressively, some shops in town double as pubs. You don't get much more Irish than that.
Dingle is a fantastic place to spend a rest day. Take some time strolling around Dingle Bay and the harbour, perhaps visiting the aquarium or taking a boat trip to meet Fungie, the bay's resident dolphin, who was first seen in 1983 and still comes back to say hello. Alternatively, there are plenty of shops catering to book enthusiasts, tea drinkers and craftspeople, not to mention over 30 pubs as well as the Dingle Brewery.
Day 5| Dingle – Dunquin | 20 km
Prepare for a magnificent section of the Dingle Way as you follow the curve of Ventry Beach – Ireland's third-longest beach – to Slea Head. The area is well known for archaeological sites including a number of forts and Fahan's Christian beehive huts, which are thought to have once been home to hermit monks as far back as the 8th century. There were once hundreds of these cone-shaped huts dotting the landscape and though many are now rubble, there are still plenty to admire. To the south you'll see views of the Ring of Kerry, while Slea Head and the Blasket Islands are up ahead. This is the most westerly point in Europe and from here, it's a long, cold and unobstructed swim to North America. We'll stick with walking for now.
Day 6| Dunquin to Cuas | 24 km
This section of the Dingle Way presents an opportunity to enjoy a stunning and potentially windy day walking along the clifftops overlooking the Atlantic Ocean. We recommend visiting the Blasket Islands Interpretative Centre, which provides an interesting contextualisation of life on the islands, from which the last people moved away in the early 1950s. The path follows the coastline to Clogher and the fort of Dun an Oir, which is set on Smerwick Harbour and was the scene of a historic massacre. You'll reach the sands of Beal Ban and follow the beach to Murreagh, Ballydavid and, eventually, the village of Cuas.
Day 7| Cuas – Cloghane | 21 km
Depart Cuas and climb alongside steep ocean cliffs to Brandon Head, which tops out at approximately 700 metres above sea level. This is a rather remote section of the walk and the awe-inspiring views are matched with the Irish history of the area. There are some sixty sites of cultural and Christian importance here, dating back as far as the 5th century. The route will take you past Mount Brandon – Ireland's 9th-highest mountain – and down to Cloghane, where you'll enjoy a well-earned rest after a day of absolutely thrilling walking.
Please note that this is by far the toughest day of the itinerary and can be removed from the itinerary if requested. The walk is weather dependent as the hike should not be attempted in poor weather conditions. The alternative is a taxi around the mountain to the pub at Castlegregory, which isn't a bad compromise!
Day 8| Cloghane – Castlegregory | 29 km
Mix things up today with a beach walk along the northern side of the Dingle Peninsula. The path will follow the Castlegregory promontory past Brandon Beach and Scraggane Bay, as well as the limestone Isles of Magharee. Eventually, you'll finish up in Castlegregory, a traditional Irish village where you can have a hearty meal, enjoy a pint or coffee, and rest your feet after a long day.
Day 9| Castlegregory – Tralee | 27 km
The final stage of the Dingle Way sees you returning to Tralee along the Dingle Peninsula's northern coastline. Part of the day will be along the beach once more, while the last stretch takes you onto the lower sections of the Slieve Mish mountains. You'll reach the village of Camp after 10 kilometres or so, and from here the path is the same as when you began your walk. You can continue walking if you wish or, if you'd prefer, you can jump on a local bus to arrive into Tralee, where you'll spend your final evening. Here, it's time to celebrate competing the Dingle Way and reminisce on all you've seen on your journey.
Day 10| Finish in Tralee
Your walk in Ireland, along the breathtaking Dingle Way, officially comes to an end after breakfast this morning.
Visit www.WanderingtheWorld.com.au for more information.
Inclusions
9 nights accommodation, all carefully selected to enhance your walking experience
Private en-suite facilities
Daily luggage transfers from hotel to hotel (1 x 20kg bag unless indicated otherwise)
Daily full English breakfast
List of suggested places to dine in the evening
Information packs with route maps and instructions on how to locate hotels
Luggage identification tags
Emergency contact details and 24/7 local on-the-ground support
Pre-departure and ongoing support from Australian office
Optional Inclusions
Suggested rest days as outlined in itinerary or if required
Upgraded accommodation choices such as premium/high-end style
Private vehicle transfers to the trip's starting point
Single supplement for your own room
Additional night's accommodation before or after trip (please advise at time of booking)
Not Included
Flights
Travel to trip's starting point
Transfers not already outlined in detailed trip itinerary
Dinners
Lunches
Accommodation
We know from personal experience that a good night's rest can make or break a trip, which is why we carefully hand-select all our accommodation. We ensure we pass on our knowledge and firsthand experience of the best places to stay to all our walkers.
Your accommodation along the trail is booked in advance and is chosen to make your walking experience as rewarding as possible. Our carefully selected guest houses, inns and hotels, often steeped in history, offer a charming, cosy feel, all with private en-suite facilities. Knowing you have delightful and characterful accommodation waiting for you makes all the difference.
All our places we stay in the UK and Ireland are chosen to keep you comfortable and content. From quaint B&Bs to refurbished highland manor houses complete with roaring fires and rare whiskies, the comfort of our accommodations is matched only by the views.
Single supplements are available so you can enjoy your own room with private en-suite, and a single supplement will apply if you are travelling alone, or if there is no gender share option.  However, you can request a shared room through Wandering the World at the time of booking, however this is not guaranteed.
In many places along the trails there are luxury, upgraded options available. Perfect for a special occasion, to celebrate a milestone or to enhance your entire journey should you choose. We can recommend some very special, unique places to indulge in the local hospitality in extraordinary style. Please ask us about these options.
Food & Dining
Walking and eating go hand in hand and your wander through this spectacular countryside gives you ample opportunity to experience each regions finest produce and cooking.
Breakfast at your place of accommodation, is always a highlight and you will start your day well fuelled. Enjoy a hearty, full cooked breakfast with all the trimmings, as well as fresh fruits, cereals, yoghurt, tea, coffee, and juices.
Lunch, at your own expense, will depend on where you are on your walk and what is available.  You may discover local cafes or a pub en route to order some local fare. Some days you will need to carry your own picnic lunch, which can be arranged the evening prior, through your accommodation. Keep on the lookout for a traditional scones and cream afternoon tea to reward yourself at the end of your walking day.
Having walked these routes many times, Wandering the World is in the know as to where our walkers can enjoy a great evening meal. Dinner is your own choice and expense and we provide many suggestions on where to dine.  Ambient and traditional places where you can delight in a traditional Irish stew, freshly caught Scottish Salmon, good old Bangers and Mash or other home cooked dishes these regions are well known for.
THE WALKING
This trip is a self-guided itinerary, ideal for groups and independent travellers who prefer to navigate their own way, in their own time.
You will be provided with an information pack with easy to read maps and instructions, complete with directions to guide you on the well-marked paths and tracks. Your information pack will be available at your joining hotel on the first day of your trip.
TRIP GRADE
Moderate – This itinerary is carefully designed for easy to manage walking days. Averaging less than 20km on most days, approximately 4-6 walking hours. Surfaces are fairly even with moderate ascents and descents. A reasonable level of fitness is recommended.
Given you only need carry a lightweight day bag, this trip is very manageable for those new to walking holidays. Preparation and training make all our walks more enjoyable.
LUGGAGE TRANSFERS
For your comfort and enjoyment Wandering the World arrange a daily luggage transfer. All you need to carry is a day pack and be free to enjoy your walking. Luggage allowance is one bag per person of no more than 20kg. Luggage must be left in the reception of your hotel before breakfast (8am) each day, before you move on.
It is essential to attach the bag tag provided to ensure your luggage is delivered to your next accommodation.
*Please note only one bag will be moved each day, additional charges will apply if your bag is heavier than 20kg. Should you require special arrangements for additional luggage transfers, this can be booked ahead of time and must be paid as a part of your final payment to Wandering the World.
GROUP SIZE
Wandering the World guided groups have a maximum group size of 12 participants. This small group size has many advantages including flexibility to stay in a wide range of accommodation options, dining together of an evening, the opportunity to get to know your travelling companions, and the freedom to walk alone or together.
TRANSFERS/TAXIS
There may be options to amend your itinerary or shorten your walking day that include a transfer. Adding in extra days is also an option. Please talk to us about this when planning your trip.
On some itineraries, there are times when Wandering the World may arrange a transfer for you or can do so at your request. For example, this might be where small villages do not have accommodation with private facilities, or we want to take you to a special out of the way hotel we know you are going to love. In this case Wandering the World will either arrange a transfer for you or suggest in your trip notes that you will need a taxi at your own expense.
WEATHER
The weather and climate in the United Kingdom varies from region to region, and of course from day to day. Each season has its benefits, with lovely long warm and sunny days in Spring and early Summer, to cooler walking temperatures early Spring and late Autumn. Some walks may be too hot or wet at times. Talk to Wandering the World when making your plans and to discuss your preferences. Our expertise can guide you.
Once on your walk, the weather can play an important part on the enjoyment of the journey.  Checking the forecast can assist with your plans.  If you strike warm weather, which you think may be uncomfortable, leaving early to avoid the hottest part of the day can make a difference.
24/7 SUPPORT & CARE
Your information pack will include details of local emergency contacts and international contacts.
We have local on the ground support to give you any assistance you may need.
We also check in with each hotel at the end of each day to ensure your arrival.
GETTING THERE / GETTING HOME
This itinerary begins and ends in Tralee
There are bus, train & flight options for arriving and departing your walking commencement destination.
The closest airports to Tralee are: Cork or Shannon and Kerry Regional Airport.
Dublin Airport has the widest range of UK, European and trans-Atlantic flights.
Remember all train bookings are recommended, and you can only book two months in advance of date of travel.
Cork Airport (120kms from Tralee) is served by a number of flights from the UK.
Buses from the airport to the city centre run approximately every hour, where there are bus and train connections to Tralee (journey time approximately 2 hours).
Shannon Airport (125kms from Tralee) is served by a number of flights from the UK.
Buses from the airport to Limerick city centre run approximately every 2 hours, where there are bus and train connections to Tralee (journey time 3 hours).
Kerry Airport (20kms from Tralee) is convenient for this holiday but it is only served by a small number of flights each day. Ryanair fly direct from London Stansted and Aer Lingus operate flights from Dublin.
Take a taxi from Kerry Airport to Killarney for a train or bus to Tralee (30 minutes) or a taxi direct through to Tralee. There are also a direct bus services between Tralee and Kerry Airport.
Dublin Airport (300kms from Tralee) has the widest range of UK, European and trans-Atlantic flights. For the journey to Tralee take a train from Dublin's Heuston Station. The No. 748 Airlink bus runs to the station approximately twice an hour (journey time 40 minutes).
There are also train services from Dublin Airport to Tralee, via Limerick (journey time 5 hours).
Returning from Tralee
Tralee is well linked by all forms of public transport.
INSURANCE
Insurance is compulsory for everyone who travels with Wandering the World. The insurance policy must include cover against personal accident, medical expenses, emergency repatriation and personal liability. Wandering the World recommends insurance coverage for cancellation to be taken at the same time payment is made, as no exception to the cancellation provisions can be made.
BOOKING AND TRAVEL TERMS AND CONDITIONS 
Wandering the World's full booking terms and conditions are available upon request and will also accompany your initial invoice for deposit.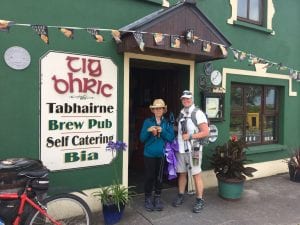 "This wasn't my first time in Ireland and it certainly won't be my last. The Irish culture and folklore of myths, legends and tales have kept me intrigued. I loved walking the long beaches on the West Coast of the Dingle Way to a soundtrack of crashing waves. It's where the Atlantic Ocean and the foothills meet – a truly spectacular place. Ireland is somewhere to feel jolly and traditional music fills the pubs with the sounds of the fiddle and flute. To be sure, to be sure: there's plenty of good spirit in Ireland and don't forget to try the Guinness".  – Glenyce, Founder of Wandering the World.