Scotland : The West Highland Way
11 days / Self-guided walking
Milngavie to Fort William
The West Highland Way
This 11-day, self-guided adventure follows Scotland's first long-distance hiking trail. Experience Scotland's stunning natural landscapes, from Loch Lomond to Glen Coe, and immerse yourself in the charm of its rural villages every evening. With a whiskey and a view never too far away, the West Highland Way is one of the UK's favourite walks.
DURATION/LENGTH
11 days/154 kms
DATES
Any date to suit you
START/END POINT
Milngavie to Fort William
PRICE P/P TWIN SHARE
From GBP 1,380
Make Enquiry
SAVE/PRINT ITINERARY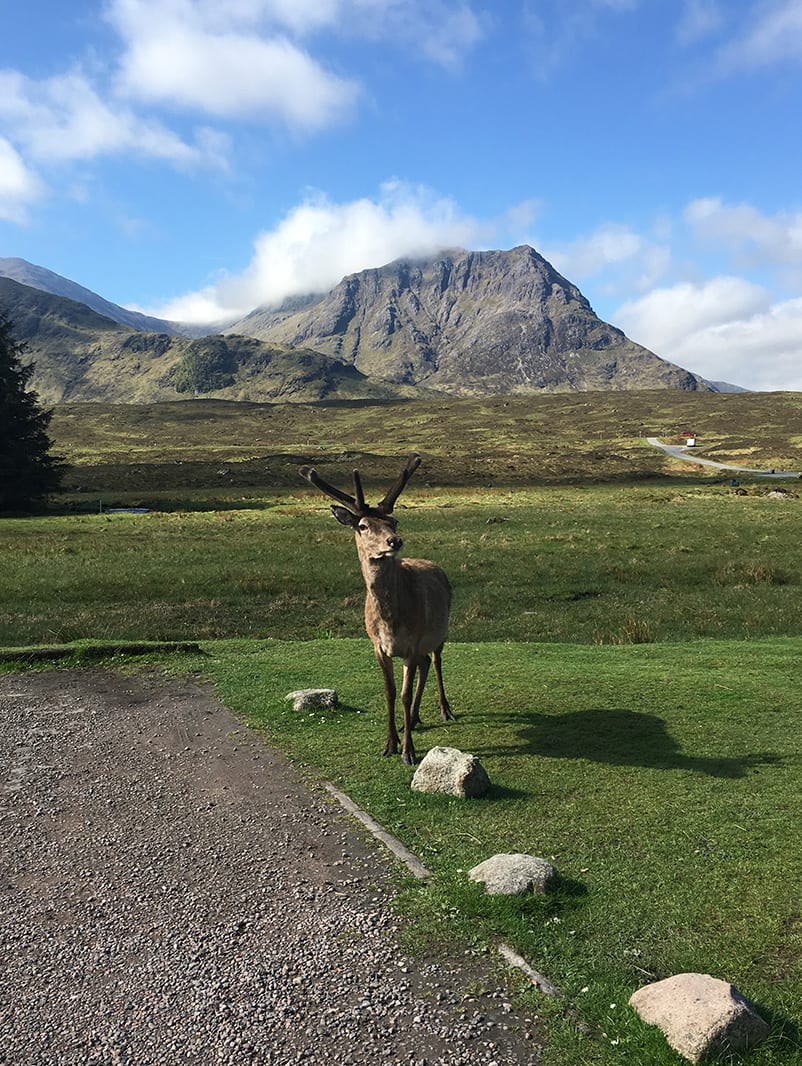 The West Highland Way is a 154-kilometre-long walk that makes use of old military roads, forestry tracks, drovers' roads and more. It's traditionally walked from south to north, which not only increases the sense of adventure, but also keeps the sun out of one's eyes. Though the route could be walked in a shorter timeframe, the majority of walkers prefer to take their time enjoying the natural beauty and Scottish hospitality.
The path officially begins in Milngavie, just north of Glasgow, and then enters Scotland's memorable open countryside. The remainder of the West Highland Way will see you walking past some of Scotland's largest mountains, past the stunning Loch Lomond and through rural villages straight out of a film set.
Day 1 | Arrive in Milngavie
The town of Milngavie (pronounced 'mull-guy'), on the River Allander, is famous as the starting point of the West Highland Way – Scotland's first long-distance walking route. It's located just north of Glasgow and has a lovely pedestrianised town centre with restaurants, pubs and a variety of stores where you can pick up any last-minute items for tomorrow's walk.
Day 2 | Milngavie – Drymen | 19 km
The West Highland Way officially begins by a granite obelisk right in the centre of town, beside the bridge over the Allander. Any local can offer directions, though you may struggle to understand their thick accents at first. This first day sees you heading into the Lowland of Scotland, passing standing stones from the Bronze Age at Dumgoyach Hill and the Glengoyne Distillery. Feel free, if tempted, to stop for 'wee' dram of Scotland's most famous export – the perfect fuel for a walk through the Scottish countryside.
Day 3 | Drymen – Balmaha | 13 km
Depart Drymen this morning and join a track to climb through dense woodland to Garadhban Forest. The track then approaches Conic Hill, which is the boundary between the Lowlands and Highlands and known as the Great Divide. Climbing over Conic Hill will present you with some truly tremendous views of Loch Lomond, which, at 27 square miles, is the largest body of water in the UK. From here, the track descends to the small settlement of Balmaha, where you'll find a family-run inn under the shade of a 500-year-old oak tree. They always have a great choice of cakes and the evening meals are of a similar standard. Try the Arctic char if they have it on the menu – it's simply delicious.
Day 4 | Balmaha – Rowardennan | 11 km
Today's walk sees you following the loch's shoreline all the way to Rowardennan. The views today must be some of the best on the entire walk, and that's saying something. You'll be able to see the scattered islands on the loch and across to Luss, on its western shore, before arriving in Rowardennan, a picturesque village that is the starting point for those wishing to climb the mountain of Ben Lomond.
Day 5 | Rowardennan – Inverarnan | 23 km
Today you'll really start to feel like you're in the Scottish Highlands, following the forestry path as it rises and falls above the eastern shore of Loch Lomond. It's one of the more remote sections of the walk and you'll carry on to Glen Falloch across wooded slopes and past the cave in which Rob Roy, an 18th-century outlaw and folk hero, once hid. You'll also encounter an impressive waterfall at Inversnaid. On arriving in Inverarnan, many walkers head to the historic Drovers Inn, where the kilt is popular attire with the bar staff, to have a drink with and toast the other walkers on the West Highland Way.
Day 6 | Inverarnan – Tyndrum | 19 km
Follow the River Falloch through Glen Falloch – 'glen' meaning 'narrow valley' – and into the trees, entering the forest and skirting around the village of Crianlarich, the approximate halfway point of the West Highland Way. You'll be rewarded with some fine views of Ben More to the east. From here, the path takes you past the remains of St Fillan's Priory –a 12th-century monastery built by Robert the Bruce – and through forests and farmlands before arriving in the village of Tyndrum.
Day 7 | Tyndrum – Bridge of Orchy | 11 km
The path today provides stunning views of both Ben Odhar and Ben Dorain. You'll encounter a gentle climb as you approach the entrance to Glen Orchy before descending to the Bridge of Orchy Hotel, which dominates this pretty Highland village yet is dwarfed by the surrounding landscape. The bridge was constructed as part of a program to ease tensions between the various Highland clans following the famous Battle of Culloden, which saw a government victory over the Jacobite rising of 1745.
Day 8 | Bridge of Orchy – Kingshouse | 19 km
Climb through the trees onto moor land this morning, from where you'll experience superb views across to Rannoch Moor, described as one of the last great wildernesses of Europe. The boggy landscape is quintessential Scotland and postcard perfect. The path winds down to the secluded Inveroran Hotel before climbing back up past several tree plantations out onto Rannoch Moor itself, summiting a nearby hill to enjoy the views down into Glen Coe. From here, the old military road takes walkers past the Glencoe Mountain Resort and on to the small community of Kingshouse.
Day 9 | Kingshouse – Kinlochleven | 14 km
From Kingshouse Hotel, the route continues along the old military road then follows the A82 to a parking area at Altnafeadh. This is a fantastic vantage point at the foot of Buachaille Etive Mor, from which you can appreciate the mountainous scenery of Glen Coe. James Bond fans may recognise the landscape from the film 'Skyfall' – some scenes were filmed very close by in Glen Etive. From here you'll climb to the highest point of the West Highland Way (550 metres above sea level) and be rewarded with stunning views of the mountainous surrounds. Continue along the moorland before descending into Kinlochleven, a small village that's home to the National Ice Climbing Centre and the best fish 'n' chip shop ever, as voted by the locals and many visitors.
Day 10 | Kinlochleven – Fort William | 24 km
Your final day's walking sees you heading north and climbing through woodland areas where you'll be able to see right down the valley ahead. Walk through Lairigmor (the great pass), which is easy terrain flanked by high mountains, and continue through forest plantations while keeping an eye out for your first glimpse of Ben Nevis, Britain's highest mountain.
Here, the final stretch of the West Highland Way awaits, and you'll descend into Fort William with views of the loch ahead of you. The walk officially ends in Gordon Square, in the centre of town, where you'll be greeted by the bronze statue of a fellow walker. Fort William is lovely town right by the water and where people stay while climbing Ben Nevis. It's the perfect spot for a warming dram of whiskey, a hearty meal and a celebration of your great achievement.
Day 11 | Finish in Fort William
Your journey on Scotland's first long-distance hiking trail finishes this morning after breakfast. Should you wish to continue on you could explore the Great Glen Way with Wandering the World.
Visit www.WanderingtheWorld.com.au for more information.
Inclusions
10 nights accommodation, all carefully selected to enhance your walking experience
Private en-suite facilities
Daily luggage transfers from hotel to hotel (1 x 20kg bag unless indicated otherwise)
Daily full English breakfast
List of suggested places to dine in the evening
Information packs with route maps and instructions on how to locate hotels
Luggage identification tags
Emergency contact details and 24/7 local on-the-ground support
Pre-departure and ongoing support from Australian office
Optional Inclusions
Suggested rest days as outlined in itinerary or if required
Upgraded accommodation choices such as premium/high-end style
Private vehicle transfers to the trip's starting point
Single supplement for your own room
Additional night's accommodation before or after trip (please advise at time of booking)
Not Included
Flights
Travel to trip's starting point
Transfers not already outlined in detailed trip itinerary
Dinners
Lunches
Accommodation
We know from personal experience that a good night's rest can make or break a trip, which is why we carefully hand-select all our accommodation. We ensure we pass on our knowledge and firsthand experience of the best places to stay to all our walkers.
Your accommodation along the trail is booked in advance and is chosen to make your walking experience as rewarding as possible. Our carefully selected guest houses, inns and hotels, often steeped in history, offer a charming, cosy feel, all with private en-suite facilities. Knowing you have delightful and characterful accommodation waiting for you makes all the difference.
All our places we stay in the UK and Ireland are chosen to keep you comfortable and content. From quaint B&Bs to refurbished highland manor houses complete with roaring fires and rare whiskies, the comfort of our accommodations is matched only by the views.
Single supplements are available so you can enjoy your own room with private en-suite, and a single supplement will apply if you are travelling alone, or if there is no gender share option.  However, you can request a shared room through Wandering the World at the time of booking, however this is not guaranteed.
In many places along the trails there are luxury, upgraded options available. Perfect for a special occasion, to celebrate a milestone or to enhance your entire journey should you choose. We can recommend some very special, unique places to indulge in the local hospitality in extraordinary style. Please ask us about these options.
Food & Dining
Walking and eating go hand in hand and your wander through this spectacular countryside gives you ample opportunity to experience each regions finest produce and cooking.
Breakfast at your place of accommodation, is always a highlight and you will start your day well fuelled. Enjoy a hearty, full cooked breakfast with all the trimmings, as well as fresh fruits, cereals, yoghurt, tea, coffee, and juices.
Lunch, at your own expense, will depend on where you are on your walk and what is available.  You may discover local cafes or a pub en route to order some local fare. Some days you will need to carry your own picnic lunch, which can be arranged the evening prior, through your accommodation. Keep on the lookout for a traditional scones and cream afternoon tea to reward yourself at the end of your walking day.
Having walked these routes many times, Wandering the World is in the know as to where our walkers can enjoy a great evening meal. Dinner is your own choice and expense and we provide many suggestions on where to dine.  Ambient and traditional places where you can delight in a traditional Irish stew, freshly caught Scottish Salmon, good old Bangers and Mash or other home cooked dishes these regions are well known for.
THE WALKING
This trip is a self-guided itinerary, ideal for groups and independent travellers who prefer to navigate their own way, in their own time.
You will be provided with an information pack with easy to read maps and instructions, complete with directions to guide you on the well-marked paths and tracks. Your information pack will be available at your joining hotel on the first day of your trip.
TRIP GRADE
Moderate – This itinerary is carefully designed for easy to manage walking days. Averaging less than 20km on most days, approximately 4-6 walking hours. Surfaces are fairly even with moderate ascents and descents. A reasonable level of fitness is recommended.
Given you only need carry a lightweight day bag, this trip is very manageable for those new to walking holidays. Preparation and training make all our walks more enjoyable.
LUGGAGE TRANSFERS
For your comfort and enjoyment Wandering the World arrange a daily luggage transfer. All you need to carry is a day pack and be free to enjoy your walking. Luggage allowance is one bag per person of no more than 20kg. Luggage must be left in the reception of your hotel before breakfast (8am) each day, before you move on.
It is essential to attach the bag tag provided to ensure your luggage is delivered to your next accommodation.
*Please note only one bag will be moved each day, additional charges will apply if your bag is heavier than 20kg. Should you require special arrangements for additional luggage transfers, this can be booked ahead of time and must be paid as a part of your final payment to Wandering the World.
GROUP SIZE
Wandering the World guided groups have a maximum group size of 12 participants. This small group size has many advantages including flexibility to stay in a wide range of accommodation options, dining together of an evening, the opportunity to get to know your travelling companions, and the freedom to walk alone or together.
TRANSFERS/TAXIS
There may be options to amend your itinerary or shorten your walking day that include a transfer. Adding in extra days is also an option. Please talk to us about this when planning your trip.
On some itineraries, there are times when Wandering the World may arrange a transfer for you or can do so at your request. For example, this might be where small villages do not have accommodation with private facilities, or we want to take you to a special out of the way hotel we know you are going to love. In this case Wandering the World will either arrange a transfer for you or suggest in your trip notes that you will need a taxi at your own expense.
WEATHER
The weather and climate in the United Kingdom varies from region to region, and of course from day to day. Each season has its benefits, with lovely long warm and sunny days in Spring and early Summer, to cooler walking temperatures early Spring and late Autumn. Some walks may be too hot or wet at times. Talk to Wandering the World when making your plans and to discuss your preferences. Our expertise can guide you.
Once on your walk, the weather can play an important part on the enjoyment of the journey.  Checking the forecast can assist with your plans.  If you strike warm weather, which you think may be uncomfortable, leaving early to avoid the hottest part of the day can make a difference.
24/7 SUPPORT & CARE
Your information pack will include details of local emergency contacts and international contacts.
We have local on the ground support to give you any assistance you may need.
We also check in with each hotel at the end of each day to ensure your arrival.
GETTING THERE / GETTING HOME
This itinerary begins in Milngavie and ends in Fort William.
The closest airports to the start of the walk are London (all), Glasgow International and Glasgow Prestwick.
There are bus, train & flight options for arriving and departing your walking commencement destination.
Remember all train bookings are recommended, and you can only book two months in advance of the date of travel.
By Rail:
Nearest Railway Station: Glasgow Central Station and Glasgow Queen Street Station. The journey from London Euston to Glasgow Central Station takes approximately 5 hours 30 minutes.  Frequent services operate on the West Coast Mainline to Glasgow.
Getting to Milngavie
First Scotrail operate train services to Milngavie and to other destinations around the country. Trains run regularly from Glasgow Queen Street and Glasgow Central Stations throughout the day. There are usually 2 services per hour (journey time approx 25 minutes).
Returning from Fort William
By Rail:
There are regular train services to Glasgow and Edinburgh. There are usually 3 services per day and 1 on a Sunday (journey time 3 hours 45minutes).
By Bus:
There are regular Citylink bus services to Inverness (2 hours), Glasgow (3 hours) or Edinburgh (4hours 30 minutes).
INSURANCE
Insurance is compulsory for everyone who travels with Wandering the World. The insurance policy must include cover against personal accident, medical expenses, emergency repatriation and personal liability. Wandering the World recommends insurance coverage for cancellation to be taken at the same time payment is made, as no exception to the cancellation provisions can be made.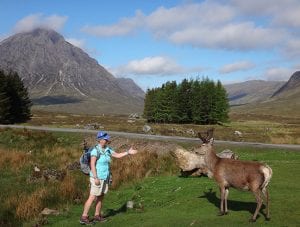 "I loved this walk from the moment it started – the beauty of the landscapes, the Scottish accent, the locals' infectious enthusiasm for their country. A big part of the experience is the guesthouses and the friendliness of the hosts, who certainly know how to keep up the craic, as they say. Having Scottish ancestry myself, I looked up my clan and checked out my tartan and I couldn't be prouder to claim a little heritage as I walked the Highlands and relished in the beauty of the bonny, bonny banks of Loch Lomond".  – Glenyce, Founder of Wandering the World.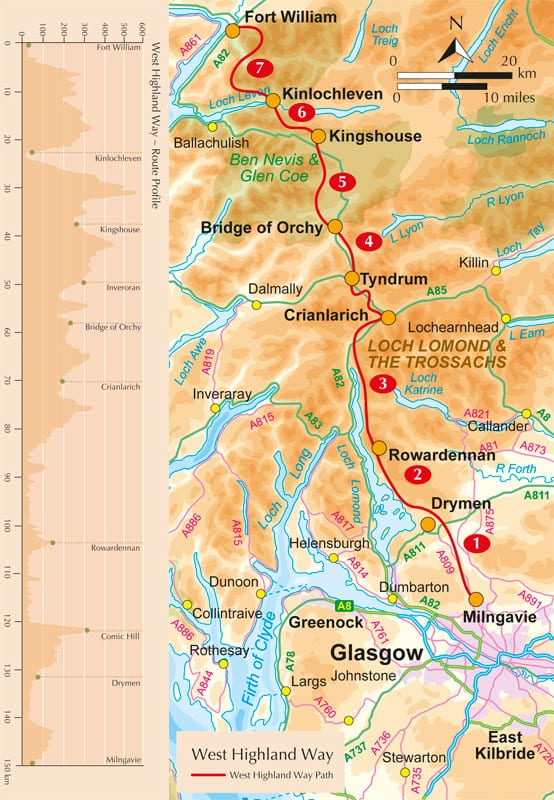 The scenic landscape in Scotland provides you with one of the best Highland Treks, across the Scottish Highlands. The 154km trail is varied, as you walk through pasture land, forests, mountain valleys, and along drovers tracks. The route is truly breathtaking with views across sparkling locks, and green mountains, that go on for miles. The wilderness of Rannoch Moor, and into the dramatic mountains on the Nevis Range. Summiting Ben Nevis, the highest peak in Scotland was a high light for me. The views as you are hiking up are spectacular. The views from the top, it's one of the best places to visit in Scotland!   Jan R, WHW, 2018
We had a great time on our walk.  Everything worked well for us, more walkers and no navigation skills required.     Jenny – WHW,  2018