Western Australia: The Bibbulmun Track
7 days / Guided walking
Albany to Denmark
Western Australia: The Bibbulmun Track
This section of the Bibbulmun Track rewards its walkers with some of the best uninterrupted scenery on Western Australia's south coast. Journey through a huge and wonderful natural garden enjoying the peace and beauty of this diverse environment, while you look out for a myriad of animals, reptiles and birds. Take up the option of a dip in one of the sheltered swimming spots as you journey along one of the world's greatest long-distance walking trails.
DURATION/LENGTH
7 days/75 kms
DATES
October 5, 2022 & October 18, 2023
START/END POINT
Albany to Denmark
PRICE P/P TWIN SHARE
From AUD 2,525
Make Enquiry
SAVE/PRINT ITINERARY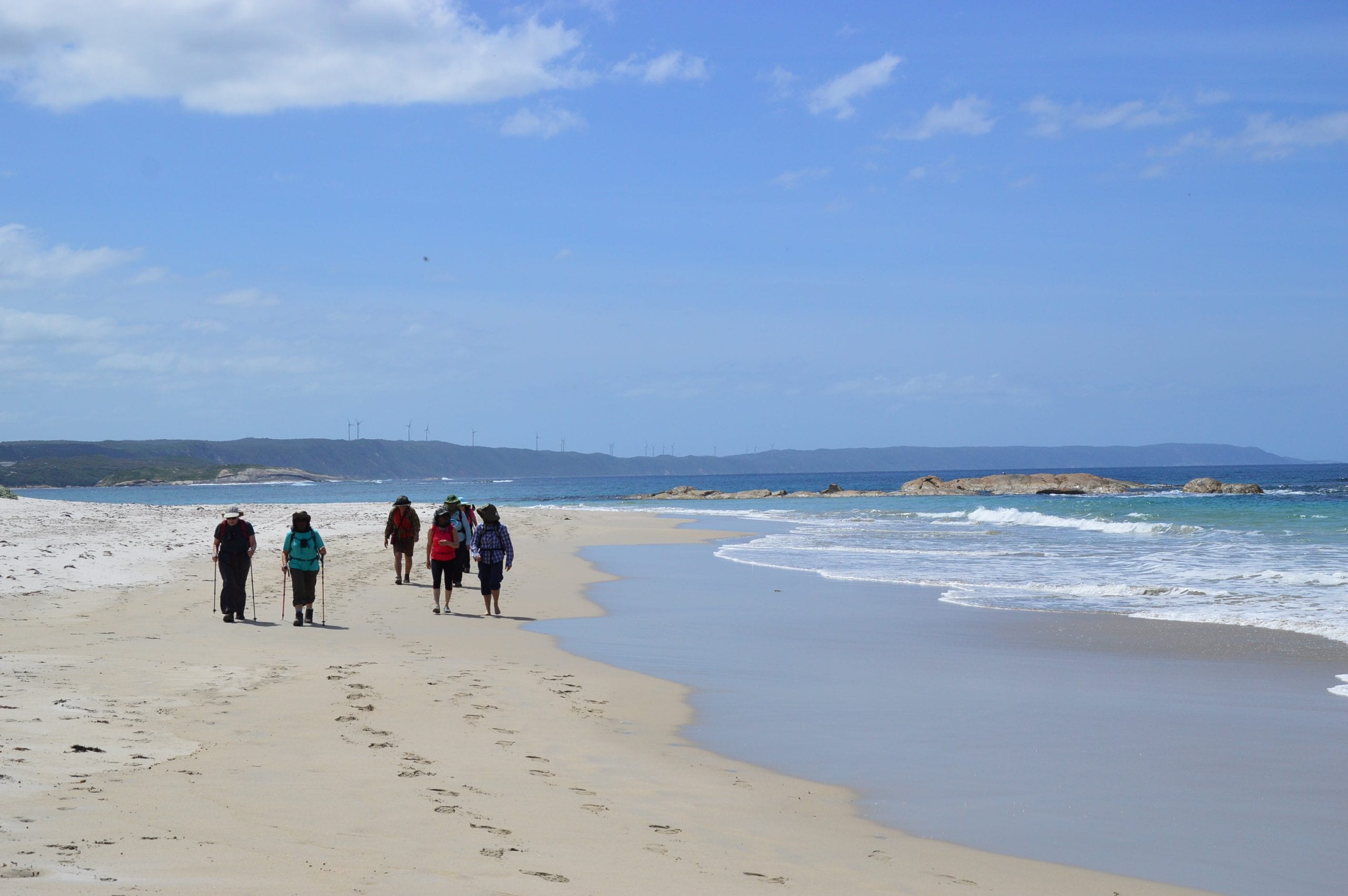 Once we collect you from Perth, or meet you in Albany if you like, the excitement builds for this stretch of the Bibbulmun Track which follows the magnificent southern coastline from Albany to Denmark. Wildflowers are a feature at the right time of year, stunning landscapes to meet the sea. The terrain makes this a modest walk covering 13 to 19 kms per day with some steep sections and beach walking just to keep it interesting.
Each evening we return to the same chalet accommodation in Kronkup, just out of Albany to enjoy the mountain views from your patio.
Day 1 | Drive Perth to Albany, walk to Lilac's | 4.5 km / 1-2 hours

We will collect you from Perth at 8am before making our way south, or join us after walking Walpole to Denmark if you wish. After our drive we will take a short walk which begins at the Southern Terminus of the Bibbulmun Track in Albany. We will follow alongside the picturesque Princess Royal Harbour, before settling into our chalet, your home for the rest of this trip, with a welcome dinner to follow.
Day 2 | Lilac's to the Wind Farm | 10 km / 3 hours

Today we enter Torndirrup National Park before heading for the coast.
Look out for orchids along the sandy track up to the ridge, and there are some great views back over Albany town. After lunch you'll start to get some views of the Southern Ocean as we make our way toward the wind farm. Views along the cliffs here are spectacular!
Day 3 | The Wind Farm to Mutton Bird Rd | 13 km / 4-5 hours

From the cliff-side wind turbines, we head west along the Bibbulmun Track with beautiful sweeping views of the coast. The wildflowers along this section are usually spectacular and the walking is fairly easy.
We finish at a lovely coastal bay with views of Shelter Island a great place for a swim, or just a paddle if you wish.
Day 4 | Mutton Bird Rd to Shelley Beach | 13 km / 4-5 hours

Starting with a beach walk and then crossing the Torbay Inlet by foot*. Let your mind wander on the lovely 6 km beach walk into Cosy Corner where we'll have some morning tea.
After morning tea we head up through some interesting and varied environments. We walk through peaceful groves of trees; over granite outcrops with their sticky tail flowers on display; and we are treated to million dollar coastal views. Our walk ends at Shelley Beach where we might glimpse a hang glider soaring above the white sand beach.
At this time of year a sandbar has usually formed over the mouth of the inlet but we may have to wade, and can be ankle to thigh deep. If the flow is too fast or the water too deep, we will walk an alternative route.
Day 5 | Shelley Beach to Lowlands | 18 km / 5-6 hours

Today's walk is mostly within the spectacular West Cape Howe National Park, accompanied by a profusion of wildflowers in season.
There is a bit of up-hill walking early on especially one section with many stairs! After that it's fairly easy walking. We visit the West Cape Howe campsite, then it's all downhill to finish the day at the beautiful Lowlands Beach.
Day 6 | Lowlands to Eden Rd | 16 km / 5 hours

Expect some great scenery today as we alternate between coastal and inland views. We will pass through the Nullaki campsite and then it's an easy walk out to the peaceful Wilson Inlet.
We finish our walk in a cosy grove alongside the Inlet and celebrate a great week's walk on the Bibbulmun Track.
Day 7 | Return to Perth

Before we head back to Perth today we have a few options. We can do a short walk around Mt Clarence or perhaps a quick visit to the Sandalwood factory in Mt Baker.
Enjoy lunch at Williams Woolshed (own expense) on our way back to Perth. We should arrive back in the city mid/late afternoon.
Inclusions
• All transport: private coach transport to and from Perth; as well as transport to and from the track each day
• Professional guiding and support each day
• 6 nights comfortable accommodation
• 6 healthy breakfasts – cereal, fruit, yogurt, toast
• 7 morning teas, carried by your guide
• 6 lunches
• Pre-dinner nibbles each night
• 6 delicious two course dinners
Optional Inclusions
• Single supplement for your own room
Not Included
• Flights
• Transfers not already outlined in detailed trip itinerary
TRIP GRADE
Moderate – This itinerary is carefully designed for easy to manage walking days.
INSURANCE & MEDICAL COVER
For our Wandering the World Australian walks, we strongly recommend suitable travel insurance to cover any loss which may be suffered due to your need to cancel your trip for any personal reason. We also strongly recommend checking you have adequate medical cover to support you in the unlikely event of an accident while travelling and walking.
BOOKING AND TRAVEL TERMS AND CONDITIONS
Wandering the World's full booking terms and conditions are available upon request and will also accompany your initial invoice for deposit.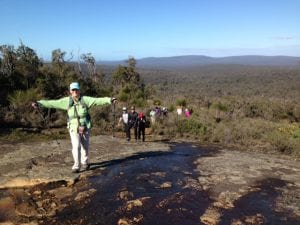 "The Bibbulmun Track is one of the world's great long distance walking trails and I enjoyed a few kilometers of the 1,000 stretch which starts in Perth and heads south towards Albany. The beauty and the silence is what grabbed me most, tall trees and equally barren land, with some stunning coastline in the mix. Albany has a country town feel with heaps of character, however Denmark was the most memorable for me, a charming village in timber country with a population of less than 3,000 and arguably the most beautiful beach in Australia! The walking promises one great view after another".  – Glenyce, Founder of Wandering the World.