Tasmania: Experience Three Capes
4 days / Guided walking
Hobart to Hobart
Tasmania: Experience Three Capes
Enjoy the remoteness of the world's edge on the Three Capes Walk whilst exploring the towering cliff tops and amazing rock formations of the Tasman Peninsula.
DURATION/LENGTH
4 days/35 kms
DATES
November 17, 2022 & February 14 & November 22, 2023
START/END POINT
Hobart to Hobart
PRICE P/P TWIN SHARE
From AUD 2,380
Make Enquiry
SAVE/PRINT ITINERARY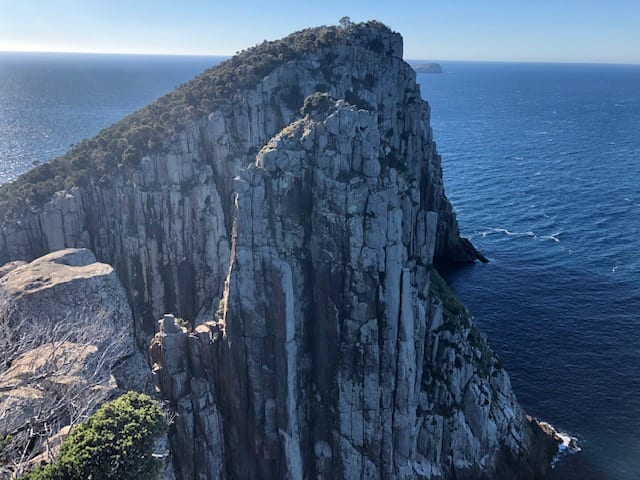 Make your own way to and from Hobart and we will take care of the rest.  A visit to historical Port Arthur and a cruise around the spectacular Tasman Peninsula are both included with this walk. Averaging 9 kms per day with the exception of one 14 km day. While the distances are not taxing, the walking itself is challenging and suitable for those experienced walkers who enjoy plenty of up and down and are steady on their feet over rocky surfaces.
Staying three nights on the Tasman Peninsula in our newly refurbished comfy lodge accommodation, with breakfast, lunch and dinners included.
Day 1 | Crescent Bay and Mount Brown | 9 km / 5 hours
We'll meet you in Hobart and make our way to the Remarkable Caves carpark where we begin our walk for the day. The first part of the hike crosses a series of sand dunes covered in coastal heath vegetation, and you may even spot an echidna. This section offers westerly views back towards Cape Raoul. The track then opens out into a gaping cavity known as Maingon Blowhole. The track then heads inland onto the lower knolls of Mount Brown where a series of cairns will direct your ascent. The walk up to the summit (optional) is moderately steep, with views over Cape Pillar, Tasman Island, Arthurs Peak and further south to cape Raoul and Bruny Island.
Once back on the main track we reach Crescent Bay. This beach is incredibly beautiful and often sparsely populated and feel free to swim if you wish. After the day's walk, we head back to our accommodation for well-earned pre-dinner snack followed by a fabulous two-course meal prepared by your guides.
Day 2 | Cape Raoul | 14 km / 6 hours
After breakfast and lunch making we begin our walk today out to Cape Raoul. Offering some of the most spectacular coastal lookouts in Tasmania, Cape Raoul is an excellent return day walk within the Tasman National Park. With only a few steep sections, this is a comfortable walk allowing ample time to relax and enjoy the expansive views of the surrounding Tasman Peninsula and further south to Bruny Island. At the trail head for Cape Raoul there are toilet facilities available. We start walking through heathland and after a short gradual climb we cross a bridge above a small gully. The bushland then opens up with spectacular views of the incredible cliffs. Cape Raoul is just beyond the lower plateau to the east. A short distance to your right is another open section of the cliff top allowing you a stunning view down to Shipstern Bluff, beyond to Bruny Island and Tasmania's southern coast.
From these lookouts, we also may have our first encounter with the intense winds the capes are famous for (some of the strongest recorded winds in Australia). The trail heads east from here along the cliff tops, descending the steepest part of the trail first onto the Cape Raoul plateau. Once on the plateau the landscape changes to stunning coastal banksia scrub and soon we see our first glimpses of the northern coastline including Mt Brown, Arthurs Peak and Mt Fortescue. Situated a little further east, are the impressive 300-metre-high cliffs of Cape Pillar.
Day 3 | Fortescue Bay to Cape Hauy (optional visit to Port Arthur) | 8 km / 5 hours
Following breakfast we will prepare our lunch and trail mix for the day walk to Cape Hauy. This spectacular walk is graded moderate, however there are some testing, challenging parts mainly due to the lengthy sections of well-constructed stone steps that ascend and descend nearly the entire length of the trail. (you must navigate these heading out to the Cape and on the way back again).
The walk starts at a beautiful cove and there are some steep sections with stairs. There is a steep climb at the start and end of the walk, but once at the top of the first saddle extensive panoramic views stretch far north past the Forester coast to Maria Island and south, detailing the ridges of Cape Pillar. Towards the end the track follows the cliffs edge, providing spectacular views. The final segment of the trail, before reaching a large plateau, is quite steep and narrow and again care needs to be taken to navigate this section. Once at the end you are able to clearly view the exceptional rock formations of the Candlestick and Totem Pole, large columns of dolerite rocking out of the ocean.
We then return via the same route. The terrain is quite rocky and there are ups and downs but it is a magnificent walk as long as you are prepared. We have some free time in the afternoon. You can simply relax or we can drop you at the Port Arthur Historic Site for your own free time to explore.
Day 4 | Wilderness Cruise
Starting with our daily breakfast and again we make our lunch, then head out on the 3-hour award winning Wilderness Cruise, a nice way to see that last bit of Tassie. The boat passes by the spectacular rock formations along the coastline, stopping regularly for easy viewing and photography. Seals, albatross, white bellied sea eagles are usually well in sight.
The trip comes to an end back in Hobart around 4.30, you may choose to spend an additional night in Hobart or take a late flight home.
Inclusions
• 3 nights accommodation in comfortable accommodation
• All transport and guiding (pick up and drop off in central Hobart)
• 4 lunches, 3 breakfasts and 3 dinners
• Three hour Wilderness Cruise
Optional Inclusions
• Single supplement for your own room
Not Included
• Flights
• Travel to trip's starting point (Hobart)
• Transfers not already outlined in detailed trip itinerary
TRIP GRADE
Moderate – This itinerary is carefully designed for easy to manage walking days.
INSURANCE & MEDICAL COVER
For our Wandering the World Australian walks, we strongly recommend suitable travel insurance to cover any loss which may be suffered due to your need to cancel your trip for any personal reason. We also strongly recommend checking you have adequate medical cover to support you in the unlikely event of an accident while travelling and walking.
BOOKING AND TRAVEL TERMS AND CONDITIONS
Wandering the World's full booking terms and conditions are available upon request and will also accompany your initial invoice for deposit.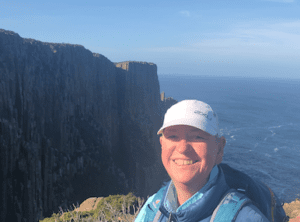 "In my opinion Tassie should be on everyone's list of places to visit, it is the 26th largest island in the world with a big heart, proud people and a real charm. Walking in the wilderness is exceptionally beautiful and comprehensively serene. A total immersion of local food, wine and nature. I can't wait to get back for a scallop pie and a freshly shucked oyster!" – Glenyce, Founder of Wandering the World.
In May, 2021 I was lucky enough to go for a four day walking tour to the Three Capes in Tasmania with Wandering the World.
We had so many highlights. Wandering the World had everything organized , so we could sit back and relax. Accommodation and food great, a wonderful group of walkers and the walks, scenery and nature amazing .
I can highly recommend Wandering the World tours.
Lindsay W – The Three Capes, Tasmania
In May I walked the Three Capes with Wandering the World. What a fabulous experience, not just the walking, but the accommodation for three nights in a very comfortable lodge and on the last day an amazing jet boat ride to view from the ocean all the walking we had covered over the previous three days.
Wandering the World offer a comprehensive package that leaves you to only decide what choice of lunch to pack each day. It was a great way to switch off from everyday life and just enjoy the walking, scenery, and companionship of fellow walkers.
Kim S – The Three Capes, Tasmania
As a newcomer to multi-day hiking, this was my first experience of a Wandering the World guided walk … and it was wonderful! The curated walk was exceptionally well-chosen and allowed us to stay at the same place each night, which was very comfortable and required no packing or unpacking. The expertise of the staff added a great deal to the walk. Not only did I learn to use the new walking poles, but I became increasingly fascinated with rock formations, plants, birds and native animals. The other travellers were great company and I had many interesting conversations with a diverse group of people. And the food was excellent. In summary, I felt included and very well looked after for the entire trip and will sign up for 2022 walks as soon as possible.
Julie W – The Three Capes, Tasmania