Nepal: Highlights of Nepal
13 days / Guided walking
Kathmandu to Kathmandu
Highlights of Nepal
Witness the majesty of Nepal's mighty Himalaya mountains as you discover the legendary city of Kathmandu, explore Pokhara's stunning lakeside environment and go deep into Chitwan National Park in search of rare wildlife.
DATES
Any date to suit you
START/END POINT
Kathmandu to Kathmandu
GRADING
Moderate - Challenging Walk
PRICE P/P TWIN SHARE
From USD 1,950
Make Enquiry
SAVE/PRINT ITINERARY
There's no limit to the wonder of Nepal. Imagine prayer flags fluttering in the wind; incense burning in a dimly lit temple; frozen peaks stretching on forever; the hardiest mountain people in the world. It's a snow-capped kingdom steeped in spirituality and its charms keep travellers coming back again and again.
This two-week trip, beginning and ending in the capital Kathmandu, will immerse you in the celebrated highlights of Nepal. It's designed to showcase a mix of cultural and natural treasures using internal flights, private transfers and high-end accommodation.
After spending some time in Kathmandu, you'll visit the beautiful region of Pokhara and its breathtaking alpine lake, visiting local villages and walking along the local mountain trails. From here, the itinerary takes you to Chitwan National Park, a jungle safe haven for rare species including the Bengal tiger, before returning to Kathmandu for some more time exploring and a scenic flight over Mount Everest. Though this isn't specifically a walking itinerary, the majority of days will involve hiking mountainous trails between villages and valleys, always returning to comfortable lodgings to recover and soak up the serene surroundings.
Day 1 | Arrive in Kathmandu
Welcome to Kathmandu, the atmospheric capital of magical, mountainous Nepal. You'll be met by your leader on arrival and transferred to the Annapurna Hotel, located right in the heart of the city. Depending on your arrival time, you'll have some free time to explore the bustling alleys of the old town before your leader gives a detailed briefing of the journey ahead. In the evening, you'll be welcomed with a traditional Nepali meal and an opportunity to get to know your fellow walkers.
Day 2 | Kathmandu
Kathmandu boasts more World Heritage Sites than any other city in the world and you'll explore two of the most popular monuments this morning. The Bodhnath Stupa is one of the largest Buddhist shrines in the world, while Pashpatinath is the most sacred Hindu temple in Nepal. In the afternoon, return to the hotel for lunch with the group then enjoy a free afternoon to relax, visit the markets or explore some of Kathmandu's other sights. Your leader will meet you later this afternoon to discuss departure details for tomorrow's flight to Pokhara and can give you some great suggestions for where to have dinner tonight.
Day 3 | Kathmandu – Pokhara
Enjoy breakfast at the hotel then transfer to Kathmandu Airport for a short flight to Pokhara. You'll be treated to wonderful mountain views of the Manalsu and Annapurna ranges during the flight, not to be outdone by the journey to the Fishtail Lodge once you've touched down. The lodge, which is reached by travelling across the beautiful Phewa Tal (lake), is nestled on a peaceful, forested peninsula with panoramic views of the Annapurnas and Mount Machhapuchhre (Fish Tail Peak). Spend the afternoon relaxing and soaking up the mountain scenery, or perhaps head to the other side of Phewa Tal to explore the lakeside shops and cafes.
Days 4–5 | Explore the Pokhara Valley
Spend two days exploring the Pokhara Valley and the villages dotted throughout, partaking in short exploration walks that showcase the local Nepali people and their incredible culture. You'll walk, on average, 4–5 hours per day. On the first day, drive to the foothills of the Annapurna range to visit the Lwang village and tea plantation, tucking into a typical Nepali meal with a local family for lunch. In the afternoon, travel through forests and rice paddies to the road for your transfer back to Pokhara for the evening.
Rise early the following day to witness sunrise at the Peace Pagoda, located high on the valley rim. You'll depart the lodge by boat then climb along a forest trail to reach the pagoda. The views of the lake are stunning from here, as are those of the mountains, which soar to an unbelievable height of over 8,000 metres. After sunrise, return to your lodge for breakfast before heading out on a guided walk to the far side of Phewa Tal. Once there, you'll spend the afternoon exploring the valley's hillside villages and forest paths.
Days 6–7 | Annapurna Mala Lodge
After breakfast, you'll transfer by 4WD to the village of Lumle. The cars will then turn off the main road and follow a track through a lovely forest of oak and rhododendron until reaching Mala Lodge, one of the best places to stay in the Annapurna region. The grounds are beautifully maintained and the backdrop of the Himalaya – including Annapurna South and Machhapuchhre – speaks for itself, really. Arriving in the late morning, you'll spend the rest of the day, as well as tomorrow, visiting local villages and being immersed in the culture and lifestyle of the locals. Many of the men, who come from the Gurung ethnic group, have served within the British Gurkha regiments and have plenty of tales to tell if given a chance. The walks from the lodge over these two days are gently paced – as are the afternoon teas – and short in duration, given the high altitude. It's unlikely that you'll wish to move quickly anyway, thanks to the endless mountains that haunt the horizon.
Day 8 | Pokhara
Rise early for an unforgettable sunrise over the Himalaya then return to the lodge. After a hearty breakfast, transfer back to Pokhara for lunch before visiting the International Mountain Museum. The museum highlights the many expeditions to the high peaks of the Himalaya throughout history, both successful and unsuccessful, as well as Nepal's flora, fauna and culture. There's also a climbing wall and a climbable model of Manaslu, the eighth-highest mountain the world, if you wish to try your hand at the local past time. There'll be some free time to explore the lakeside area afterwards, perhaps taking a boat ride or enjoying a sunset drink by the water. Tonight, you can join your local leader for dinner in one of the tastiest restaurants in town.
Day 9 | Pokhara – Chitwan National Park
After breakfast, transfer to Pokhara's airport for a flight to Bharatpur, Nepal's fourth-largest city. The flight is only short – approximately 20 minutes – with spectacular views of the mountains to the north. Once touched down, you'll be transferred by jeep to Jagatpur Lodge, which is set by the Rapti River on eight acres of grassland and forest on the edge of Chitwan National Park. The lodge makes the most of its location, combining outstanding scenery with an understated elegance, and is a magnificent place to base yourself while discovering Nepal's first national park.
Day 10 | Chitwan National Park
Make the most of a full day exploring the World Heritage-listed Chitwan National Park by canoe, jeep and on foot. The park, which was created in 1973, is celebrated for sheltering rare species like the one-horned rhino, Bengal tiger and Gharial crocodile, while there are also innumerable species of birds and mammals. After a day packed with adventure, the lodge is a welcoming sight with some great spots to relax, enjoy a drink, read a book or sit back and listen to the sounds of the jungle.
Day 11 | Chitwan National Park – Kathmandu
After a peaceful retreat in the jungles of Chitwan National Park, transfer to the airport for your flight back to Kathmandu. You'll be treated, once again, to unforgettable views of the snowy Himalaya during the flight. On arrival, transfer to the Annapurna Hotel – where you stayed at the beginning of your journey – then spend the rest of the afternoon and evening as you wish. This is a legendary city – and has been for years – so wind your way through the bustling bazaars and narrow market streets packed with animals and holy men as the scent of incense hangs heavy in the air.
Day 12 | Everest scenic flight
The big-ticket item on any Nepal trip is a scenic flight over Mount Everest, known by the Tibetans as Chomolungma and Sagarmatha by the Nepali. This morning is your chance to take the one-hour flight, flying parallel to the mountain range before turning over Mera Peak and coming into view of the highest mountain in the world. Everyone has a window seat, so rest assured that you'll see the awe-inspiring peak in its full glory. First climbed by Sir Edmund Hillary and Tenzing Norgay in 1953, this mountain is truly something special. You'll return to Kathmandu after the flight and be transferred to the ancient city of Bhaktapur, an amazing place packed with centuries-old temples that was tragically devasted by the 2015 earthquakes. Learn the city's stories – both historical and recent – and enjoy lunch before returning to the hotel for your final evening in Nepal.
Day 13 | Depart Kathmandu
Your adventure through Nepal comes to an end today. Your leader will transfer you to the airport for your onward flight after breakfast.
Visit www.wanderingtheworld.com.au for more information.
Inclusions
12 nights accommodation, hotels (3 nights) and lodges (4 nights)
Private en-suite facilities in hotels (3 nights), shared facilities in lodges during trek (4 nights)
Luggage identification tags
Daily breakfast in hotels only
The services of an expert English-speaking and certified Wilderness First Responder Trek Leader throughout the tour
Porters on trek along with Assistant Guides where applicable
Airport transfers on arrival and departure
Emergency contact details and 24/7 local on-the-ground support
Pre-departure and ongoing support from Australian office
Luggage, Trekking Gear & Porterage:
Sleeping Bag: We provide a high quality a sleeping bag for use in the lodges as only a mattress and pillow are provided in the rooms.
Sheet Liner: An inner sheet for the sleeping bag for extra warmth and your personal hygiene.
Duvet Jacket: The jacket will mainly be worn around your lodge in the evenings rather than whilst walking during the day.
Kitbag: A full-length zippered bag for easy stowing of personal gear and for easy carrying by porters.
Comprehensive Medical Kit on trek
Optional Inclusions
Single supplement for your own room
Additional night's accommodation before or after trip (please advise at time of booking)
Not Included
Flights (international and domestic to the start of trek)
Meals – ordered and paid locally to offer a greater selection.
Travel to trip's starting point
Transfers not already outlined in detailed trip itinerary
Visas
Tipping
Trip Leader
A trek leader will accompany you on trek and will be on hand in Kathmandu. His main function is to look after your welfare. Our leaders are all experienced trekkers chosen not only for their knowledge of the Himalaya, but perhaps more importantly, for their "people skills". They are there to ensure you have a safe, informed and enjoyable trek. All our current leaders hold internationally recognised first-aid certificates.
Sherpas/Porters
Our trekking team have many years' experience working with our groups. They are responsible for the smooth running of the trek, guiding you during the day and preparing excellent for whilst on the trail. The porters carry all equipment and food and they are supplied with additional equipment and clothing by our Nepalese Trekking partners to ensure they are adequately protected on our treks.
Trekking Lodges
The lodges on this trek are basic, yet comfortable, with twin-share rooms. You sleep in your sleeping bag on a bed with foam mattress and pillow provided. Toilet facilities are shared and most have asian style squat toilets. All lodges can provide hot showers and a battery charging service for a small extra fee. All lodges have a comfortable dining room with heaters. Meals are nutritious with plenty of choice but the availability of fresh meat and fruit is variable.
The Trekking Day
Every day varies, according to the route that has been planned and the terrain you will be walking through. Typically, you can expect to leave around 8am, although some days may require an earlier start; your leader will keep you fully informed so that you know what is happening each day. The lunch break is generally around midday; this allows time to rest as well as giving the staff time for a break. The afternoon walk generally finishes around 3pm, so there's time to explore the area in which you are staying.
Meals in the Lodges                                                                                                       
Meals – We know children can have varied preferences when it comes to eating, so no meals have been included on this itinerary.  Meals can be chosen and paid for from the menu, which have a good range of local and western choices.
Breakfast examples                                                                                                                   
Most people would start with porridge/muesli, followed by eggs, toast or local breads and tea or coffee
Lunch                                                                                                                           
This tends to be a lighter meal where you may choose a noodle dish, the old favourite chips with egg, pizza slices or perhaps a fried rice dish. Followed by juice, tea, coffee or soft drinks.
Dinner                                                                                                                        
Soup is usually the choice for most people followed by a main course of  the national dish of dahl baht rice/lentils and vegetables, steamed momo's, rice and curry, pizza, If you are still hungry then sweets such as rice pudding, cake, apple fritters are available.
Drinking Water
Boiled drinking water is provided at the lodges. We suggest you fill your water bottle in the evening, use it as a hot water bottled through the night. You can refill at any lodge along the trail.
Single supplements are also available so you can enjoy your room with private en-suite. This supplement will apply if you are travelling alone or if there is no gender-share option. You can request a shared room through Wandering the World at the time of booking, however this is not guaranteed.
There are opportunities to upgrade to more luxurious lodgings in many places along the Camino. These are perfect for celebrating special occasions and milestones, or even to enhance your entire journey. We can recommend some very special, unique places to indulge in the Camino hospitality in spectacular style, so please ask us about these options when booking.
THE WALKING
Our Wandering the World Nepal Family trips are all guided for the safety and enjoyment of your walk.  We take into consideration the fitness of the group to determine the slow pace of enjoying the mountains of Nepal, and your guide and assistant guide will be with you every step of the way.
TRIP GRADE
Moderate to Challenging – This itinerary is carefully designed for easy-to-manage walking days that are generally approximately 6 walking hours. However, like all trekking at altitude there are challenging parts and stages due to the possibility of this acute mountain sickness.  The surfaces are fairly even with moderate ascents and descents. A reasonable level of fitness is essential.
Given you only need carry a lightweight day pack, this trip is very manageable, however regardless of your previous walking experience, the altitude can affect your comfort and therefore preparation and training make all our treks much more adaptable and enjoyable.
GROUP SIZE
Wandering the World's guided groups have a maximum group size of 12 participants. This small group size means that we have the flexibility to stay in a wider range of accommodations, can dine together in the evenings and there are more opportunities to get to know your travelling companions.
WEATHER
The weather and climate in Nepal can vary from region to region and, of course, from day to day. Each season has its own benefits, with long, warm and sunny days in spring and early summer, while early spring and late autumn tend to enjoy cooler walking temperatures. Some sections may be too hot for walking mid-summer, while others are more likely to be wet at certain times, therefore we avoid the monsoon season. The experts at Wandering the World can discuss your preferences and guide you when you are planning your trip.
Once you've started your walk, the weather can play an important role in your overall enjoyment of the journey. Checking the forecast can be a great help when planning your days. If you do strike hotter weather, leaving early to avoid the warmest part of the day will make a huge difference.
24/7 SUPPORT & CARE
Your information pack will include details of local emergency contacts and international contacts. We have local, on-the-ground support to provide any assistance you may require and we'll also check-in with your hotel at the end of each day to ensure that you've arrived safely.
GETTING THERE / GETTING HOME
As part of your itinerary, private airport transfers are included for your convenience from and to Kathmandu International Airport.
INSURANCE
Insurance is compulsory for everyone who travels with Wandering the World. The insurance policy must include cover against personal accident, medical expenses, emergency repatriation and personal liability. Wandering the World recommends insurance coverage for cancellation to be taken at the same time your deposit is paid, as no exception to the cancellation provisions can be made.
HELICOPTER EVACUATION
Helicopter evacuations have occasionally been required in an emergency. It is re-assuring to know that this back-up is available. Such evacuations are at the cost of the passenger evacuated. The cost is typically US5,000 to $6,000 depending on location, including service charges. It is for this reason that adequate insurance must be held by all participants on our treks. If an evacuation is effected, you will be invoiced and payment must be effected before departure, either by credit card or by reimbursement through your insurance company.
We will supply to the passenger all necessary copy invoices and supporting statements and documentation to permit the passenger to lodge their claim with their insurance company.
BOOKING AND TRAVEL TERMS AND CONDITIONS
Wandering the World's full booking terms and conditions are available upon request and will also accompany your initial invoice for deposit.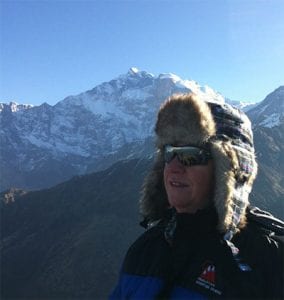 "I was blown away with the scenery and beauty of Nepal… 'the rooftop of the world'! There is something uniquely special about the hiking and the peace of the trail, the sound of rivers flowing and meeting the odd yak after hearing its bell for miles.  However, the national flower, the enchanting rhododendrons steal the show, with the backdrop of white-capped peaks the deep rich red flowers were better than any photo could possibly do justice".  – Glenyce, Founder of Wandering the World.