Japan: Kumano Kodo Pilgrimage Trail
9 days / Guided walking
Kyoto to Osaka
Kumano Kodo Pilgrimage Trail
Immerse yourself in the beauty of Japan's natural landscapes and soak in the sounds and sights of the forest as you walk the ancient Kumano Kodo pilgrimage, spending time in peaceful Kyoto and Osaka's buzzing streets to bookend the experience.
DURATION/LENGTH
9 days/54 kms
DATES
March 15 & November 5, 2023
START/END POINT
Kyoto to Osaka
PRICE P/P TWIN SHARE
From YEN 475,000
Make Enquiry
SAVE/PRINT ITINERARY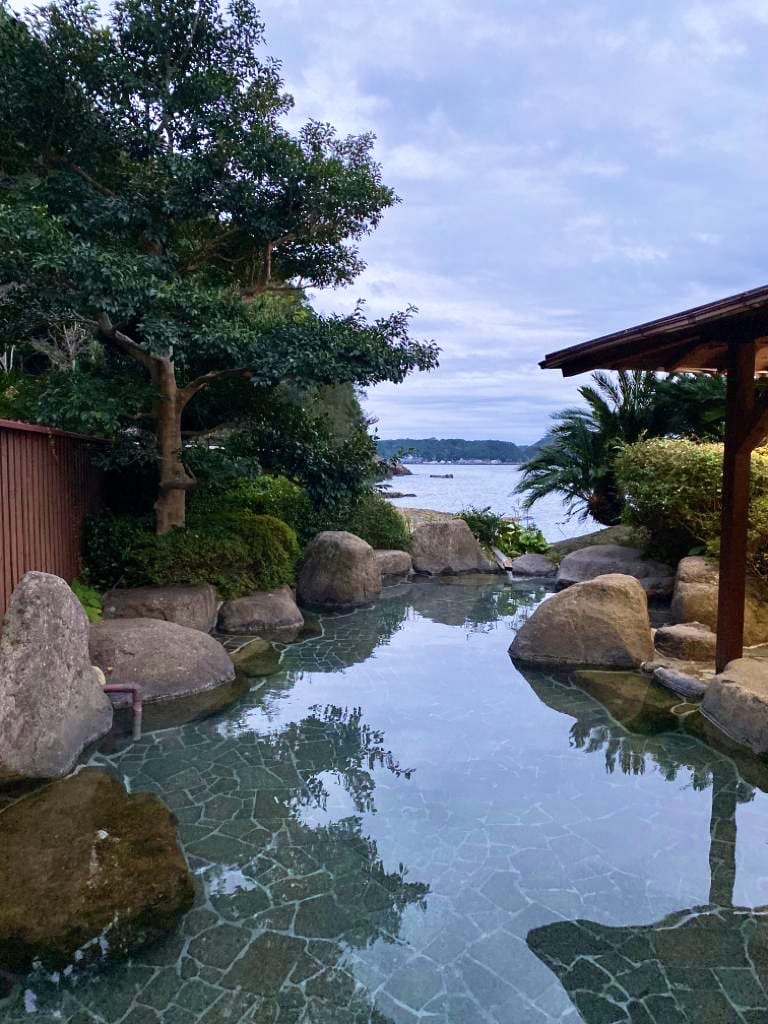 The Kumano Kodo is characterised by verdant mountains and deep valleys, with a soundtrack provided by flowing rivers and plunging waterfalls. The region's rich natural splendour is matched only by its ancient history, combining to create a fulfilling pilgrimage walk in a little-known part of Japan. On this walk we enjoy feature stays at comfortable, family-run inns with excellent food, where pilgrims can soak in natural hot springs and visit many shrines along the Kumano Kodo trail. With a history stretching back over a thousand years, the pilgrimage has seen monks, samurais, artists and royals all walk along the numerous trails to Kumano. This particular route will see you walking on forest trails, quiet roads, paved paths and in mountainous areas, covering 10–17 kilometres per day.
For experienced pilgrims, the Dual Pilgrimage initiative was established in 2018, which recognises pilgrims who have completed one of the Kumano Kodo routes and one of the Camino de Santiago routes. These pilgrims will receive a Dual Pilgrim Credential on which the two main symbols of both routes – the Yatagasaru and Scallop Shell – will appear.
Day 1 | Arrive in Kyoto
Your trip commences in Kyoto with a welcome dinner with your fellow pilgrims in the evening. Food is a highlight of any trip in Japan and your first meal will not disappoint. Kyoto, which was once the capital of Japan, is located on Honshu Island and famous for its Buddhist temples, gardens, palaces and shrines, not to mention the peaceful atmosphere of its city streets.
Day 2 | Kyoto
Today you'll travel by local train and bus on a half-day tour to Fushimi Inari Shrine and the Nishiki Food Market. The famous shrine, which is one of many throughout Japan, was built to honour Shinto, the god of rice. But you'll have more than rice on your plate as you explore the narrow, five-block-long shopping street that houses the hundred shops and restaurants that make up Nishiki Market. Known as 'Kyoto's Kitchen', this lively retail market specialises in all food-related things, like fresh seafood and produce, knives and cookware. It's a great place to find Kyoto specialities and seasonal foods, including sweets, pickles, a huge variety of skewers, and incredibly fresh sushi.
Day 3 | Kyoto – Kii-Tanabe – Takijiri Oji – Takahara | 5 km / 2 hours
Start the day with a two-hour train transfer to Kii-Tanabe along the scenic Japanese coastline. The town of Kii-Tanabe is considered the gateway to the Kumano Kodo Trail and sandwiched between the Pacific Ocean and the mountains. From here, we'll take a 40-minute bus ride to Takijiri Oji and begin walking. Today's walk is short but involves a fairly steep climb to Takahara, a small ridge-top settlement that's known for its ancient shrine spectacular views over the Hatenashi Mountains. As you climb upwards, Buddhist statues and Oji shrines line the ancient highway route. Your day is complete with a hot spring bath from Wataze Onsen, followed by an evening meal, showcasing the best of home cooking using organic produce, including the wine!
Day 4 | Takahara – Chikatsuyu | 10 km
Depart Takahara Village and walk further into the mountains, passing by reminders of the old highway including an ichirizuka distance marker and the remains of old tea houses. These houses were once used by pilgrims for rest and shelter as they made their journey to Kumano. The trail then descends past the Three-Fold Moon viewing area, from where you can visit the famous Gyuba-doji statue, before a cobbled path and staircase lead you to Chikatsuyu, a small village where you can pick up some local snacks.
Day 5 | Chikatsuyu – Yunomine Onsen | 17 km
Today's walking is mainly along a variety of forest paths to Kobiratoge, where we'll transfer by bus to Hoshinmono-ji, which translates as the 'gate to spiritual awakening'. From here, we'll resume our walk to Hongu, continuing through small settlements with the Kumano Hongu Taisha Shrine – the area's main shrine – and its giant torii gate visible in the valley below.
Yunomine Onsen – our destination for the evening – is thought to be one of the oldest hot springs in all of Japan and was discovered some 1800 years ago. The waters are said to change colour seven times over the course of the day and the purification rituals performed here are an integral part of the pilgrimage. The town itself is a collection of quaint inns tucked into a valley deep in the sacred mountains of Kumano, an atmospheric and very important place to spend an evening on the Kumano Kodo.
Day 6 | Yunomine – Koguchi | 15 km
After a full Japanese breakfast, a short bus ride will take us from Yunomine to Ukegawa to commence our walk. This section involves a gentle trek over the Hyakken-gura Pass, which is undoubtedly the highlight of the day. At the pass, we'll find a Buddhist statue on one of the hilltops that has a backdrop of spectacular, panoramic views of Kumano's 3600 mountain peaks. The trail will then continue to rise and fall towards the remains of the Sakura-jaya teahouse, offering more memorable views of the mountains, before we reach a forest track and eventually descend into Koguchi – a small, isolated village surrounded by mountains and pristine rivers.
Day 7 | Koguchi – Kii-Katsuura | 16 km
Begin the day with a demanding climb to the Echizen Toge, a pass situated at 800 metres above sea level. We'll pass the remains of the Jiz-jaya teahouse along the way, on a section of the trail said to be inhabited by ancient spirits. After being spirited away through the forest, we'll reach the Funami Toge, where we'll be rewarded by expansive views of the Pacfic Ocean. From here, descend past various shrines and temples as well as the spectacular Nachi-no-Otaki waterfall, which is the highest in Japan, before reaching Kii-Katsuura. This small fishing village is the perfect place to relax and celebrate the completion of your journey along the Kumano Kodo.
Day 8 | Kii-Katsuura – Osaka
After enjoying a relaxed start and hearty breakfast in Kii-Katsuura, we'll transfer to Osaka, which was the capital of Imperial Japan for over a thousand years. There is plenty to see and do in the city, including the magnificent Osaka Castle and the popular Dotonbori district, which will no doubt satiate all your cuisine cravings. Enjoy a final evening with your fellow pilgrims, reflecting on your walk and the incredible Japanese culture we're so fortunate to experience.
Day 9 | Depart Osaka
Your adventure along the Kumano Kodo trail officially comes to an end after breakfast today. We hope that you've had the walk of a lifetime and, like us, fallen in love with Japan.
Visit www.wanderingtheworld.com.au for more information.
Inclusions
8 nights accommodation, all carefully selected to enhance your walking Japan experience
Combining western style hotel accommodation with private en-suite facilities in major cities and Japanese style ryokan and temple accommodation where possible with gender share bathrooms and onsen.  (Japanese baths)
Luggage transfers from accommodation to accommodation. (1 x 20kg bag per person)
The occasional night is in remote regions without your main luggage.  For your comfort our Japanese style accommodation provides toiletry products, slippers and a yukata (a casual summer kimono) which is encouraged to be worn after your evening onsen, and to dinner in the dining room, joining all other guests in the same attire.
Daily breakfast
7 Japanese style evening meals
5 Lunches
Private and local transport as per itinerary
Experienced guide throughout your journey
Emergency contact details and 24/7 local on-the-ground support
Pre-departure and ongoing support from Australian office
Optional Inclusions
Single supplement for your own room
Additional nights accommodation before or after trip (please advise at time of booking)
Not Included
Flights
Travel to trip's starting point
Transfers not already outlined in detailed trip itinerary
Lunches, except for the 5 included on walking days
Accommodation 
We know from personal experience that a good night's rest can make or break a trip, which is why we carefully select all our accommodation.  In Japan, our selection between a mix of traditional Japanese style and more modern hotels, depends on the itinerary, and the trail the group is walking. In the larger cities we select Western style hotels with private en-suite facilities. However, we endeavour to maximise the cultural experience wherever possible, taking the opportunity to stay in ryokans and temples to enjoy the traditional Japanese lifestyle and hospitality. This style of local accommodation incorporates elements such as tatami floors, futon beds, communal Japanese style bathing, or Onsens – hot spring baths, conveniently separated between female and male and undoubtedly a highlight of walking in Japan, the perfect way to soothe your muscles.  Owners embrace the ancient traditions of hospitality turning healthy, seasonal produce into exquisite meals.  You may find yourself waking each morning in a Buddha-like state of Zen – the perfect frame of mind for continuing your walk.
Single supplements are available so you can enjoy your own room.  The Western style hotels offer private en-suite, the traditional Japanese style accommodation are shared facilities only.  A single supplement will apply if you are travelling alone, or if there is no gender share option.  You can request a shared room through Wandering the World at the time of booking, however this is not guaranteed.
Food & Dining
You may have signed up for a walking trip but you will undoubtedly find yourself on a culinary adventure on any of our Japan itineraries. Every meal celebrates and highlights the flavours, textures and colours of seasonal and local produce. Almost as important as the exquisite flavours, is the presentation and visual beauty of every dish.
The traditional Japanese breakfast focuses on savory, salty flavours that are hearty but not too filling, perfect for the start of your walking day. It typically includes many small dishes such as Miso soup, steamed rice, grilled fish and pickled vegetables.
Lunch might be taken in a local restaurant, perhaps a tempura or noodle dish, or we may carry a delicious Bento box to the perfect picnic spot. While it may not be something you would expect at home, the local convenience stores have a great selection of traditional foods, fresh and tasty and we sometimes purchase our lunch and snacks (we think they have the world's best egg sandwich) to enjoy while on the trail.
Dinner is undoubtedly one of the day's highlights and you will have the opportunity to try many of the traditional Japanese cooking methods, including Shabu Shabu, Nabemono, Yakimono and perhaps cook your own Okonomiyaki.
THE WALKING 
This trip is guided, and you are part of a group and the pace of the walk is dictated by the group. There are some uphill sections and a number of steps and stone paths, where extra care needs to be taken if wet.  An average walking day for our Japanese itineraries is 14km.
TRIP GRADE 
Moderate
This itinerary is carefully designed for easy to manage walking days. Averaging less than 20km on most days, approximately 4-6 walking hours. Surfaces are fairly even with moderate ascents and descents. A reasonable level of fitness is recommended.
Given you only need carry a lightweight day bag, this trip is very manageable for those new to walking holidays. Preparation and training make all our walks more enjoyable.
LUGGAGE TRANSFERS 
For your comfort and enjoyment Wandering the World arrange luggage transfers. On the occasional day where our preferred accommodation is remote and cannot be accessed by road, your luggage will be sent forward to join you the following day.
Although you will be without your main luggage for a night, you need only carry a day pack as our Japanese inns provide all the necessities for your stay, including toiletry products, slippers and a yukata (a casual summer kimono) which is encouraged to be worn after your evening onsen, and to dinner in the dining room, joining all other guests in the same attire.
Luggage allowance is one bag per person of no more than 20kg. Luggage must be left in the reception of your hotel before breakfast (8am) each day, or as instructed by your guide.
*Please note only one bag will be moved each day, additional charges will apply if your bag is heavier than 20kg. Should you require special arrangements for additional luggage transfers, this can be booked ahead of time and must be paid as a part of your final payment to Wandering the World.
GROUP SIZE  
Wandering the World guided groups have a maximum group size of 12 participants. This small group size has many advantages including flexibility to stay in a wide range of accommodation options, dining together of an evening, the opportunity to get to know your travelling companions, and the freedom to walk alone or together.
TRANSFERS/TAXIS 
Wandering the World use local services such as bus, train, ferry and taxis to transfer our groups to the start and end point of our Japanese walks.  Your guide will inform you and make all these arrangements to fit with the itinerary, as you travel as a group.
WEATHER 
The weather and climate in Japan varies from region to region, and of course from day to day. Each season has its benefits, with lovely long warm and sunny days in Spring and early Summer, to cooler walking temperatures early Spring and late Autumn. Talk to Wandering the World when making your plans and to discuss your preferences. Our expertise can guide you.
Once on your walk, the weather can play an important part in the enjoyment of the journey.  Your guide will be checking the forecast and managing the walking and travel times as best as possible for your comfort.
24/7 SUPPORT & CARE 
Your local guide will be on hand to assist with any questions throughout your walk with Wandering the World.  You will also have the international contact number in the event of an emergency, and we have local on the ground support to give you any assistance you may need.
GETTING THERE / GETTING HOME 
This itinerary begins in Kyoto and ends in Osaka.
The closest airport to arrive at is Osaka Kansai Airport (KIX), which has flights from international destinations.  You can also fly into Tokyo Narita (NRT) and take an internal flight or the Shinkansen (bullet train) to Kyoto (3h30).
From your airport of choice there are train and flight options for arriving and departing your walking commencement destination.
The Airport Express HARUKA (Kansai Airport Line) takes approx 75 mins from Osaka Kansai Airport to Kyoto.
You can purchase train tickets up to one month in advance from inside and outside Japan.
Find out more here – How to Buy Japan Rail Tickets and Shinkansen Tickets Online
Getting from Osaka
The best airport to depart from is Osaka Kansai Airport (KIX), which has flights to international destinations.
The Airport Express HARUKA (Kansai Airport Line) takes approx 75 mins to Osaka Kansai Airport.
The West Japan Rail Company operates services between Kyoto and Kansai Airport.
For timetable information please visit https://www.westjr.co.jp/global/en/
INSURANCE  
Insurance is compulsory for everyone who travels with Wandering the World. The insurance policy must include cover against personal accident, medical expenses, emergency repatriation and personal liability. Wandering the World recommends insurance coverage for cancellation to be taken at the same time payment is made, as no exception to the cancellation provisions can be made.
BOOKING AND TRAVEL TERMS AND CONDITIONS 
Wandering the World's full booking terms and conditions are available upon request and will also accompany your initial invoice for deposit.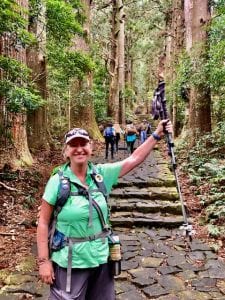 "Japan is one of my favourite countries and for me, the Kumano Kodo has become a much-loved trail. The tallest of trees and natural beauty keeps me coming back, along with the beautiful nature of the local people who are always quick with a smile and a helping hand. Not to forget the onsens, a bath to remember!!" – Glenyce, Founder of  Wandering the World.
Many thanks to Wandering the World for organizing an amazing walk on the Kumano Kodo trail.  It was a fabulous time.  It has left me with great memories of spectacular scenery, delicious food and great company with such a lovely group of people.   Our guide, Alena had an impressive local knowledge of the history and significance of the Kumano Kodo Trail which added greatly to the experience. 
I have been showing everyone the video which Karen organised and the reaction has been a consistent wow!!!
The walk has inspired me to continue walking and I have booked two more tours with Wandering the World. 
Lynne M, Kumano Kodo Trail, Japan, November 2019