Japan: Nakasendo Way
9 days / Guided walking
Tokyo to Kyoto
Nakasendo Way
Step back in time with our Wandering the World guide as you walk a section of the Nakasendo Way, which once connected Tokyo and Kyoto. With a rich history and incredible natural beauty, this unforgettable trail can be explored both on foot and by using a variety of transport methods to get the most out of a nine-day itinerary.
DURATION/LENGTH
9 days/100 kms
START/END POINT
Tokyo to Kyoto
PRICE P/P TWIN SHARE
From YEN 475,000
Make Enquiry
SAVE/PRINT ITINERARY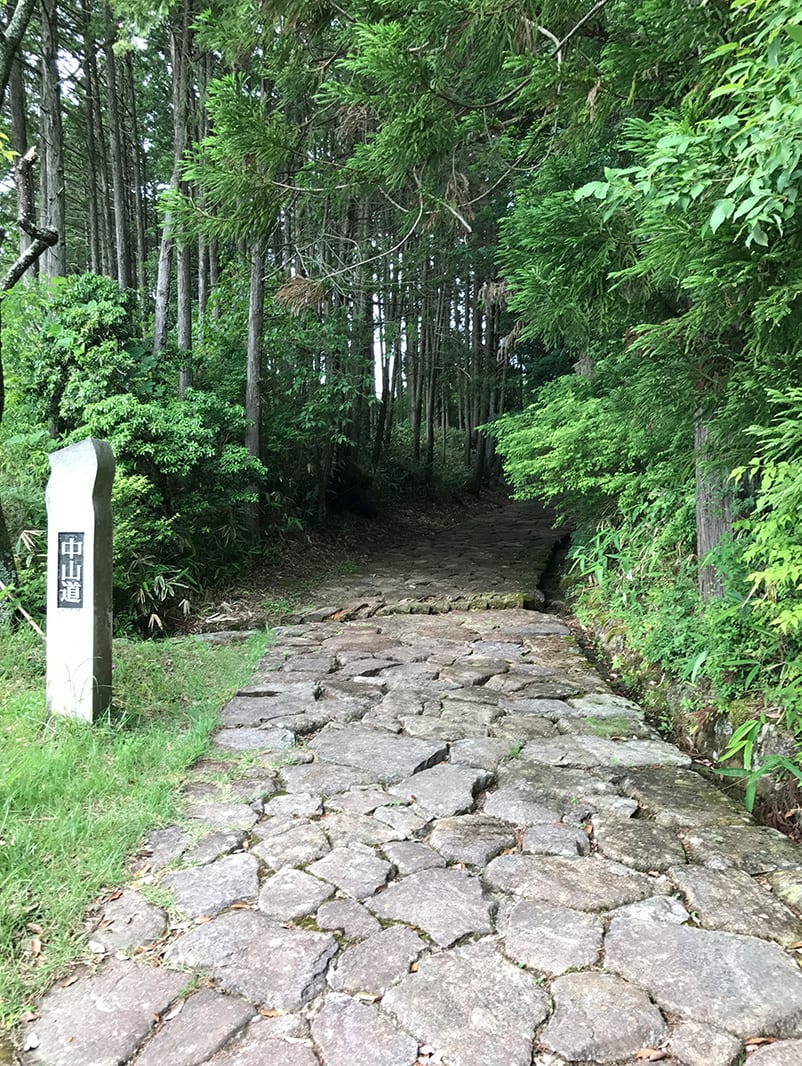 Japan's Nakasendo Way Trail runs for 533 kilometres along an ancient highway, with the name translating as the 'road through the mountains. The route has been used for centuries, and was the main path taken between Kyoto and Tokyo, winding its way through rural countryside to the heart of Japan's stunning central mountains. Many tiny towns were established along the route to support travelling lords, merchants and samurai, providing places to sleep and eat along the journey. Now you too can soak up the atmosphere – and hot spring waters – of these charming settlements.
This walking holiday is an ideal introduction to remote Japan. These villages have had their history preserved and as you walk from village to village, you'll feel like you are stepping back to the Edo Period itself. The paths are often forested trails, though sometimes you'll be treading on the original stone paving that dates back some 400 years. Imagine breathtaking mountainous landscapes, warm hospitality, traditional country inns, mouth-watering regional cuisine and natural onsens; the combination is an unbeatable one.
Day 1 | Arrive in Tokyo
Arrive today in the buzzing metropolis of Tokyo, Japan's capital city, and the starting point for the Nakasendo Way. In the evening, enjoy a walk to the Nihonbashi district and the historic Nihonbashi Bridge, which was the starting point of five major roads leading in and out of Tokyo. It is a direct link back to the city's Edo history with the first shogun, Tokugawa Ieyasu, said to have ordered its construction. Distances throughout the country were measured from the bridge and it was, above all, an expression of the wealth and authority of the new capital, Edo, which would morph from a fishing village into Tokyo.
After spending some time exploring Nihonbashi, we'll enjoy a local welcome dinner to kick off our love affair with Japanese cuisine. Food is a highlight of any trip in Japan and you'll no doubt be eager to sample as many dishes as possible over the course of this journey. One taste sensation that should not be missed is the okonomiyaki, a Japanese savory pancake containing a variety of ingredients, the name is derived from the word okonomi, meaning "how you like" or "what you like", and yaki meaning "cooked".
Day 2 | Tokyo – Narai – Kaida Kogen | 6 km
After your full Japanese breakfast, we'll transfer by train from Shinjuku Station to Shiojiri, a journey of approximately 2.5 hours. From here, we'll take a local train to Narai for lunch. This town is a Protected Area for the Preservation of Traditional Buildings and a highlight is the one-kilometre-long main street with a stretch of shops and private residences dating back hundreds of years to the Edo Period. There are plenty of locals artfully creating traditional folkcrafts, like hand-made umbrellas or hand-painted clothing, and you'll feel like you're truly wandering back through time.
Once we're done eating and exploring, we'll hike from Narai-juku to Yabuhara, another atmospheric former post town that oozes forgotten charm. Walking in the quiet forest landscape is the perfect way to warm your legs up for the journey ahead. From here, we'll transfer to our accommodation at Kaida Kogen by local train and bus, where you can enjoy your first onsen on the Nakasendo Way.
Day 3 | Yamaka – Kisofukushima | 12 km
Hike today from Yamaka to Kaida Plateau via Nishino Toge ('toge' meaning pass), a walk of approximately three hours. We'll enjoy lunch on the plateau, which is considered one of the most beautiful areas in all of Japan. A bold claim, perhaps, but with a spectacular backdrop of Mt Ontake, both a sacred mountain and one of Japan's largest volcanos, there certainly are worse places for lunch – the views of the surrounding peaks and valleys are simply breathtaking.
After lunch, we'll hike from Kaida Plateau to Jizo Toge then on to Kiso-Fukushima. This town is of great historical significance as it was almost directly halfway between Edo (Tokyo) and Kyoto, acting as one of two checkpoints along the Nakasendo Highway. We'll take a taxi transfer from the trail to our evening's accommodation where the open-air baths sit in a remarkable setting.
Day 4 | Kiso-Fukushima – Nojiri – Tsumago | 14 km
Enjoy a traditional breakfast at our accommodation before transferring by taxi and train to Nojiri. From here, we'll make our way to Midono via Oi Pass or River Road then on to Tsumago. The day's hike should take approximately six hours.
Tsumago, another atmospheric mountain town, was the 42nd of the Nakasendo's 69 post towns along the way to the Imperial capital of Kyoto. The main street is everything one would imagine an old Japanese town to be, with a variety of wooden Edo-period inns, houses, temples and shrines, surrounded by forested mountains. It's a wonderful place to spend an evening, with plenty of craft and confectionary shops as well as tasty ramen and udon noodle restaurants. The main street is closed to traffic too, so you can take your time ambling down the road before arriving at your Japanese style room for the evening.
Day 5 | Tsumago – Magome | 13 km
An absolutely unforgettable day of walking today as we hike the most beautiful and best-preserved part of the entire Nakasendo Trail, from Tsumago to Magome. A wooden watch tower guards the entrance to our destination, Magome, which was the 43rd town on the way to Kyoto and, like many of the beautiful old villages, the main street is lined with Edo-style buildings. Many of the originals were unfortunately burnt down over the years, but the town still retains plenty of charm, as does your accommodation this evening.
Day 6 | Magome – Ena | 18 km
Depart Magome for Shinchaya and continue to eat our way along the Nakasendo Way in the Kiso Valley, as we hike to Nakatsugawa to enjoy lunch. This town has a number of a sake shops, confectionary stores and plenty of restaurants all housed in restored, wooden buildings and warehouses (kura). After lunch, we'll continue our hike from Nakatsugawa to Ena, finishing at the station and transferring by taxi to our ryokan accommodation.
Ena, formerly known as Oii, was an important post town along the Nakasendo Way. Its heritage can still be seen at the Honjin – a lodging house for Feudal lords – and, surprisingly, on the town's manhole covers. There's also a 'kosatsuba', or public noticeboard, on the edge of the city, which were used to post the official orders of the Tokugawa shogunate.
Day 7 | Ena – Hosokute | 22 km
We'll transfer by taxi back to Ena Station after breakfast and commence our hike to Hosokute, which will likely take six or seven hours. Most of the journey to Hosokute is along narrow pathways through woods, with relics of the old highway scattered throughout the day. These include stone images of Japanese deities, which were believed to protect travellers and horses as they undertook the Nakasendo trail. Our destination, Hosokute, is a small village that stretches up a single street and a lovely place to wind up a long day's walk where often the dinner menu includes teriyaki salmon and tempura mountain vegetables.
Day 8 | Hosokute – Mitake – Kyoto | 12 km
This morning, following an appetising breakfast, we'll hike from Hosokute to Mitake. From here, we'll transfer by train to Nagoya then on to Kyoto, a journey of approximately 2.5 hours. Kyoto is a fantastic city with a lovely atmosphere and many points of historical and cultural interest, and we'll have an opportunity to enjoy an evening walk to Sanjo Ohashi Bridge to enjoy some specialities of the region for our farewell dinner.
Day 9 | Finish in Kyoto
Your adventure along the Nakasendo Trail comes to an end today, but we've no doubt that it'll live on in your memories forever. Japan is such a wonderful place to walk and there are many more trails to explore, including the Shikoku Temple Trail and the Kumano Kodo Pilgrimage.
Visit www.wanderingtheworld.com.au for more information.
Inclusions
8 nights accommodation, all carefully selected to enhance your walking Japan experience
Combining western style hotel accommodation with private en-suite facilities in major cities and Japanese style ryokan and temple accommodation where possible with gender share bathrooms and onsen.  (Japanese baths)
Luggage transfers from accommodation to accommodation. (1 x 20kg bag per person)
The occasional night is in remote regions without your main luggage.  For your comfort our Japanese style accommodation provides toiletry products, slippers and a yukata (a casual summer kimono) which is encouraged to be worn after your evening onsen, and to dinner in the dining room, joining all other guests in the same attire.
Daily breakfast
8 Japanese style evening meals
6 Lunches
Private and local transport as per itinerary
Experienced guide throughout your journeyEmergency contact details and 24/7 local on-the-ground support
Pre-departure and ongoing support from Australian office
Optional Inclusions
Single supplement for your own room
Additional nights accommodation before or after trip (please advise at time of booking)
Not Included
Flights
Travel to trip's starting point
Transfers not already outlined in detailed trip itinerary
Lunches, except for the 6 included on walking days
Accommodation 
We know from personal experience that a good night's rest can make or break a trip, which is why we carefully select all our accommodation.  In Japan, our selection between a mix of traditional Japanese style and more modern hotels, depends on the itinerary, and the trail the group is walking. In the larger cities we select Western style hotels with private en-suite facilities. However, we endeavour to maximise the cultural experience wherever possible, taking the opportunity to stay in ryokans and temples to enjoy the traditional Japanese lifestyle and hospitality. This style of local accommodation incorporates elements such as tatami floors, futon beds, communal Japanese style bathing, or Onsens – hot spring baths, conveniently separated between female and male and undoubtedly a highlight of walking in Japan, the perfect way to soothe your muscles.  Owners embrace the ancient traditions of hospitality turning healthy, seasonal produce into exquisite meals.  You may find yourself waking each morning in a Buddha-like state of Zen – the perfect frame of mind for continuing your walk.
Single supplements are available so you can enjoy your own room.  The Western style hotels offer private en-suite, the traditional Japanese style accommodation are shared facilities only.  A single supplement will apply if you are travelling alone, or if there is no gender share option.  You can request a shared room through Wandering the World at the time of booking, however this is not guaranteed.
Food & Dining
You may have signed up for a walking trip but you will undoubtedly find yourself on a culinary adventure on any of our Japan itineraries. Every meal celebrates and highlights the flavours, textures and colours of seasonal and local produce. Almost as important as the exquisite flavours, is the presentation and visual beauty of every dish.
The traditional Japanese breakfast focuses on savory, salty flavours that are hearty but not too filling, perfect for the start of your walking day. It typically includes many small dishes such as Miso soup, steamed rice, grilled fish and pickled vegetables.
Lunch might be taken in a local restaurant, perhaps a tempura or noodle dish, or we may carry a delicious Bento box to the perfect picnic spot. While it may not be something you would expect at home, the local convenience stores have a great selection of traditional foods, fresh and tasty and we sometimes purchase our lunch and snacks (we think they have the world's best egg sandwich) to enjoy while on the trail.
Dinner is undoubtedly one of the day's highlights and you will have the opportunity to try many of the traditional Japanese cooking methods, including Shabu Shabu, Nabemono, Yakimono and perhaps cook your own Okonomiyaki.
THE WALKING 
This trip is guided, and you are part of a group and the pace of the walk is dictated by the group. There are some uphill sections and a number of steps and stone paths, where extra care needs to be taken if wet.  An average walking day for our Japanese itineraries is 14km.
TRIP GRADE 
Moderate
This itinerary is carefully designed for easy to manage walking days. Averaging less than 20km on most days, approximately 4-6 walking hours. Surfaces are fairly even with moderate ascents and descents. A reasonable level of fitness is recommended.
Given you only need carry a lightweight day bag, this trip is very manageable for those new to walking holidays. Preparation and training make all our walks more enjoyable.
LUGGAGE TRANSFERS 
For your comfort and enjoyment Wandering the World arrange luggage transfers. On the occasional day where our preferred accommodation is remote and cannot be accessed by road, your luggage will be sent forward to join you the following day.
Although you will be without your main luggage for a night, you need only carry a day pack as our Japanese inns provide all the necessities for your stay, including toiletry products, slippers and a yukata (a casual summer kimono) which is encouraged to be worn after your evening onsen, and to dinner in the dining room, joining all other guests in the same attire.
Luggage allowance is one bag per person of no more than 20kg. Luggage must be left in the reception of your hotel before breakfast (8am) each day, or as instructed by your guide.
*Please note only one bag will be moved each day, additional charges will apply if your bag is heavier than 20kg. Should you require special arrangements for additional luggage transfers, this can be booked ahead of time and must be paid as a part of your final payment to Wandering the World.
GROUP SIZE  
Wandering the World guided groups have a maximum group size of 12 participants. This small group size has many advantages including flexibility to stay in a wide range of accommodation options, dining together of an evening, the opportunity to get to know your travelling companions, and the freedom to walk alone or together.
TRANSFERS/TAXIS 
Wandering the World use local services such as bus, train, ferry and taxis to transfer our groups to the start and end point of our Japanese walks.  Your guide will inform you and make all these arrangements to fit with the itinerary, as you travel as a group.
WEATHER 
The weather and climate in Japan varies from region to region, and of course from day to day. Each season has its benefits, with lovely long warm and sunny days in Spring and early Summer, to cooler walking temperatures early Spring and late Autumn. Talk to Wandering the World when making your plans and to discuss your preferences. Our expertise can guide you.
Once on your walk, the weather can play an important part in the enjoyment of the journey.  Your guide will be checking the forecast and managing the walking and travel times as best as possible for your comfort.
24/7 SUPPORT & CARE 
Your local guide will be on hand to assist with any questions throughout your walk with Wandering the World.  You will also have the international contact number in the event of an emergency, and we have local on the ground support to give you any assistance you may need.
GETTING THERE / GETTING HOME 
This itinerary begins in Tokyo and ends in Kyoto.
The closest airport to arrive at is Tokyo Narita Airport (NRT) or Haneda Airport.  These airports have many flights from all international destinations.
From your airport of choice there are train and flight options for arriving and departing your walking commencement destination.
You can purchase train tickets up to one month in advance from inside and outside Japan.
Find out more here – How to Buy Japan Rail Tickets and Shinkansen Tickets Online
Getting from Kyoto
The best airport to depart from is Osaka Kansai Airport (KIX), which has flights to international destinations.
Alternatively, you may take the Shinkansen (bullet train) from Kyoto to Tokyo Narita (NRT) for onward travel.
The West Japan Rail Company operates services between Kyoto and Kansai Airport.
The airport express HARUKA (Kansai-Airport Line) takes appro 75 mins from Kyoto to Osaka Kansai Airport.
For timetable information please visit http://www.westjr.co.jp/global.en/travel-information/timetable.
INSURANCE  
Insurance is compulsory for everyone who travels with Wandering the World. The insurance policy must include cover against personal accident, medical expenses, emergency repatriation and personal liability. Wandering the World recommends insurance coverage for cancellation to be taken at the same time payment is made, as no exception to the cancellation provisions can be made.
BOOKING AND TRAVEL TERMS AND CONDITIONS 
Wandering the World's full booking terms and conditions are available upon request and will also accompany your initial invoice for deposit.