Camino Finisterre (with Muxia extension)
8 days / Self-guided walking
Santiago de Compostela to Muxia
Camino Finisterre (with Muxia extension)
The only Camino that begins in Santiago de Compostela, this walking journey takes pilgrims from the official endpoint of the Way of Saint James to Cape Finisterre, a special place that was believed to be the end of the earth in Roman times, and on to the charming seaside town of Muxia.
DURATION/LENGTH
8 days/138 kms
DATES
Any date to suit you
START/END POINT
Santiago de Compostela to Muxia
PRICE P/P TWIN SHARE
From EURO 740 / AUD 1,195
Make Enquiry
SAVE/PRINT ITINERARY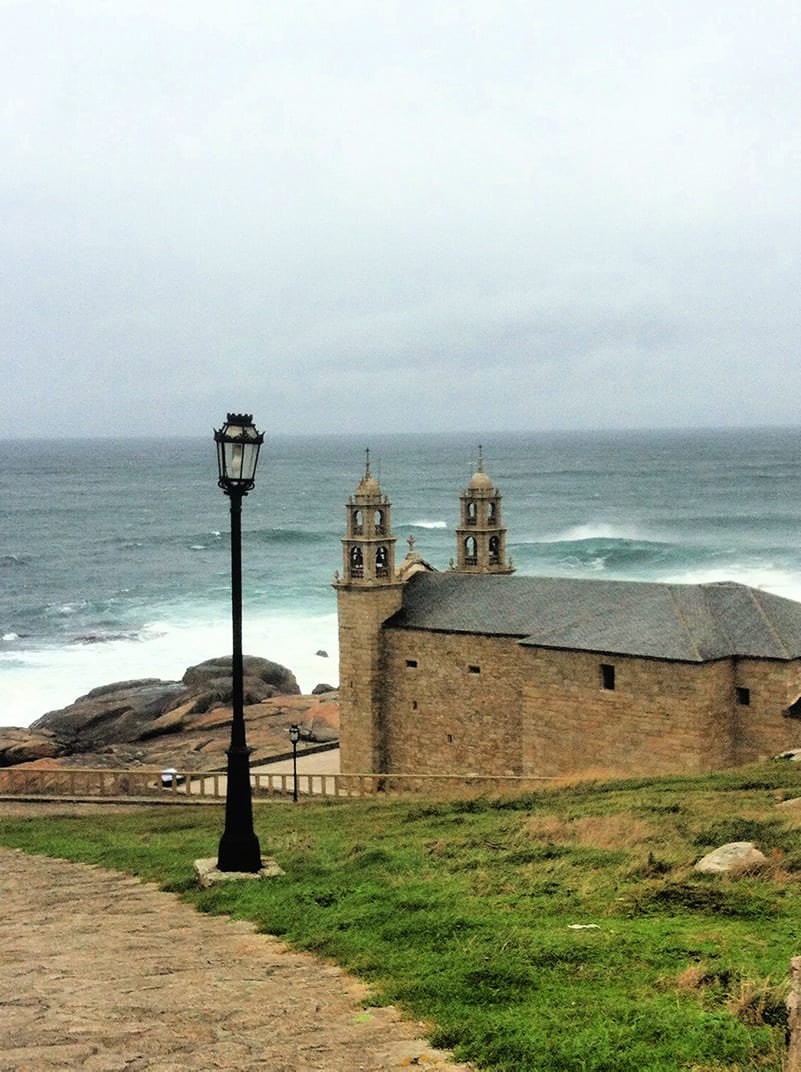 It's an incredible feeling finishing a pilgrimage in Santiago de Compostela, but there's something equally special, if not more so, about completing your journey by the ocean. Perhaps it's the peaceful surroundings, perhaps it's the fact that you literally can't walk any further. Whatever that feeling is, you'll encounter it throughout this eight-day walk to Muxia via the rugged outcrop of Cape Finisterre.
A much quieter experience than the Camino de Santiago proper, this walk to Muxia is characterised by forest paths, warm locals, plenty of time for reflection and, of course, everything that comes with the ocean. Fresh seafood, stunning vistas – it's all here waiting. Buen Camino!
Day 1 | Arrive in Santiago de Compostela
Santiago de Compostela is located in Spain's Galicia province and a special place to both finish and begin a Camino. The well-preserved old town is a maze of cobbled streets and restaurants, with Santiago's famous cathedral taking centre stage. Whether you're continuing on from a previous Camino, or starting in earnest from Santiago, you'll be buoyed by the energy of the pilgrims that flow in and out of this magical city.
Day 2 | Santiago de Compostela – Negreira | 21 km / 5 hours
Having already celebrated the great achievement of walking 'The Way' to Santiago, your feet will be itching to tackle the final section to the end of the world. The path today is generally quite flat though there is one notable ascent. You'll walk out of Santiago de Compostela and through a number of small villages, following quiet rural roads and forest paths. You'll cross the Ponte Maceira, a medieval bridge, about 4 km before Negreira and this is a lovely place to take a break and enjoy the bubbling river.
Day 3 | Negreira – Abeieroas | 25 km / 6 hours or | Negreira – Olveiroa |33 km / 8 hours
Not everyone has the time or opportunity to complete the additional journey to Finisterre and you'll find that pilgrims are sparse in comparison to the bustling stages preceding Santiago. It's nice to have time alone, or in a small group, to enjoy the walking and quiet rural atmosphere.
Continue along a mix of road, forest paths and farm tracks, perhaps stopping at the numerous fountains, rest areas and bars along the way. You may choose to walk to Abeieroas or, if you're feeling up to it, continue on to the town of Olveiroa, which means you'll have a shorter day tomorrow.
Day 4 | Abeieroas – Cee | 26 km / 7 hours or | Olveiroa – Cee | 17 km / 5 hours
Enjoy a scenic day of walking featuring woods, fields and farmlands, as well as the occasional horse. The first village you'll pass through is O Logoso – if departing from Olveiroa – where you may be able to grab a coffee or some food, then you'll arrive in the town of Hospital where pilgrims are faced with a choice: either take the route to Muxia, or continue on towards Finisterre. Most choose to walk to Finisterre.
The path continues through open landscapes and passes the Cruceiro Marco do Couto, where pilgrims often leave a symbolic stone. Add to the collection then descend towards the ocean, eventually catching your first glimpse of the Atlantic in the distance. The town of Cee sits at the end of an inlet with a small beach and a lovely waterfront park. The locals are very friendly and the lifestyle is extremely laidback – it's a wonderful spot to spend an afternoon and evening.
Day 5 | Cee – Finisterre | 16 km / 4 hours
Today's walk sees you following the peninsula to Finisterre along roads, forest paths and high points featuring splendid views of the ocean. Your first glimpse of Finisterre's Langosteira Beach is one to savour, and you'll also spy a distant headland where the world supposedly ends.
You can choose to walk along the beach or a parallel path to arrive in town and from there, it's off to the renowned lighthouse, considered to be one of the most powerful in Europe. A past tradition here at the end of the world is the ritual of pilgrims burning their well-worn clothes, however today this ceremony is prohibited.  Be sure to catch the sunset here – it's easy to see why people thought there was nothing beyond the horizon. Finisterre is a popular tourist destination in its own right and has plenty of restaurants and bars serving up fresh seafood, cold beer and that Spanish wine you've no doubt grown fond of.
Day 6 | Finisterre – Lires | 16 km / 4 hours
The village of Lires is home to pristine sandy beaches and pilgrims are spoilt by the ocean views along the way. It's a small but quaint stop, perfect for those that want a little time to slow down and enjoy the experience a little longer.
Day 7 | Lires – Muxia | 15 km / 4 hours
The path to Muxia is lined with trees, guiding you into a fishing village set right on the Atlantic. It's much smaller than Finisterrre and the town's holy stones are said to have curative powers – perfect for the weary pilgrim. With a great atmosphere, ocean views and an abundance of seafood, Muxia will no doubt charm your socks off – that's if you haven't taken them off already.
Please note: Day 6 and Day 7 can be combined into one longer walking day, as seen below.
Finisterre – Muxia | 29 km / 8 hours
If you walk the entire stretch from Finisterre to Muxia you'll see just how different the two towns are. A charming fishing village, Muxia is known for its beautiful – and often empty – beaches and is an unforgettable way to close your Camino chapter…for now.
Day 8 | Return to Santiago
You've done it. You've walked until you can walk no further. After breakfast you can return to Santiago via private transfer or take the local bus, the journey feels longer by road!!
Visit www.wanderingtheworld.com.au for more information.
Inclusions
7 nights accommodation, all carefully selected to enhance your Camino experience
Private en-suite facilities
Daily luggage transfers from hotel to hotel (1 x 20kg bag unless indicated otherwise)
Daily breakfast
Information packs with route maps and instructions on how to locate hotels
Luggage identification tags
Pilgrim's passport
Emergency contact details and 24/7 local on-the-ground support
Pre-departure and ongoing support from Australian office
Optional Inclusions
Three-course dinners with local wine
Suggested rest days as outlined in itinerary or if required
Upgraded accommodation including paradors, country properties and premium/high-end styles
Private vehicle transfers to the trip's starting point
Single supplement for your own room
Additional night's accommodation before or after trip (please advise at time of booking)
Not Included
Flights
Travel to trip's starting point
Transfers not already outlined in detailed trip itinerary
Lunches
Accommodation
We know from personal experience that a good night's rest can make or break a trip, which is why we carefully hand-select all our accommodation. We ensure that our knowledge and firsthand experience of the best places to stay is passed on to all our walkers.
Your accommodation along the Camino is booked in advance, on a twin-share basis with private facilities, and chosen to make your pilgrimage experience as rewarding as possible. You may be staying in a refurbished farmhouse, some of which have been in the same family for centuries, or perhaps a boutique hotel with a chef who would not be out of place in a Michelin-starred restaurant. There are unique properties scattered throughout the different routes including converted monasteries, lighthouses and tiny B&Bs with the most generous hosts you could possibly imagine. Best of all, you'll always have private en-suite facilities. Wherever you end up, you'll be well looked after, warm and comfortable and, most importantly, ready to tackle the next day's walk.
Single supplements are also available so you can enjoy your room with private en-suite. This supplement will apply if you are travelling alone or if there is no gender-share option. You can request a shared room through Wandering the World at the time of booking, however this is not guaranteed.
There are opportunities to upgrade to more luxurious lodgings in many places along the Camino. These are perfect for celebrating special occasions and milestones, or even to enhance your entire journey. We can recommend some very special, unique places to indulge in the Camino hospitality in spectacular style, so please ask us about these options when booking.
Food & Dining
The local cuisine is a definite highlight of your walk. The Camino regions are famous for their culinary delights, and you'll end up exploring the destination using not only your feet, but also your taste buds.
Breakfast at your place of accommodation is usually continental style and may include cereals, yoghurt, bread, pastries, ham, tea, coffee and juices.
Lunch – at your own expense – will depend on where you are on your walk and what is available. It's often purchased at a local café or bar, with choices along the trail perhaps including Spanish omelette (tortilla Espanola), tuna empanadas, soups or sandwiches (boccadillo). Alternatively, you may wish to enjoy a picnic in a perfect spot along the path.
Evening meals are a hearty, three-course affair known as the 'pilgrims' menu'. These usually consist of a salad or soup to start, followed by a choice of a meat or pasta dish, then finishing with a dessert. This is always accompanied by a bottle of local wine, of course. On occasion, the owner of the accommodation may be in the kitchen preparing the house special, which will not disappoint.
Most evening meals are included on guided group trips, and for self-guided itineraries, Wandering the World can include as many evening meals as you wish. We may strongly recommend this in some places because it's either been a long walking day or there are limited choices available in certain destinations. We can share our advice and talk to you about this at the time of booking. We can accommodate most dietary requirements, so please let us know in advance.
THE WALKING
This trip is a self-guided itinerary, ideal for groups and independent travellers who prefer to navigate in their own way and their own time.
You will be provided with an information pack including easy-to-read maps and instructions, complete with directions to guide you on the well-marked paths and tracks. On the Camino, you will be following the yellow arrows and Camino scallop shells, while the Chemin is marked with red and white stripes. This information pack will be available at your joining hotel on the first day of your trip.
TRIP GRADE
Moderate – This itinerary is carefully designed for easy-to-manage walking days that generally average less than 20 km, or approximately 4–6 walking hours. The surfaces are fairly even with moderate ascents and descents. A reasonable level of fitness is recommended.
Given you only need carry a lightweight day pack, this trip is very manageable for those who are new to walking holidays. Whatever your previous experience, preparation and training make all our walks more enjoyable.
LUGGAGE TRANSFERS
Wandering the World arranges a daily luggage transfer to maximise your comfort and enjoyment, so all you need to carry is a day pack. Luggage allowance is one bag per person of no more than 20 kg (13 kg on the Chemin). Your luggage must be left in the reception of your hotel before breakfast (8 am) each day.
Please note:
It is essential to attach the bag tag provided to ensure your luggage is delivered to your next accommodation.
Only one bag will be moved each day and additional charges will apply if your bag is heavier than 20 kg (13 kg on the Chemin).
Should you require special arrangements for additional luggage transfers, these can be made ahead of time and must be paid as part of your final payment to Wandering the World.
GROUP SIZE
Wandering the World's guided groups have a maximum group size of 12 participants. This small group size means that we have the flexibility to stay in a wider range of accommodations, can dine together in the evenings, have the freedom to walk alone or together, and there are more opportunities to get to know your travelling companions.
TRANSFERS/TAXIS
If, for any reason, you wish to shorten your walking day, there are options along the Camino and in the villages to arrange a taxi.
On some itineraries, there are times when Wandering the World may arrange a transfer for you or can do so at your request. This might happen where small villages do not have accommodation with private facilities, for example, or when we want to take you to a special country property that we know you are going to love. In this case, Wandering the World will either arrange a transfer for you or suggest a taxi.
Transfers on the Camino are common in parts. A simple procedure is outlined in your trip notes explaining the details of your private transfer, the designated meeting point and the agreed transfer time.
WEATHER
The weather and climate on the Camino can vary from country to country, region to region and, of course, from day to day. Each season has its own benefits, with long, warm and sunny days in spring and early summer, while early spring and late autumn tend to enjoy cooler walking temperatures. Some sections may be too hot for walking mid-summer, while others are more likely to be wet at certain times. The experts at Wandering the World can discuss your preferences and guide you when you are planning your trip.
Once you've started your walk, the weather can play an important role in your overall enjoyment of the journey. Checking the forecast can be a great help when planning your days. If you do strike hotter weather, leaving early to avoid the warmest part of the day will make a huge difference.
24/7 SUPPORT & CARE
Your information pack will include details of local emergency contacts and international contacts. We have local, on-the-ground support to provide any assistance you may require and we'll also check-in with your hotel at the end of each day to ensure that you've arrived safely.
GETTING THERE / GETTING HOME
This itinerary begins in Santiago de Compostela and ends Finisterre.
The closest airports to Santiago de Compostela are Madrid, Porto or Santiago de Compostela.
From your airport of choice there are bus, train and flight options as per the links below.
Train bookings are recommended.  Please note you can only book two months in advance of the date of travel.
Bus:  ALSA
Train:
Bus/Train : Rome2Rio
Flights:
Also, check out: Skyscanner OR Spanish Airport Guide
INSURANCE
Insurance is compulsory for everyone who travels with Wandering the World. The insurance policy must include cover against personal accident, medical expenses, emergency repatriation and personal liability. Wandering the World recommends insurance coverage for cancellation to be taken at the same time your deposit is paid, as no exception to the cancellation provisions can be made.
BOOKING AND TRAVEL TERMS AND CONDITIONS
Wandering the World's full booking terms and conditions are available upon request and will also accompany your initial invoice for deposit.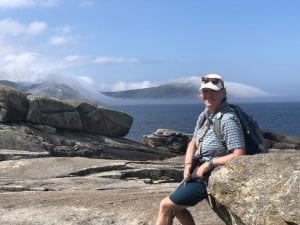 "Walking out of Santiago, having already walked hundreds of kilometres, gave a whole new meaning to feeling strong. I have walked to Finisterre twice – once after the Camino Frances and once after the Camino del Norte – and this walk to the end of the world is undeniably special. The sense of achievement is incomparable.
The walk is very quiet in comparison to the paths to Santiago and you'll encounter a certain embrace from the locals. Beatriz in Olveiroa is definitely a favourite. She ran the bar and kitchen like clockwork and, most importantly, was generous with the gin pour. It's quite a walk and worth a night at the lighthouse to celebrate". – Glenyce, Founder of Wandering the World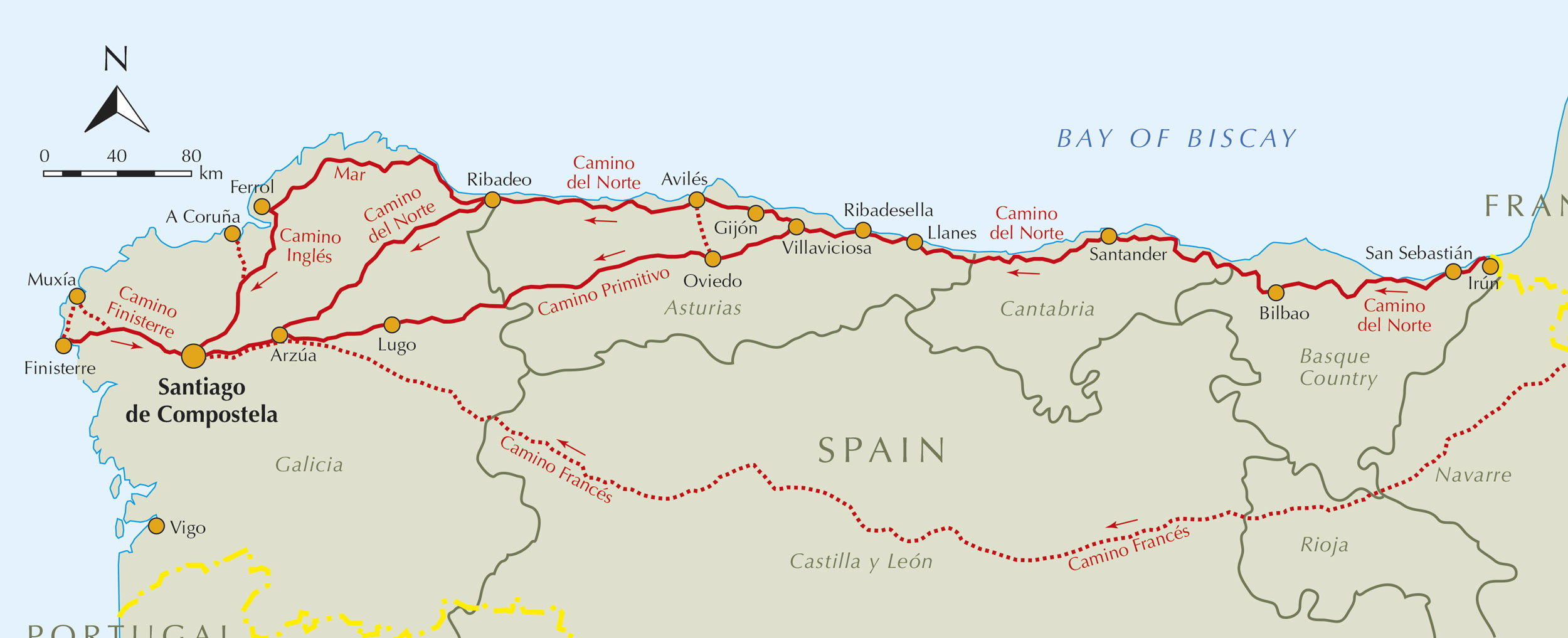 Glenyce, the lighthouse was a stroke of genius. Such a unique setting with great staff and a delicious meal. The pragmatist in me also acknowledges the welcome relief at being able to put my feet up at beer o'clock after the walk.  Thank you to you and your crew for a great experience.
Dr Sue Foster, Finisterre 2022
We just returned home from an amazing Camino trip ALL THANKS TO YOU!  The lodgings, food, scenery and fellow pilgrims we met along the way were unforgettable.  Sleeping at the lighthouse hotel in Finisterre was beyond fabulous!  We hiked along the coast seeing the "faros" and admiring the rugged seashore line.  Our last night in Muxia was amazing…Sergio, at Casa de Lolo, was so accommodating, and the fresh fish…delicious.  Attending mass at the Sanctuary of Barca, set right next to the waves, was a perfect end to a perfect trip.  Thank you for all your hard work in setting this up…truly the trip of a lifetime. We'll cherish the memories forever.
Kit & John, – Camino Finisterre to Muxia, 2019