Wales : Pembrokeshire Coastal Path
16 days / Self-guided walking
Amroth to St Dogmaels
Pembrokeshire Coastal Path
Want to experience Wales in all its beauty? There's no better way than the Pembrokeshire Coastal Path, which covers 298 kilometres of magnificent terrain and over a thousand years of fascinating history.
DURATION/LENGTH
16 days/298 kms
DATES
Any date to suit you
START/END POINT
Amroth to St Dogmaels
PRICE P/P TWIN SHARE
From GBP 1,820
Make Enquiry
SAVE/PRINT ITINERARY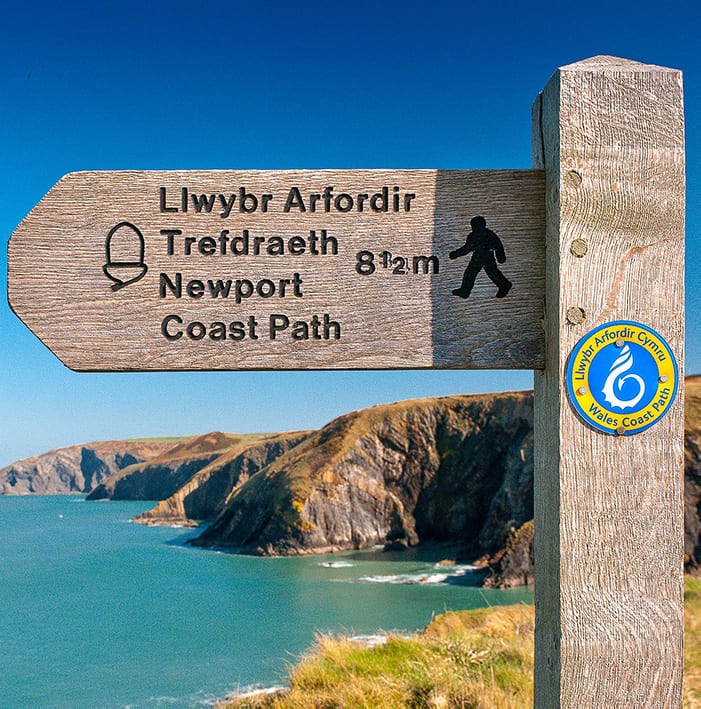 This 16-day adventure will see you tackling the Pembrokeshire Coastal Path from Amroth to St Dogmaels. And what an adventure it is. From wild clifftops to pristine beaches and protected harbours, the walk really offers a challenging yet immensely rewarding experience. Though the quaint fishing villages may seem sleepy at times, they tell a story featuring pirates, Saints, invasions and too many legends to count. With Norman castles, tiny stone chapels, an abundance of wildlife and the daily promise of a sunrise over the sea, the Pembrokeshire Coastal Path is an underrated gem when it comes to UK trails and one you won't regret walking.
Day 1 | Arrive in Amroth
Make your way today to Amroth, a small seaside village approximately 2.5 hours from Cardiff. An important coal-mining area during the 19th century, Amroth today is known for its long sandy beaches and is a popular destination for both walkers and tourists who are chasing some sunshine.
Keep an eye out for Welsh rabbit, or Welsh rarebit, a traditional dish made with a savoury sauce of melted cheese and various other ingredients. It's served hot and either poured over slices of toasted breads or served in a chafing dish like a fondue. The perfect walking treat! Enjoy a good night's rest in your cosy accommodation before your adventure along the Pembrokeshire Coastal Path begins tomorrow morning.
Day 2 | Amroth – Tenby | 13 km
Rise and shine for a hearty breakfast before lacing up those hiking boots and commencing your walk along the Pembrokeshire Coastal Path. Follow the path along the tops of cliffs and coves until you arrive in Tenby, a seaside town known for its 13th-century defensive walls and a long, fascinating history of warfare. The town's Castle Beach was also rated the UK's best beach by The Sunday Times in 2019. Given the popularity of the local beaches and the amount of historical tourist attractions, this section is the busiest of the entire path, though a greasy bag of the local fish 'n' chips is well worth any crowds you may encounter.
Day 3 | Tenby – Manorbier | 16 km
Enjoy some outstanding views of Caldey Island today, as well as the coastlines of the Gower Peninsula and Exmoor. Caldey Island is a particularly interesting place – it's owned by the Cisterian monks of Caldey Abbey and has a history dating back over a thousand years. The monks are said to produce some of the finest lavender perfume in the world. Your destination for the evening, Manorbier, is a small village set on a sandy cove that's often frequented by surfers. Manorbier Castle – a 12th-century Norman fortification – sits proudly on the headland and is open to visitors should you have the energy. It's well worth the effort.
Day 4 | Manorbier – Bosherston | 19 km
If there is one section of the Pembrokeshire Coastal Path that demonstrates why this region deserves to be designated as a national park, it's this one. For starters, Barafundle Beach, which is only accessible by foot, has been voted as one of the top 10 beaches in the entire world. Then, hidden away in a tiny fissure in the cliffs, lies tiny St Govan's Chapel. The are many legends surrounding St Govarn's identity – with some purporting that he was one of King Arthur's Knights of the Round Table – but it's thought that the chapel was built in the 13th century.
The path travels past limestone cliffs and Stockpole Quay then skirts around Bosherston's renowned Lily Ponds – a national nature reserve – before reaching Bosherston itself. Here ends a wonderful day's walk.
Day 5 | Bosherston – Angle | 25.5 km
This section of the Pembrokeshire Coastal Path sees an interesting land use policy, with the area designed as both a military firing range – though there's no need for concern – and an extremely important wildlife sanctuary.
The first part of the route is a testing one, featuring rugged and remote terrain, though the breathtaking scenery along the sea cliffs makes for a good distraction. There are plenty of quiet beaches and bays to stop in for a swim or snack, and best of all, this section has no roads, shops or tourist facilities, so it feels truly remote. After a long but rewarding day's walk, arrive in the lovely village of Angle, which has wonderful views as well as a 13th-century church and a chapel once used as a burial place for anonymous seamen who had washed ashore.
Day 6 | Angle – Pembroke | 19 km
Pembroke is one of the larger towns in the region and the spiritual home of the Welsh Corgi, made famous by none other than Queen Elizabeth II. While the dogs are sweet, the walking today is sweeter, with many points of historical, environmental and agricultural interest. The medieval Pembroke Castle, which was built in the 12th century, watches over the town, and the Pembroke River and offers visitors expansive views of the surrounding landscape. Pembroke is an atmospheric town with plenty of pubs and shops providing weary walkers with all the comforts they crave.
Day 7 | Pembroke – Sandy Haven | 29 km
Lace up for a long day's walk continuing along the Coastal Path past the Milford Haven, which is one of the world's largest natural harbours. There are two tidal crossings during this section, which allow you to avoid long detours along the road, so be sure to check and double check the tide tables before departing.
Day 8 | Sandy Haven to Marloes Sands | 22.5 km
Tread gently through the fields and pastures near Milford Haven and watch as they slowly transform into the rugged, windswept landscape of the Atlantic coast. From the path, you'll enjoy memorable views of offshore islands including Grassholm, Skomer and Stokholm. The terrain is relatively easy today, especially around St Ann's Head, though there are a number of short, steep ascents and descents up and down the valleys. After arriving in Marloes Sands, treat yourself to a well-deserved swim along this glorious stretch of beach.
Day 9 | Marloes Sands to Broad Haven | 22 km
Follow the natural curve of the coast along St Bride's Bay, stopping to soak up the sunshine next to its golden beaches. There are a number of lovely villages and pubs to stop in on this stretch of walking, whether it's in Little Haven or in your final destination of Broad Haven. These communities are hidden away between the cliffs and the locals are generally ready to share a story or two when you walk into town.
Day 10 | Broad Haven to Solva | 19 km
Return to the clifftops this morning as the Pembrokeshire Coastal Path continues from Broad Haven to Druidston Haven. There's a great beach here, as there is at the enormous Newgale Sands, where the sand is backed by a pebble bank created by a huge storm in the mid-19th century. Your evening stop is the small port of Solva, a charming village by the water with a lovely tea shop. There is plenty of fresh seafood here, including crab and lobster, as well as what is usually a spectacular sunset to appreciate.
Day 11 | Solva to Whitesands Bay | 21 km
This morning you'll pass the harbour of Porthclais before reaching Whitesands Bay, a famous stretch of sand. It's said that this is where St Patrick set sail to Ireland from, to convert the island to Christianity some 1600 years ago. Though St Patrick's Chapel has been in ruins for hundreds of years, many skeletons, as well as stone crosses, have been excavated in the area. You'll spend the evening in the fantastic city of St David's, which happens to be the UK's smallest city, where you can visit the spectacular St David's Cathedral. The cathedral has witnessed over a thousand years of Celtic culture and is an unmissable sight.
Day 12 | Whitesands Bay – Abercastle | 22.5 km
Enjoy a fantastic day of walking through one of the more remote sections of the Pembrokeshire Coastal Path. There are hardly any amenities, save perhaps for a van at Abereiddi providing drinks and snacks, and wildlife and birds will make up the majority of your company. Watch out for hunting seals and diving gannets as you trace the outline of St David's Head. The exciting walking continues along the high cliffs overshadowed by Carn Lleithyr and Carn Llidi before reaching Abercastle, an unbelievably picturesque village with a well-protected harbour.
Day 13 | Abercastle – Fishguard | 29 km
Plenty of challenging walking today as you climb and descend from steep hills along the coastline. The scenery is rugged, imposing even, with obvious erosion as a result of the battering Atlantic weather. It's scary to imagine what conditions could be like for a fisherman living in one of these coastal towns in the 18th or 19th centuries. Finish the day in the town of Fishguard, famous for the Battle of Fishguard, which saw the last foreign invasion of mainland Britain in 1797 when over a thousand French soldiers landed on its shores. It's a fascinating story, which resulted in a French surrender after two days.
Day 14 | Fishguard to Newport | 19 km
Your destination today is Newport, which was founded in the early 12th century. It's a popular tourist town and features a number of cosy pubs, several churches and little shops to potter around in, not to mention a Norman castle that is now a private residence. To get there, you'll spend the day tackling ups and downs and crossing little beaches, once again spending time following the cliffs above the Atlantic Ocean.
Day 15 | Newport – St Dogmaels | 25 km
The last day of the Pembrokeshire Coastal Path is, of course, the most difficult. You'll frequently encounter steep hills but it makes your arrival in St Dogmaels even worthy of celebration. The town overlooks the River Teifi and is a memorable place to finish your walking adventure. Be sure to visit the remains of St Dogmaels Abbey too. Tonight, enjoy a well-deserved meal as you toast to your achievements in this wild, rugged and unimaginably beautiful part of the world.
Day 16 | Finish in St Dogmaels
Your walk along the magnificent Pembrokeshire Coastal Path comes to an end after breakfast this morning.
Visit www.WanderingtheWorld.com.au for more information.
Inclusions
15 nights accommodation, all carefully selected to enhance your walking experience
Private en-suite facilities
Daily luggage transfers from hotel to hotel (1 x 20kg bag unless indicated otherwise)
Daily full English breakfast
List of suggested places to dine in the evening
Information packs with route maps and instructions on how to locate hotels
Luggage identification tags
Emergency contact details and 24/7 local on-the-ground support
Pre-departure and ongoing support from Australian office
Optional Inclusions
Suggested rest days as outlined in itinerary or if required
Upgraded accommodation choices such as premium/high-end style
Private vehicle transfers to the trip's starting point
Single supplement for your own room
Additional night's accommodation before or after trip (please advise at time of booking)
Not Included
Flights
Travel to trip's starting point
Transfers not already outlined in detailed trip itinerary
Dinners
Lunches
Accommodation
We know from personal experience that a good night's rest can make or break a trip, which is why we carefully hand-select all our accommodation. We ensure we pass on our knowledge and firsthand experience of the best places to stay to all our walkers.
Your accommodation along the trail is booked in advance and is chosen to make your walking experience as rewarding as possible. Our carefully selected guest houses, inns and hotels, often steeped in history, offer a charming, cosy feel, all with private en-suite facilities. Knowing you have delightful and characterful accommodation waiting for you makes all the difference.
All our places we stay in the UK and Ireland are chosen to keep you comfortable and content. From quaint B&Bs to refurbished highland manor houses complete with roaring fires and rare whiskies, the comfort of our accommodations is matched only by the views.
Single supplements are available so you can enjoy your own room with private en-suite, and a single supplement will apply if you are travelling alone, or if there is no gender share option.  However, you can request a shared room through Wandering the World at the time of booking, however this is not guaranteed.
In many places along the trails there are luxury, upgraded options available. Perfect for a special occasion, to celebrate a milestone or to enhance your entire journey should you choose. We can recommend some very special, unique places to indulge in the local hospitality in extraordinary style. Please ask us about these options.
Food & Dining
Walking and eating go hand in hand and your wander through this spectacular countryside gives you ample opportunity to experience each regions finest produce and cooking.
Breakfast at your place of accommodation, is always a highlight and you will start your day well fuelled. Enjoy a hearty, full cooked breakfast with all the trimmings, as well as fresh fruits, cereals, yoghurt, tea, coffee, and juices.
Lunch, at your own expense, will depend on where you are on your walk and what is available.  You may discover local cafes or a pub en route to order some local fare. Some days you will need to carry your own picnic lunch, which can be arranged the evening prior, through your accommodation. Keep on the lookout for a traditional scones and cream afternoon tea to reward yourself at the end of your walking day.
Having walked these routes many times, Wandering the World is in the know as to where our walkers can enjoy a great evening meal. Dinner is your own choice and expense and we provide many suggestions on where to dine.  Ambient and traditional places where you can delight in a traditional Irish stew, freshly caught Scottish Salmon, good old Bangers and Mash or other home cooked dishes these regions are well known for.
THE WALKING
This trip is a self-guided itinerary, ideal for groups and independent travellers who prefer to navigate their own way, in their own time.
You will be provided with an information pack with easy to read maps and instructions, complete with directions to guide you on the well-marked paths and tracks. Your information pack will be available at your joining hotel on the first day of your trip.
TRIP GRADE
Moderate – This itinerary is carefully designed for easy to manage walking days. Averaging less than 20km on most days, approximately 4-6 walking hours. Surfaces are fairly even with moderate ascents and descents. A reasonable level of fitness is recommended.
Given you only need carry a lightweight day bag, this trip is very manageable for those new to walking holidays. Preparation and training make all our walks more enjoyable.
LUGGAGE TRANSFERS
For your comfort and enjoyment Wandering the World arrange a daily luggage transfer. All you need to carry is a day pack and be free to enjoy your walking. Luggage allowance is one bag per person of no more than 20kg. Luggage must be left in the reception of your hotel before breakfast (8am) each day, before you move on.
It is essential to attach the bag tag provided to ensure your luggage is delivered to your next accommodation.
*Please note only one bag will be moved each day, additional charges will apply if your bag is heavier than 20kg. Should you require special arrangements for additional luggage transfers, this can be booked ahead of time and must be paid as a part of your final payment to Wandering the World.
GROUP SIZE
Wandering the World guided groups have a maximum group size of 12 participants. This small group size has many advantages including flexibility to stay in a wide range of accommodation options, dining together of an evening, the opportunity to get to know your travelling companions, and the freedom to walk alone or together.
TRANSFERS/TAXIS
There may be options to amend your itinerary or shorten your walking day that include a transfer. Adding in extra days is also an option. Please talk to us about this when planning your trip.
On some itineraries, there are times when Wandering the World may arrange a transfer for you or can do so at your request. For example, this might be where small villages do not have accommodation with private facilities, or we want to take you to a special out of the way hotel we know you are going to love. In this case Wandering the World will either arrange a transfer for you or suggest in your trip notes that you will need a taxi at your own expense.
WEATHER
The weather and climate in the United Kingdom varies from region to region, and of course from day to day. Each season has its benefits, with lovely long warm and sunny days in Spring and early Summer, to cooler walking temperatures early Spring and late Autumn. Some walks may be too hot or wet at times. Talk to Wandering the World when making your plans and to discuss your preferences. Our expertise can guide you.
Once on your walk, the weather can play an important part on the enjoyment of the journey.  Checking the forecast can assist with your plans.  If you strike warm weather, which you think may be uncomfortable, leaving early to avoid the hottest part of the day can make a difference.
24/7 SUPPORT & CARE
Your information pack will include details of local emergency contacts and international contacts.
We have local on the ground support to give you any assistance you may need.
We also check in with each hotel at the end of each day to ensure your arrival.
GETTING THERE / GETTING HOME
This itinerary begins in Amroth and ends St Dogmaels.
There are bus, train & flight options for arriving and departing your walking commencement destination.
Remember all train bookings are recommended, and you can only book two months in advance of date of travel.
Nearest Major International Airport: Birmingham International and London Heathrow Airport
Nearest Regional Airport: Bristol or Cardiff
Flybe serve most regional UK airports including Cardiff. Easyjet serve most regional UK airports including Bristol.
Getting to Amroth
By Rail:
Nearest Major Railway Station: Cardiff or Swansea
There are train services to Cardiff and Swansea from around the UK where you can connect with a service to Kilgetty. There is a fast and frequent service from London Paddington to Cardiff (journey time 2 hours, Birmingham 2 hours and Bristol 1 hour). Once at Kilgetty you can connect with bus service 351 to Amroth (journey time 16 minutes).
National Express coaches also serve Cardiff, Swansea and Bristol. From London Victoria Coach Station there are regular services to Cardiff and Swansea each day.
From Swansea or Cardiff take a train to Kilgetty (journey time 1 hour 30 minutes or 1 hour). There is a bus service 351 between Kilgetty and Amroth (journey time 16 minutes).
Returning from St Dogmaels
By Rail / Road:
From St Dogmaels the best way to travel is to take the bus to Fishguard. There is a fairly frequent bus service between St Dogmaels and Fishguard, via Cardigan (journey time 1 hour).
From Fishguard take the train to Cardiff (journey time 1hr 30 minutes). From Cardiff regular train services operate South to London and Northwards.
The closest train station for St Dogmaels is Haverfordwest.
INSURANCE
Insurance is compulsory for everyone who travels with Wandering the World. The insurance policy must include cover against personal accident, medical expenses, emergency repatriation and personal liability. Wandering the World recommends insurance coverage for cancellation to be taken at the same time payment is made, as no exception to the cancellation provisions can be made.
BOOKING AND TRAVEL TERMS AND CONDITIONS 
Wandering the World's full booking terms and conditions are available upon request and will also accompany your initial invoice for deposit.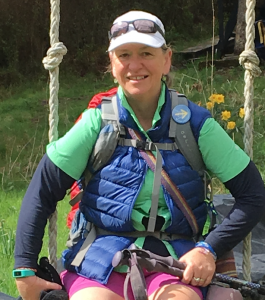 "I have had this on my bucket list for a long, long time and I would love everyone to come with me next year.  I want to discover the beauty of Wales and I've been told that the Pembrokeshire Coastal Path is THE walk not to miss. It lies almost entirely within the Pembrokeshire Coast National Park – Britain's only coastal national park – and covers a range of landscapes, from rugged limestone cliffs and volcanic headlands to sheltered sandstone coves, winding estuaries and vast empty beaches. The path passes 58 beaches and 14 harbours – what's not to love? I can't wait to see you there in 2022".  – Glenyce, Founder of Wandering the World.