Camino de Santiago: Camino del Norte (The Northern Way)
37 days / Self-guided walking
San Sebastian to Santiago de Compostela
Camino del Norte (The Northern Way)
Tackle the spectacular Camino del Norte, or Northern Way, from San Sebastian to Santiago de Compostela along the golden beaches of the Atlantic coastline. With nowhere near the number of pilgrims as the French Way, this pilgrimage is the perfect combination of natural beauty and companionship without the crowds.
DURATION/LENGTH
37 days/827 kms
DATES
Any date to suit you
START/END POINT
San Sebastian to Santiago de Compostela
PRICE P/P TWIN SHARE
From EURO 3,570 / AUD 5,750
Make Enquiry
SAVE/PRINT ITINERARY
The Camino del Norte holds a special place in many a pilgrim's heart. This is a demanding walk, make no mistake, but the reward is worth the effort. What are the rewards, you ask? Imagine stunning coastal scenery as far as you can see. Green hills and distant mountains and crescent-shaped stretches of warm sand. You'll visit San Sebastian, Bilbao and Santander, not to mention the charming fishing villages in between, and don't even get us started on world-class seafood washed down with locally made cider.
Day 1 | Arrive San Sebastian
The Camino del Norte technically begins in Irun, but we highly recommend arriving in San Sebastian and either starting here or adding an extra night to take the train north to Irun and walk back south into San Sebastian. It's a great path to warm up your walking muscles before the toughest section of the walk from San Sebastian to Bilbao.
The reason we suggest arriving in San Sebastian is that it is one of our favourite cities in all of Spain. Located in the Basque Autonomous Community, San Seb – as it's known – is hugged by two stretches of golden sand and surrounded by lush green hills. It's a popular surfing destination and the restaurants are famously good. The Old Town's maze of alleyways hosts some of the best pintxos (the Basque version of tapas) restaurants in Spain, which also serve a draught local cider that will knock your hiking socks off. Combine this with the stunning architecture matched by the seaside sunsets, San Seb is a place we will always hold dear in our hearts.
Optional Day | Irun – San Sebastian | 24 km / 7 hours
Take the train north to Irun, a small town located on the Spanish-French border. This is a difficult but spectacular start to your Norte experience and the views are well worth the uphill climb. It's a great opportunity to find your walking rhythm and you'll be duly rewarded with a swim and a tasty meal once you arrive in San Sebastian. It's worth stopping along the way at Passajes de San Suan, a charming fishing village, before taking the small boat shuttle across the water to continue your Camino.
Day 2 | San Sebastian – Getaria | 26 km / 7 hours
The crescent-shaped Playa de la Concha is often referred to as the most beautiful city beach in Europe and it's from here that you'll say goodbye to San Sebastian. You'll follow the Camino's comforting yellow arrows out of town and tackle the first of the ascents and descents that define the Camino del Norte. As the path follows the coastline south, you'll find yourself walking across rolling green hills and over headlands to reach the small fishing towns dotted along the way.
Day 3 | Getaria – Deba | 18 km / 5 hours
Today's walking is a nice balance of pretty beach towns, expansive sea views and, of course, hills. There is an option to take a higher or lower path and, if the weather is good, it's worth taking on the high path to enjoy the spectacular views of the rugged Atlantic coastline. A small but pretty town that's popular during the summer, Deba has some nice places to eat and drink and enjoy a welcoming stretch of sand to soak up the afternoon sun.
Day 4 | Deba – Markina | 24 km / 6–7 hours
Perhaps enjoy a morning swim before heading inland from the coast to climb Collado de Arno, a tough ascent surrounded by densely forested hills. As you almost certainly know by now, the rewards along the Camino del Norte are worth the effort and Markina is a lovely place to experience, and more importantly taste, the Basque people's passion for their local cuisine. The town also boasts a strong connection with the Basque sport of 'pelota', a squash-like sport that has been played since the 13th century.
Day 5 | Markina – Gernika | 25 km / 6–7 hours
Today you'll walk past the picturesque Monasterio Zenarruza, which was first built as a church around the 10th century. Since 1988 it has been a Trappist monastery and yes, that means the monks brewed their own beer, which you may be able to try and purchase on your way through. While this is no doubt a highlight, the town of Gernika – today's final destination – is one of the most historically significant towns on the Camino del Norte.
Gernika is best known around the world for its 1937 bombing conducted by the Nazi Luftwaffe at the behest of General Franco, Spain's ruthless dictator, as part of his attempt to overthrow the regional government. The horrific event, in which an estimated 1600 civilians were killed, was immortalised by Picasso in his painting 'Guernica', which now hangs at the Reina Sofia in Madrid.
Day 6 | Gernika – Lezama | 21 km / 5 hours
After uncovering the streets and history of Gernika, the physical ups and downs of the Camino del Norte continue before reaching the town of Lezama. This is an ideal resting place to shorten what would be a very long and difficult stage through to Bilbao. Your accommodation tonight is one to remember, with a 400-year-old history and vineyards surrounding the property. The hosts offer a special dinner on most nights and we can confirm that red wine and roast chicken have never tasted so good.
Day 7 | Lezama – Bilbao | 15 km / 3–4 hours | Optional rest day in Bilbao
Today is a much easier walking day and you'll enjoy spectacular views of Bilbao, its surrounding mountains and the deep river valley it calls home. On the way into town you'll walk past the Basilica of Our Lady of Begona, which features stunning architecture and has a fascinating legend surrounding its origin.
Bilbao is the de facto capital of the Basque Autonomous Community and a really good place to spend a rest day exploring and an extra night eating absolutely everything. It's famous for the Frank Gehry-designed Guggenheim Museum, which was opened in 1997 and consequently sparked a revitalisation of the city.
Bilbao is now a popular tourist destination and a cultural hotspot with world-renowned dining options, beautiful landscapes and a truly cosmopolitan buzz about it. We highly recommend going for a pintxos (tapas) crawl through the market square and trying the spider crabs – utterly delicious.
Day 8 | Bilbao – Portugalete | 15 km / 3–4 hours
Ease back into the Camino del Norte after what will have been a challenging few days and, for some, a well-earned rest in Bilbao. This flat section will take you out of Bilbao's city limits to Portugalete, following the Camino's yellow markers all the way. Sitting at the mouth of the Estuary of Bilbao, Portugalete is a relatively large coastal town and has an incredible World Heritage-listed bridge, the Vizcaya Bridge, which must be seen to be believed.
Day 9 | Portugalete – Castro Urdiales | 26 km / 7 hours
Leave Portugalete and the Atlantic coastline for a little while as you make tracks inland through the region's fragrant forests. It's a great a day of walking, especially if the weather is fine, and Castro Urdiales is a welcoming destination at the end of your final descent. The town is a pleasing mix of medieval and modern design, with a huge Gothic church in the centre of town and a pretty harbour and beach. It's also known for its seafood – particularly sardines and anchovies – so don't hesitate to fuel up for tomorrow's walk.
Day 10 | Castro Urdiales – Laredo | 30 km / 7–8 hours
The path continues along the coastline today with spectacular cliffs overlooking the Cantabrian Sea. Before reaching Laredo, you can choose to either cross the valley and pass the Church of Nuestra Senora de Liendo in Hazas, or follow the paths up to the Chapel of St Julian. Whatever you decide, all roads lead to Laredo and the beauty of its beaches and well-preserved medieval quarter.
Day 11 | Laredo – Noja / 14 km / 3–4 hours
Begin the day with a beach walk and catch the ferry to the town of Santoña before continuing along the coast to Noja. You'll eventually graduate from sand to pavement and it's a nice, easy day along the flat to arrive in town. There is the option of an inland variant if you wish, but the walk along the beach is lovely when the sun is shining.
Day 12 | Noja – Santander | 30 km / 7–8 hours | Optional rest day in Santander
Today is a big walking day with plenty of rewarding views as you pass through San Miguel de Meruelo and Bareyo. The highlight of the day is arriving into Santander by catching a traditional boat, known as a pedrenera, and staring up at the enormous Gothic Catedral de Santander, which was constructed between the 12th and 14th centuries.
We recommend spending an extra night and a rest day in Santander, which is the capital city of the Cantabria region. There are plenty of sights including the Palacio de la Magdalena, which was once the royal summer residence and sits on the rocky La Magdalena Peninsula overlooking the Bay of Santander. The food is sublime – as it is along the entire coastline – with the fish stew a dish not to be missed by seafood lovers. It combines fresh seafood of every description including prawns, scallops, crab, octopus and more.
Day 13 | Santander – Arce | 20 km / 5 hours
Enjoy a peaceful morning stroll out of town while appreciating the classic architecture of the city. Head inland through the towns of Santa Cruz de Bezana, Mompiza and  Boo de Pielagos, eventually arriving in the small village of Arce on the banks of the Pas River.
Day 14 | Arce – Santillana del Mar | 27 km / 5–6 hours
Santillana del Mar is one of the most picturesque villages on the entire Camino del Norte. Dating back to the medieval days, the village's architecture is wonderfully preserved and reached after a lovely walk through a hilly landscape, passing through the quaint village of Suance. Described by Jean-Paul Sartre as the prettiest village in Spain, Santillana is also quite close to the World Heritage-listed Altamira cave, which contains famous prehistoric cave paintings.
Day 15 | Santillana del Mar – Comillas | 23 km / 5 hours
Cantabria's western coastline is a wild place and ripe for walking. Drink in its outstanding beauty, both natural and manmade, as you pass through the village of Cobreces and its Cistercian monastery, then continue to the golden beaches of Comillas for an afternoon dip and some time exploring the town's remarkable Modernista architecture, including a chalet designed by Gaudi. The main square is filled with bars and restaurants and perfect for people-watching as you put your feet up.
Day 16 | Comillas – Unquera | 27 km / 6–7 hours
Perhaps spend some more time taking in Comillas's sights before following the coastal path to Oyambre Natural Park. This is a hugely important park for the region's wildlife and marine ecosystems and home to a wide variety of birds, fish and molluscs. Continue on to Unquera, a small town on the banks of the Deva, a river that forms the border between the regions of Cantabria and Asturias.
Day 17 | Unquera – Llanes | 25 km / 6 hours
Cross the Deva into the Autonomous Community of Asturias, which was known as a nation and kingdom 700 years before King Fernando and Queen Isabella invented the modern state of Spain. It's a beautiful region and the village of Llanes is no exception. You'll be spoilt for choice when it comes to food and sidrerias (cider houses) and mouth-watering pork dishes are a local speciality. With a beautiful beach, phenomenal scenery and plenty of bars and restaurants, Llanes is a popular holiday town and the perfect spot for an extra night's stay and rest day.
Day 18 | Llanes – Ribadesella | 31 km / 8 hours
Continue making inroads through Asturias with the path masterfully balancing fresh sea air and grassy fields. It's a long but fairly flat day with a mix of road and trail, passing through small villages and open countryside.
Day 19 | Ribadesella – Colunga | 20 km / 5 hours
Today is one of those days when everything in the world just seems perfect – as long as the weather behaves itself. The Camino returns to ocean views in a big, big way today, with beautiful beaches and dramatic cliffs being the main feature of your walk. The Colunga coastline is known as the Coast of Dinosaurs thanks to the discovery of fossilised remains and footprints, while the town itself is well-equipped for pilgrims.
Day 20 | Colunga – Villaviciosa | 17 km / 4 hours
A shorter and easier walking day awaits with a few ups and downs along the way. Your destination is the lively market town of Villaviciosa, which plays an important role in the production of cider and is one of those small towns that typifies the Camino experience – fresh air, tranquil surroundings and plenty of space to fill with conversation with your fellow pilgrims.
Day 21 | Villaviciosa – Gijon | 30 km / 7–8 hours | Optional rest day in Gijon
In the village of Casquita we reach a fork in the road: those pilgrims following the Camino Primitivo will say their goodbyes and head south to Oviedo, while those walking the Camino del Norte will continue to Gijon. You'll tackle the sharpest ascent in many days with a 400-metre climb to Alto de la Cruz, though the view back towards the Picos de Europa mountain range is a just reward. Continue on towards Gijon, a large coastal town, and enjoy a swim, a cider and some much-earned patatas bravas.
This is another town that is ideal for an extra night and a rest day. The town is known for its maritime heritage and the old fishermen's quarter of Cimadevilla, while the Santa Catalina hill has a lovely clifftop park and sculpture. There's also the 18th-century Revillagigedo Palace, which houses an international arts centre, as well as a…Bagpipe Museum – it's actually rather interesting. There are plenty of local dishes to try too, including fabada Asturiana (a hearty stew of pork and beans) and Cabrales cheese.
Day 22 | Gijon – Aviles | 25 km / 6 hours
The walk out of Gijon is not one of the most inspiring along the Camino del Norte but there are still highlights among the industrial outskirts, including the Monte Areo recreational area, which features a prehistoric dolmen – a funerary marker – that is some 3000–5000 years old. Walk along the road to arrive in Aviles, a large town with some really interesting architecture including the other-worldly Oscar Niemeyer International Cultural Centre and the Iglesia de Santo Tomas de Cantorbery.
Day 23 | Aviles – El Pito | 28 km / 7 hours
Depart Aviles for a long day of walking with a great destination waiting for you at the end. El Pito is a fantastic place to spend the evening and you can visit the home of the powerful Selgas family on your way into town, which features Renaissance-style gardens and a grand place. You may want to visit the picturesque fishing village of Cudillero in the evening, which is the perfect place to feast on seafood that has come straight from the boat to the kitchen.
Day 24 | El Pito – Ballota | 25 km / 6 hours
With views down to the Atlantic on your right, today's walk takes you along little trails and old roads past beaches and through green forests to the small town of Ballota.
Day 25 | Ballota – Luarca | 22 km / 5 hours
Enjoy an easy walking day along flat terrain. Though there is some road walking to contend with during the day, it's evened out by the promise of yet another seaside town to spend the evening in. Spend some time walking down near the harbour and learn about the area's maritime history, or alternatively tuck into a seafood feast and a glass of wine by the water.
Day 26 | Luarca – Navia | 19 km / 4 hours
A quiet inland trail will take you to the bustling market town of Navia, planted right on a scenic riverbank. Once again, today's walk is generally quite flat with the exception of a few small ups and downs. With medieval walls and some lovely locals, Navia is a pleasant place to spend the evening and pilgrims are spoilt again when it comes to seafood with both scallops and octopus, or pulpo, featuring on most menus.
Day 27 | Navia – Ribadeo | 31 km / 7–8 hours
Today, after nearly four weeks of breathing in the salty coastal air, you'll catch your last glimpse of the ocean along the Cantabrian coast. We suggest using the alternative path via Tapia de Casariego to make the most of the sea views for as long as possible. It's a long but flat day of walking before you cross the Bridge of the Saints over the River Eo to enter Galicia – the home of Santiago de Compostela. Ribadeo sits right on the border with Asturias, alongside the river, and is famous for Cathedrals Beach, which is Galicia's second-most visited site after Santiago's cathedral.
Day 28 | Ribadeo – Lourenza | 28 km / 6 hours
Farewell the coast and climb into the enchanting Galician hills through dense groves of eucalyptus trees. The landscape feels almost Irish and it'll be of no surprise that this region has always had a strong Celtic influence. The path follows barely used roads through quiet villages and you'll be greeted by the 10th-century Benedictine Monasterio de San Salvador at the entrance to Lourenza. Your accommodation tonight is at a property just up the road, where you'll enjoy some unforgettable home-cooking and an all-encompassing silence broken only by the crow of roosters and bird song.
Day 29 | Lourenza – Abadin | 25 km / 6 hours
You should know the story by now: steep ascents rewarded with expansive views. Today you'll climb through the Galician hills to Mondonedo, which was once one of Galicia's seven capitals and has a lovely old town that's a designated national cultural-historical site. The path climbs for 11 km through tiny villages and hamlets before a reprieve as you descend to Abadin, your evening's destination.
Day 30 | Abadin – Vilalba | 20 km / 4–5 hours
A nice, easy walking day will deliver you to the small market town of Vilalba. With the distance to Santiago de Compostela quickly counting down, the meandering path through forests, farms and villages provides a good opportunity to reflect on your journey so far and what you've already achieved.
Day 31 | Vilalba – Baamonde | 20 km / 4–5 hours
This area is known as the 'Terra Cha' or the flat lands. The path continues winding through farmlands and down forest paths and rural roads, eventually reaching the small town of Baamonde. This town marks 102 km until Santiago de Compostela. There's a lovely river here, which is a popular bathing spot for pilgrims, and a palpable excitement hangs in the air with Santiago only days away.
Day 32 | Baamonde – Miraz | 15 km / 3–4 hours
A short, pleasant stroll will deliver you to Miraz, a tiny hamlet that really exists for the Camino and its pilgrims. There isn't much by the way of infrastructure, but there is an albergue and a bar and that, as you've no doubt learned by now, is really all a pilgrim needs.
Day 33 | Miraz – Sobrado dos Monxes | 26 km / 5 hours
Savour the first few kilometres as you walk out of Miraz in the morning as it's the last of the truly scenic walking on the Camino del Norte. You'll reach the highest point in Marcela, at 710 metres above sea level, before reaching the monastery in Sobrado dos Monxes. It's definitely worth visiting the chapel and surrounding grounds if you have the energy.
Day 34 | Sobrado dos Monxes – Arzua | 22 km / 5 hours
An exciting day ahead as the Camino del Norte joins the Camino Frances for the final steps into Santiago de Compostela. Some of the pilgrims you'll meet today will have been walking for 750 km or more, all the way from the French border, and you'll have too for that matter. Soak up the energy of everyone coming together for the walk to Santiago but don't forget to try the local wine, enjoy the sumptuous home-cooking and pay a visit to the two churches – the architecture is simply superb.
Day 35 | Arzua – Rua | 19 km / 4 hours
The penultimate day of the Camino del Norte takes pilgrims from Arzua to Rua, a small hamlet some 20 km from Santiago de Compostela. The path is filled with chattering pilgrims, some eager to finish their journeys, others wishing it could go on forever. Whichever you are, enjoy the atmosphere but don't be afraid to take some time to walk by yourself if needed. Make the most of your final evening on the Camino by breaking bread and sharing wine with those that have made your pilgrimage so special.
Day 36 | Rua – Santiago de Compostela | 20 km / 5 hours
The final day of a pilgrimage is one of mixed emotions. Your first glimpse of the cathedral's spire is unforgettable and the approach through Santiago's cobbled streets is one to be savoured. After arriving, take some time to sit and breathe before going to collect your Compostela (certificate) from the pilgrim's office. Tonight we celebrate the only way we know how – tapas, seafood and local wine.
Day 37 | Finish in Santiago de Compostela
Enjoy breakfast with your fellow pilgrims before saying goodbye or, rather, see you later. For those who are new wanderers we hope that your Camino was everything you'd imagined it to be.  Your journey finishes today after breakfast.
Visit www.wanderingtheworld.com.au for more information.
Inclusions
36 nights accommodation, all carefully selected to enhance your Camino experience
Private en-suite facilities
Daily luggage transfers from hotel to hotel (1 x 20kg bag unless indicated otherwise)
Daily breakfast
Information packs with route maps and instructions on how to locate hotels
Luggage identification tags
Pilgrim's passport
Emergency contact details and 24/7 local on-the-ground support
Pre-departure and ongoing support from Australian office
Guidebook
Optional Inclusions
Three-course dinners with local wine
Suggested rest days as outlined in itinerary or if required
Upgraded accommodation including paradors, country properties and premium/high-end styles
Private vehicle transfers to the trip's starting point
Single supplement for your own room
Additional night's accommodation before or after trip (please advise at time of booking)
Not Included
Flights
Travel to trip's starting point
Transfers not already outlined in detailed trip itinerary
Lunches
Accommodation
We know from personal experience that a good night's rest can make or break a trip, which is why we carefully hand-select all our accommodation. We ensure that our knowledge and firsthand experience of the best places to stay is passed on to all our walkers.
Your accommodation along the Camino is booked in advance, on a twin-share basis with private facilities, and chosen to make your pilgrimage experience as rewarding as possible. You may be staying in a refurbished farmhouse, some of which have been in the same family for centuries, or perhaps a boutique hotel with a chef who would not be out of place in a Michelin-starred restaurant. There are unique properties scattered throughout the different routes including converted monasteries, lighthouses and tiny B&Bs with the most generous hosts you could possibly imagine. Best of all, you'll always have private en-suite facilities. Wherever you end up, you'll be well looked after, warm and comfortable and, most importantly, ready to tackle the next day's walk.
Single supplements are also available so you can enjoy your room with private en-suite. This supplement will apply if you are travelling alone or if there is no gender-share option. You can request a shared room through Wandering the World at the time of booking, however this is not guaranteed.
There are opportunities to upgrade to more luxurious lodgings in many places along the Camino. These are perfect for celebrating special occasions and milestones, or even to enhance your entire journey. We can recommend some very special, unique places to indulge in the Camino hospitality in spectacular style, so please ask us about these options when booking.
Food & Dining
The local cuisine is a definite highlight of your walk. The Camino regions are famous for their culinary delights, and you'll end up exploring the destination using not only your feet, but also your taste buds.
Breakfast at your place of accommodation is usually continental style and may include cereals, yoghurt, bread, pastries, ham, tea, coffee and juices.
Lunch – at your own expense – will depend on where you are on your walk and what is available. It's often purchased at a local café or bar, with choices along the trail perhaps including Spanish omelette (tortilla Espanola), tuna empanadas, soups or sandwiches (boccadillo). Alternatively, you may wish to enjoy a picnic in a perfect spot along the path.
Evening meals are a hearty, three-course affair known as the 'pilgrims' menu'. These usually consist of a salad or soup to start, followed by a choice of a meat or pasta dish, then finishing with a dessert. This is always accompanied by a bottle of local wine, of course. On occasion, the owner of the accommodation may be in the kitchen preparing the house special, which will not disappoint.
Most evening meals are included on guided group trips, and for self-guided itineraries, Wandering the World can include as many evening meals as you wish. We may strongly recommend this in some places because it's either been a long walking day or there are limited choices available in certain destinations. We can share our advice and talk to you about this at the time of booking. We can accommodate most dietary requirements, so please let us know in advance.
THE WALKING
This trip is a self-guided itinerary, ideal for groups and independent travellers who prefer to navigate in their own way and their own time.
You will be provided with an information pack including easy-to-read maps and instructions, complete with directions to guide you on the well-marked paths and tracks. On the Camino, you will be following the yellow arrows and Camino scallop shells, while the Chemin is marked with red and white stripes. This information pack will be available at your joining hotel on the first day of your trip.
TRIP GRADE
Challenging – This itinerary is designed with more experienced walkers in mind, covering an average of 20–25 km per day, or approximately 7–8 walking hours. Longer pilgrimages will generally have some longer days of over 30 km, as per the itinerary. Surfaces may be uneven at times with regular ascents and descents, sometimes in more remote areas. A good base level of fitness and experience in walking is recommended. Whatever your previous experience, preparation and training make all our walks more enjoyable.
LUGGAGE TRANSFERS
Wandering the World arranges a daily luggage transfer to maximise your comfort and enjoyment, so all you need to carry is a day pack. Luggage allowance is one bag per person of no more than 20 kg (13 kg on the Chemin). Your luggage must be left in the reception of your hotel before breakfast (8 am) each day.
Please note:
It is essential to attach the bag tag provided to ensure your luggage is delivered to your next accommodation.
Only one bag will be moved each day and additional charges will apply if your bag is heavier than 20 kg (13 kg on the Chemin).
Should you require special arrangements for additional luggage transfers, these can be made ahead of time and must be paid as part of your final payment to Wandering the World.
GROUP SIZE
Wandering the World's guided groups have a maximum group size of 12 participants. This small group size means that we have the flexibility to stay in a wider range of accommodations, can dine together in the evenings, have the freedom to walk alone or together, and there are more opportunities to get to know your travelling companions.
TRANSFERS/TAXIS
If, for any reason, you wish to shorten your walking day, there are options along the Camino and in the villages to arrange a taxi.
On some itineraries, there are times when Wandering the World may arrange a transfer for you or can do so at your request. This might happen where small villages do not have accommodation with private facilities, for example, or when we want to take you to a special country property that we know you are going to love. In this case, Wandering the World will either arrange a transfer for you or suggest a taxi.
Transfers on the Camino are common in parts. A simple procedure is outlined in your trip notes explaining the details of your private transfer, the designated meeting point and the agreed transfer time.
WEATHER
The weather and climate on the Camino can vary from country to country, region to region and, of course, from day to day. Each season has its own benefits, with long, warm and sunny days in spring and early summer, while early spring and late autumn tend to enjoy cooler walking temperatures. Some sections may be too hot for walking mid-summer, while others are more likely to be wet at certain times. The experts at Wandering the World can discuss your preferences and guide you when you are planning your trip.
Once you've started your walk, the weather can play an important role in your overall enjoyment of the journey. Checking the forecast can be a great help when planning your days. If you do strike hotter weather, leaving early to avoid the warmest part of the day will make a huge difference.
24/7 SUPPORT & CARE
Your information pack will include details of local emergency contacts and international contacts. We have local, on-the-ground support to provide any assistance you may require and we'll also check-in with your hotel at the end of each day to ensure that you've arrived safely.
GETTING THERE / GETTING HOME
This itinerary begins in San Sebastian and ends in Santiago de Compostela.
The closest airports to San Sebastian are Barcelona, Biarritz or Bilbao.
From your airport of choice there are bus, train and flight options as per the links below.
Train bookings are recommended.  Please note you can only book two months in advance of the date of travel.
Bus:  ALSA
Train:
Bus/Train : Rome2Rio
Flights:
Also, check out: Skyscanner OR Spanish Airport Guide
INSURANCE
Insurance is compulsory for everyone who travels with Wandering the World. The insurance policy must include cover against personal accident, medical expenses, emergency repatriation and personal liability. Wandering the World recommends insurance coverage for cancellation to be taken at the same time your deposit is paid, as no exception to the cancellation provisions can be made.
BOOKING AND TRAVEL TERMS AND CONDITIONS
Wandering the World's full booking terms and conditions are available upon request and will also accompany your initial invoice for deposit.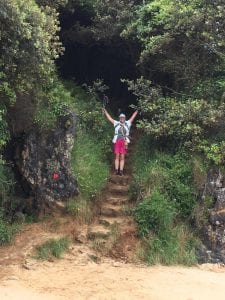 "The Camino del Norte features so many kilometres of just unbelievable coastline. The stretches of scenery go on forever, from the Basque country to the region of Galicia, and the food is on another level. San Sebastian is the cuisine capital of the world and they make a local cheesecake that's like no other. Even the small villages roar to life every Sunday with tapas galore, while the welcoming locals are always happy to share their bars along with a smile. It's a walk to remember". – Glenyce, Founder of Wandering the World.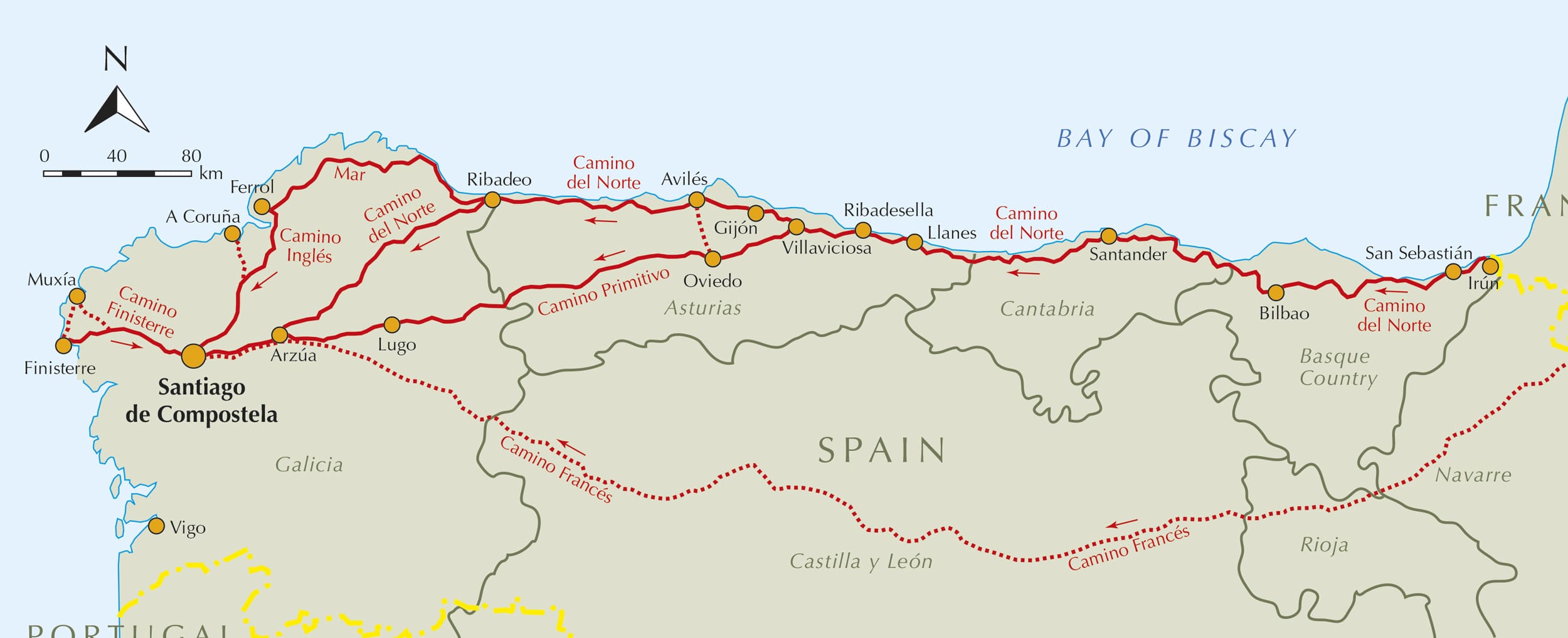 I undertook this Camino as an independent traveller, travelling with a friend from mid-September through October.  It is a good time to go as the weather has cooled down from the hot summer months and there is little rain.  We opted to stay in good quality standard hotels with luggage transfer and breakfast included.  The Camino del Norte is of similar length and duration to the Camino Frances but quite a different experience.  There are fewer pilgrims, there are more hills and valleys to traverse, but the landscapes are more varied and interesting overall.
If you enjoy views of the ocean and ocean scenery with the mighty Picos de Europa mountain range on your left hand for a lot of the walk, this is a great way to get to Santiago.
David Symonds, Camino el Norte, 2013
Wow, we just finished and loved our fourth self-guided Camino on the Camino del Norte organized by Glenyce and the WTW team … Jane and I loved this Camino as it predominantly goes along the Northern Spanish Coast then traverses down to the spiritual destination of SDC. The first week offered some great challenges as we hugged the coast and wandered through beautiful little fishing villages. Great towns including San Sebastián, Bilbao and Santander make everyday part of probably our favourite Camino … every detail and organization of our journey was first class.
 C&J Gale, Camino del Norte, 2019