Western Australia: Kimberley Walking Tour
13 days / Guided walking
Broome to Broome
Western Australia: Kimberley Walking Tour
Beginning in the historic pearling town of Broome, this thirteen-day walking tour is the perfect taste of walking, swimming, relaxing whilst exploring gorges, waterfalls, fabulous swimming holes and the magnificent landscape of the Kimberley in Western Australia.
DURATION/LENGTH
13 days/Distances Vary
START/END POINT
Broome to Broome
PRICE P/P TWIN SHARE
From AUD $4,650
Make Enquiry
SAVE/PRINT ITINERARY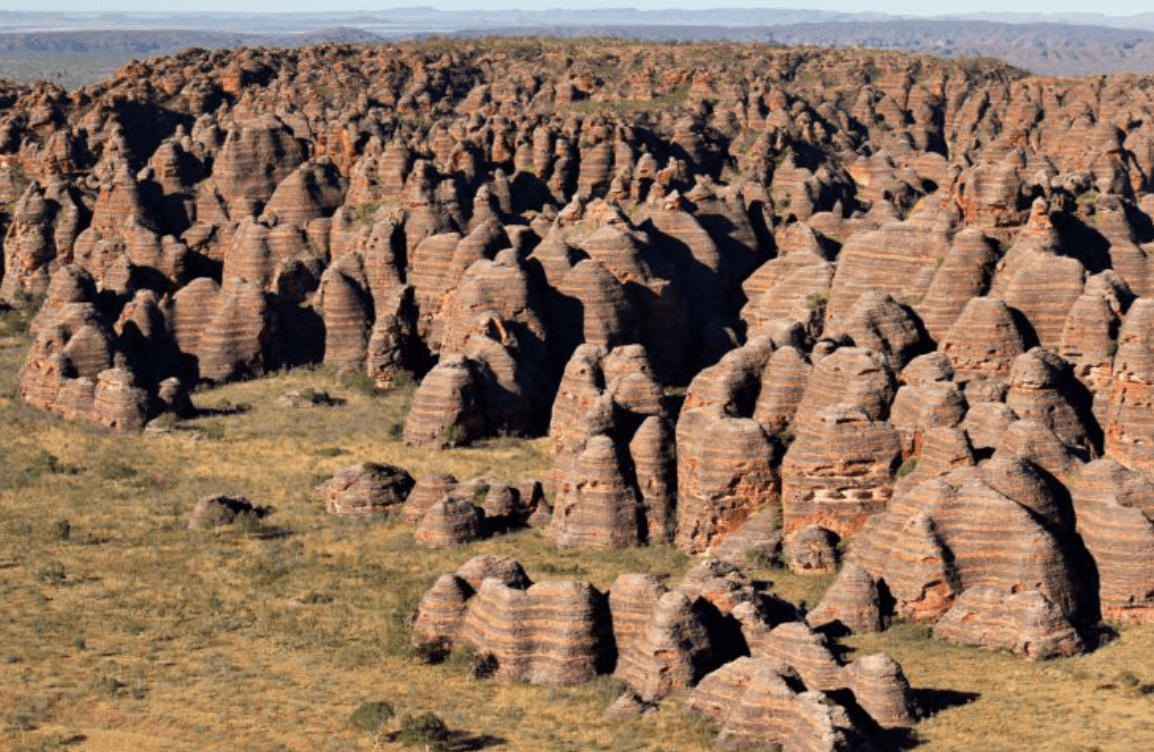 Broome, also known as Rubibi by the Yawuru people, began as a pearling town in the 1880s, it was a wild frontier back then! Its where red dirt meets the ocean, where you can shop for beautiful local pearls, visit the breweries or take camel rides on the famous Cable Beach.
The Kimberley Walking Tour includes the Gibb River Road gorges, El Questro Wilderness Park and Purnululu National Park (the Bungle Bungles).
For your comfort, our road travel is in an air conditioned 4WD vehicle.
Accommodation: Our Wandering the World accommodation differs away from our standard for this one exceptional trip. In order to reach those outback, faraway places we have a combination of hotels, and comfortable camping on stretcher beds with toilet and shower facilities. We use designated campgrounds, and provide all of the high-quality camping equipment needed, including comfortable relaxing camping chairs.
Feel free to bring your own pillow and sleeping bag or we can provide a sleeping bag hire for $45, in which case we suggest bringing your own sleeping sheet. Sleeping bags are subject to availability, so please confirm at your time of booking.
Our crew members will carry out the campsite duties, giving you time to relax and reflect on your day – there's no cooking or washing up required by you !  All eating utensils and crockery are also provided for your convenience.
We provide tents that are simple and easy to set up. You will be required to set up (and dismantle) your tent, before enjoying the sights and sounds of the night as you sit around the campfire with your travel companions.
Day 1 | Broome to Windjana Gorge | Travel Day

Leaving Broome early this morning for our road trip to Windjana Gorge, we pass Boab trees (including the famous Prison Tree) and vast savannah woodlands – see how many giant and unusual termite mounds you can spot. We enjoy morning tea and lunch on the way.
Day 2 | Windjana Gorge & Tunnel Creek | 7 km / 2 hours

On today's walk we explore the length of Windjana Gorge. Its high walls were once part of an ancient Devonian reef that surrounded the whole Kimberley area. The Gorge itself has a variety of bird life, interesting reef walls and freshwater crocodiles – you will be entertained for hours spotting the wildlife.
In the afternoon we visit Tunnel Creek, where we will walk through the 750m long cave system. Tunnel Creek is a significant site for the local Bunaba people and was used as a hideout during a battle with Europeans in 1894.
Day 3 | Windjana Gorge – Mt Barnett Station | Short walk & swim
We head through the Napier Range visiting Bell Creek Gorge and its rock pools, rapids and a waterfall. This is a fabulous spot for a swim and professed to be one of the most photographed waterholes in the Kimberley.
After your time exploring and swimming, we drive to Mt Barnett Station on the banks of the Manning Creek. More swimming perhaps?
Day 4 | Manning Creek and Surrounds | Walk, swim, relax

Leaving Mt Barnett Station early, we take a beautiful walking trail to Manning Gorge and Falls. Have a swim, relax and soak in the atmosphere whilst enjoying a lovely morning tea.
We will then head back to the campsite for lunch. A relaxing afternoon follows, read a book under a boab tree and/or take a refreshing swim in the creek nearby to the camp.
If you wish to continue exploring, there are some gorges close by, so we can take a drive out to explore one of them.
Day 5 | Manning Creek – El Questro | Travel Day

Sit back and enjoy the scenery and a true blue 'Gibb River Road massage' today.  The typical Kimberley scenery includes the Pentecost River Lookout, overlooking the river floodplain and the tabletop Cockburn Ranges beyond. We cross the Durack River and pass the site of the old Durack River Homestead, which was destroyed by flood in 2002.
Enjoy a leisurely dinner at your own expense tonight in the restaurants of El Questro.
Day 6 | El Questro Station | Moderate walk & swim

Whilst at El Questro, there are plenty of walking and swimming options to be had, including Amalia Gorge, Emma Gorge & El Questro Gorge walks. Also, why not enjoy a soak in Zebedee Thermal Springs.
An optional cruise on Chamberlain Gorge makes for an easy afternoon of relaxing.
Day 7 | El Questro Station | Moderate gorge walking & swim

Another full day at El Questro, giving you time to further explore this beautiful area.
Day 8 | El Questro Station to Kununurra – hotel accommodation | Travel Day

This morning we head for Kununurra, the gateway town to the East Kimberley and the natural attractions of the Bungle Bungle Range.
On the way we will visit the Ramsar wetland Parry Lagoons, where you can view masses of waterbirds.
A relaxing afternoon awaits.
Dinner is not included tonight which gives you the opportunity to taste some local fresh Kununurra delights.
Day 9 | Kununurra – Lake Argyle | Mirima National Park and visit to Lake Argyle

This morning we will explore the town of Kununurra, before we visit the must see "mini Bungles".
In the afternoon we will head to Lake Argyle for a look around. If you like, there is the option to take a boat trip up the Ord River, which ends at Lake Argyle.
Lunch and Dinner are at your own expense – time to visit another of Kununurra's local restaurants.
Day 10 | Kununurra – Purnululu (Bungle Bungle) | Travel Day & a sunset stroll
This morning we leave Kununurra and head for Purnululu National Park, where we visit one of only three natural World Heritage sites in Western Australia. We'll be travelling on the outback 4wd track, with creek crossings and some slow sections for 53 kilometres.
After setting up camp, we go for a stroll to watch the sun set against the red rock of the Bungle Bungle Range – bring along drink to enjoy, if you like!
Day 11 | Purnululu (Bungle Bungle) | Short to moderate walk
We spend the next two days exploring the natural wonders of the Park including Echidna Chasm, Mini Palms Gorge, the spectacular orange and black 'beehive' domes, Piccanniny Creek and Cathedral Gorge.
If you're keen, there is an optional helicopter flight over the Bungle Bungle Range – a great way to view this unique landscape.
Day 12 | Purnululu (Bungle Bungle) – Larrawa Station | Short to moderate walk
This morning we will further explore the Purnululu National Park, after a short walk, we will pack up and start our 5 hour drive to Larrawa Station, where we will have our final night of the tour.
Day 13 | Larrawa Station – Geikie Gorge – Broome | Geikie Gorge and back to Broome
This is final day of the tour, after breakfast we drive to Geikie Gorge and do a short walk, followed by morning tea.
On the way back to Broome, we will stop at Fitzroy Crossing, an outback town on the banks of the Fitzroy River, one of the longest rivers in Australia.
We'll enjoy lunch and then drop into the Visitor's Centre, before we head to Broome, arriving back at approximately 5pm, where this amazing tour ends.
Inclusions
• All transport: private 4WD vehicle to and from Broome as well as transport during your journey
• Camping and Park Entrance fees
• Professional guiding and experienced outback driver offering support each day
• 12 nights' accommodation. 2 in hotels and 10 comfortable camping
• Morning teas and snacks
• 12 healthy breakfasts
• 12 lunches
• 9 delicious dinners
Optional Inclusions
• Single supplement for your own room
Not Included
• Flights
• Transfers not already outlined in detailed trip itinerary
TRIP GRADE
Easy to Moderate – This itinerary is carefully designed for easy to manage walking days and allow you to walk as far as you like before you turn back. The surfaces can be rocky and uneven underfoot and a moderate level of fitness is recommended.
INSURANCE & MEDICAL COVER
For our Wandering the World Australian walks, we strongly recommend suitable travel insurance to cover any loss which may be suffered due to your need to cancel your trip for any personal reason. We also strongly recommend checking you have adequate medical cover to support you in the unlikely event of an accident while travelling and walking.
LUGGAGE
Due to health and safety requirements, please limit your luggage to one medium sized, soft sided bag per person. Length + width + height should not exceed 140 cm. The maximum weight of the bag shouldn't exceed 15 kg. If you're travelling as a couple, please pack two smaller bags rather than one large one. Your day pack is in addition to your main luggage bag.
BOOKING AND TRAVEL TERMS AND CONDITIONS
Wandering the World's full booking terms and conditions are available upon request and will also accompany your initial invoice for deposit.