The 5 best meals of my walking holiday.
By Lizzie G, a Wandering the World Traveller
1. Aligot, Nasbinals – In the Aubrac region of France they prepare a dish so decadent and delicious that walking 23kms a day becomes essential to walk off all the butter and cheese you have consumed. Aligot is the traditional potato dish of the region – mashed potatoes, garlic, A LOT of butter, and A LOT cheese. It looks like fondue, it tastes like heaven. I've made it at home, it's been passable, but like some beers, it's best consumed in the place it comes from – France.
2. Caprese Salad, Buonconvento – The weather was atrocious. Rain, hail and thunder. Not the kind of weather I particularly enjoy walking in, and if I can find an alternative, I will. So on the Via Francigena when the weather set in, a few like minded souls and I sought refuge in a wine bar in the walled village of Buonconvento. We had a fantastic bottle of the local red (Brunello di Montalcino, 2014, a very good year) and shared a very simple Caprese Salad with huge chunks of buffalo mozzarella and tomato, fresh basil pesto and drizzled in the freshest olive oil. Simple, delicious, memorable. I love Caprese Salads – but this was one of the best I've ever eaten and would go back tomorrow for more if I could. You could taste the sunshine that ripened the tomatoes to perfection.
3. Italian gelato – So technically this isn't a meal. Technically. But freshly made gelato at the end of a walking day, or a delicious lunch, is perfect. But there are some rules around the gelato – it has to be natural. Skip the gelato if it isn't made from natural ingredients. Also, and this is probably just me, find your flavour and stick to it – I feel like I've eaten pistacchio gelato in almost every small village from Siena to Roma.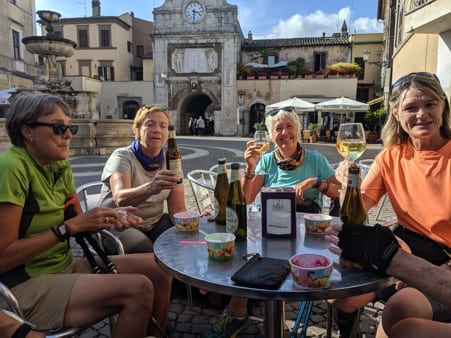 4. Tortilla – I've tried making Tortilla at home and it's just not the same. One of my few regrets in life, not ordering Tortilla for lunch every day I was in Spain walking the Camino. And the best one I've had was in a café catering for local workers in the nearby industrial area.  Workers came and went and we all sat outside wondering what the food would be like. It was amazing. But what sets this Tortilla apart from the rest? The slices of chorizo cooked at the base. I dream about this Tortilla but sadly, I can't remember the village it was in, so maybe I'll just have to retrace my steps?
5. Mushroom Omelette – I can't remember what village we found Josy's in. But on the road into a small French village were signs pointing to Josy's… it promised food and coffee. I was determined to find it. Josy's turned out to be some outdoor furniture set in the garden of a private house and single handily run by the delightful Josy who made the food, took the orders and served the meals. I think she would have been in her 70s at least. What was amazing about the Omelette was the freshness of the eggs and mushrooms. Again, a memorable meal comes back to simple and fresh. Josy might not have been that delightful, she might even have been a bit grumpy, but she's delightful to me for the simple, fresh Omelette.