Western Australia: Cape to Cape Track
8 days / Guided walking
Perth to Perth
Western Australia: Cape to Cape Track
This wild stretch of West Australian coast serves up a succession of spectacular headlands, high cliff tops, tall karri forests and long, empty beaches. Meander by rock pools full of marine life and glimpse pods of dolphin hunting fish. Feel remote and isolated, while also knowing the region's famous wineries and their offerings are not too far away.
DURATION/LENGTH
8 days/135 kms
DATES
October 22, 2022 & October 26, 2023
START/END POINT
Perth to Perth
PRICE P/P TWIN SHARE
From AUD 2,550
Make Enquiry
SAVE/PRINT ITINERARY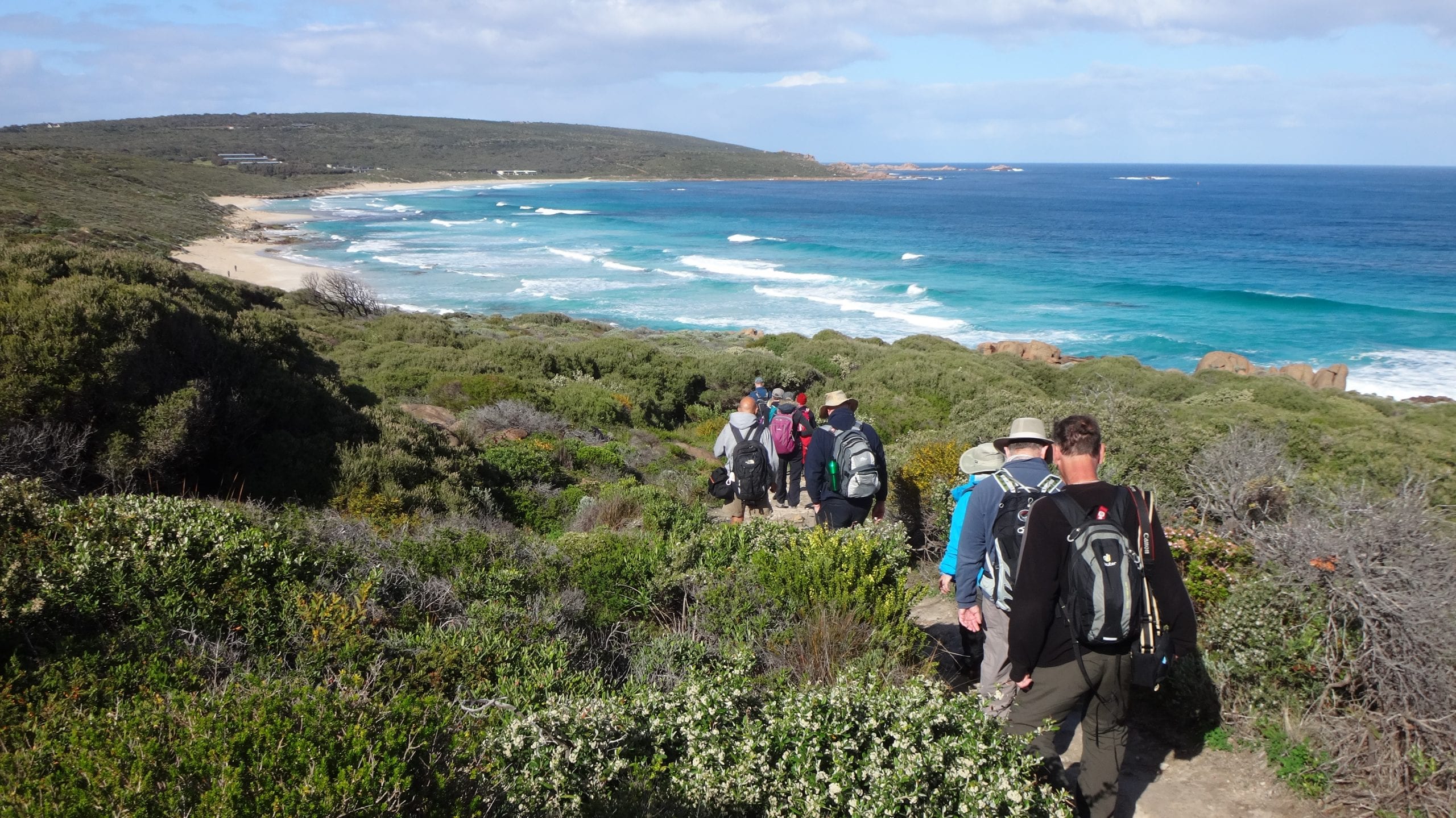 Your bucket list should include one of Australia's finest iconic walking trails! Arguably the only way to see the spectacular Margaret River coastline is walking the 135 km track where you are never far from the ocean and the seascapes and sight of the pristine white sandy beaches. To enjoy walking these cliff top panoramas you will need a good level of fitness. Most days are 20 km with a stretch to 25 km of day 5, however there is a 14 km option if you feel the longer path is not for you.
We will collect you in Perth on day one, reaching Cape Naturaliste by lunch time to enjoy the first of many picnics.
Day 1 | Drive from Perth, walk Cape Naturaliste to Yallingup | 14 km / 4 hours

We will collect you from Perth at 8am, we reach Cape Naturaliste by lunch time. Enjoy the first of many fresh picnic lunches for the week on the lawn at the Cape Naturaliste Lighthouse and get to know your companions for the week.
Today's walk on the Cape to Cape track is relatively easy with mostly cliff-top and some beach walking. Keep an eye out for dolphins!
Note, as we walk on the first afternoon, please wear your hiking clothes on the bus and bring your day pack ready to go. After our walk the bus will meet us at Yallingup and then we will drive to Margaret River.
Day 2 | Yallingup to Moses Rock | 18 km / 4 hours or optional 10 km / 3 hours

Some beach walking in the morning, and superb coastal views all day. The red granite boulders, white sand beaches and turquoise waters can be gobsmackingly beautiful.
We'll have lunch at the surfing Mecca, Injidup, visit Quinninup Falls and finish with ocean views at Moses Rock.
Day 3 | Moses Rock to Gracetown | 16 km / 4 hours
This is a great day, and relatively easy – although there are a few hills and some sandy patches. The magnificent sweeping views of the coast from cliff-top vantage points, and the towering red rocks of Willyabrup are two of many highlights.
If the weather's nice, you might enjoy a refreshing swim in the sheltered bay at Gracetown. Or just soak those feet as you reflect on another great day on the Cape to Cape track.
Day 4 | Gracetown to Margaret River mouth | 18 km / 4 hours or optional 12 km / 3 hours

It's fairly easy walking among coastal heath to Ellensbrook historic homestead, where you can enjoy morning tea and explore the grounds. The track then takes an inland route, which gives us a good appreciation of the landscape away from the ocean for a while.
After lunch we're back on the coast, and a very pleasant beach walk takes us to Cape Mentelle. We finish the day at the Margaret River mouth – a good place for a swim if it's warm.
Day 5 | River mouth to Boranup Forest | 25 km / 6 hours or optional 14 km / 3 hours
A very varied day today! We'll head inland again to start with, and enjoy morning tea beside the Boodjidup Brook. A beach walk takes us to Redgate for lunch and then a spectacular stretch of cliff-top walking sees us reach shady Contos Campground by afternoon tea.
The final part of the day is through the cool peaceful forest on firm, easy tracks. It's a wonderful end to a wonderful day on the Cape to Cape track. Despite the distance, today is not usually considered the most difficult.
Day 6 | Boranup Forest to Cosy Corner | 21 km / 5 hours or optional 14 km / 3 hours

This morning we continue through the karri forest before making our way down to the aqua-blue waters of Hamelin Bay. This 6 km beach stretch can be very enjoyable, with the right mindset. Enjoy the peace, the view and the moment as you walk into Hamelin Bay for a picnic lunch.
After lunch it's a short but challenging hike up to the tiny Foul Bay Lighthouse, with sweeping views back along the coast. Then before you know it, you'll reach the end of another beautiful day.
Day 7 | Cosy Corner to Cape Leeuwin | 21km / 5 hours

This can be an exciting last day, especially if it's windy! Much of the walking is along a limestone ledge close to the sea, complete with blowholes!
There is a long beach stretch where you can daydream about all that you've achieved this week. After that we head inland, occasionally sighting the Cape Leeuwin Lighthouse, signalling the end of your walk. Your Cape to Cape track 'end to end' journey officially finishes at the Cape Leeuwin waterwheel but we'll take a walk up to the lighthouse, if time permits. Tonight we will celebrate your wonderful achievement!
Day 8 | Return to Perth

Taking our time this morning and enjoying a leisurely breakfast before we drop you into Margaret River where you can enjoy a coffee and perhaps a spot of shopping. Pick up some take-away lunch (own expense) before we head back to Perth, arriving by mid/late afternoon.
Inclusions
• All transport: private coach transport to and from Perth; as well as transport to and from the track each day
• Professional guiding and support each day
• 7 nights comfortable accommodation
• 7 healthy breakfasts – cereal, fruit, yogurt, toast
• 8 morning teas, carried by your guide
• 7 lunches – some packed and some delivered picnics
• Pre-dinner nibbles each night
• 7 delicious two course dinners
Optional Inclusions
• Single supplement for your own room
Not Included
• Flights
• Transfers not already outlined in detailed trip itinerary
TRIP GRADE
Moderate – This itinerary is carefully designed for easy to manage walking days.
INSURANCE & MEDICAL COVER
For our Wandering the World Australian walks, we strongly recommend suitable travel insurance to cover any loss which may be suffered due to your need to cancel your trip for any personal reason. We also strongly recommend checking you have adequate medical cover to support you in the unlikely event of an accident while travelling and walking.
BOOKING AND TRAVEL TERMS AND CONDITIONS
Wandering the World's full booking terms and conditions are available upon request and will also accompany your initial invoice for deposit.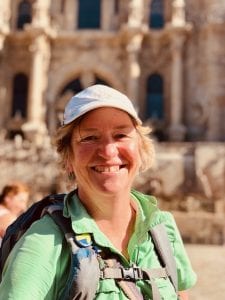 "This stretch of Margaret River coastline is unforgettable, white sandy beaches, red granite boulders complemented with blue skies and green shrubbery, certainly picture perfect comes to mind! This is a fabulous challenging walk in wine country with some of the best ocean views, and one of many highlights is the Karri Forest, again colourful and enticing. I cannot wait to get back to the west!" – Glenyce, Founder of Wandering the World.