Italy : St Francis' Way
10 days / Self-guided walking
Assisi to Rieti
St Francis' Way
Enjoy a 10-day taster of St Francis' Way from Assisi – the celebrated birthplace of St Francis – to Rieti, a wonderful Italian town. Taste and trek your way along the saint's trail through the Italian countryside, taking in jaw-dropping views and mouth-watering meals as you uncover the stories and people that make this part of the world so special.
DURATION/LENGTH
10 days/135 kms
DATES
Any date to suit you
START/END POINT
Assisi to Rieti
PRICE P/P TWIN SHARE
From EURO 1,150 / AUD 1,855
Make Enquiry
SAVE/PRINT ITINERARY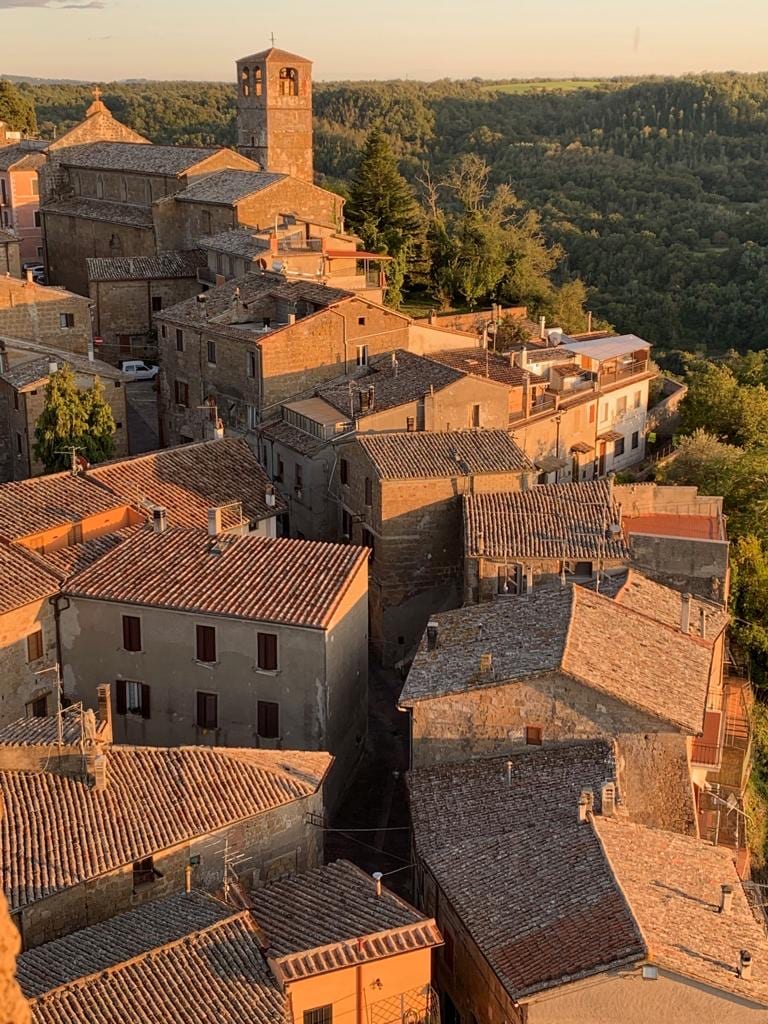 This may be a big call, but the Basilica of St Francis is one of the most inspiring buildings in Italy. It's here that you'll start your journey along St Francis' Way, walking 135 kilometres to the town of Rieti, as you journey in the footsteps of St Francis of Assisi, one of Italy's patron saints.  Along the way, you'll enjoy peaceful countryside, alpine lakes, lovely mountain scenery and some truly unforgettable meals. Italy is an absolute pleasure to walk through and this trail is very manageable for beginners, while also being testing and interesting enough for experienced walkers to enjoy.
Day 1 | Arrive in Assisi
Welcome to Assisi, a town in the Umbria region of Central Italy and the birthplace of St Francis, one of Italy's patron saints. The beautiful town is dominated its castles and churches, with the Basilica of San Francesco d'Assisi being particularly memorable. Settle in at your accommodation and spend some time exploring town, perhaps introducing yourself to some of Italy's finest cuisine at one of the many trattorias or osterias.
Day 2 | Assisi – Foligno | 20 km / 5 hours
Begin your journey along St Francis' Way at the Basilica of St Francis – a most fitting place to start. Set off in the direction of Rome, enjoying a relatively flat walk along paths and quiet secondary roads. A stop in Spello, a few kilometres before Foligno, is a great idea. It's a charming Umbrian town with plenty of little bars and cafes for a coffee or cold drink and the winding ancient streets are ripe for exploring and photo opportunities. Foligno, your destination for the evening, is an industrial and commercial centre that rose to prominence under the Papal State during the 13th century. There are plenty of interesting sights, including the cathedral, several other churches and the Piazza Della Repubblica.
Day 3 | Foligno – Campello sul Clitunno | 20 km / 5 hours
After breakfast, depart Foligno past the Porta Romana (Roman door) with the path taking you towards the Castello di Saint'Eraclio, along the ancient Via Flaminia. This Roman road led from Rome over the Apennine Mountains all the way to Ariminum, on the Adriatic Sea. Don't worry, you won't be walking all the way to the Adriatic today, but you will be following dirt roads on a testing uphill section, eventually arriving at Campello sul Clitunno. This small, fortified village is at the centre of olive oil production and has a UNESCO-listed temple, though it's most known for its lovely lake and freshwater springs, which were even mentioned by Pliny the Edler, a revered Roman philosopher and author.
Day 4 | Campello sul Clitunno – Spoleto | 12 km / 3 hours
Enjoy a short but beautiful walk today, enjoying several of the small villages that typify St Francis' Way. The stepped village of Poreta is a highlight, ensconced in olive trees and fortified walls, while the valleys and mountains along the way are certainly worth a photo or two. Your evening's destination, Spoleto, dates back to the 12th century and is home to some truly unforgettable eateries offering traditional Umbrian dishes cooked by nonna as well as Michelin-starred options. The Spoleto Cathedral is well worth visiting and features beautiful mosaic work and frescoes.
Day 5 | Spoleto – Ceselli | 17 km / 4 hours
The walk from Spoleto to Ceselli begins with a climb towards the Nerva River Valley, passing by Monteluco and the Hermitage of St Francis. This place is home to many legends about St Francis and is said to have been settled by Syrian refugees in the 5th century. Be sure to have a poke around before continuing through the hermitage's sacred woods and taking in the stunning valley of Spoleto below. The tiny village of Ceselli is a charming place to spend an evening soaking up the atmosphere of the Italian countryside.
Day 6 | Ceselli – Arrone | 15 km / 3 hours
Enjoy an easy day along St Francis' Way, walking over generally flat land with plenty of shade provided by the trees along the banks of the Nera River. There's a possibility of taking a detour today, which will see you visiting San Pietro, a medieval abbey in the small township of Ferentillo. Alternatively, continue walking towards Arrone, a hillside town with an old guard tower and lovely church, not to mention a number of quaint bars and restaurants.
Day 7 | Arrone – Piediluco | 13 km / 3 hours
Leaving Arrone, a relaxed stroll will take you to the Marmore Falls, from where the trail begins a number of ascents and descents through the wooded landscape. Though this is a short day, it's worth breaking up the stage and stopping in Piediluco, a medieval village overlooking the vast Lake Piediluco, which marks the border between Umbria and Lazio. Archaeologists have excavated evidence of settlements dating back to the Bronze Age here, though the later history of the area is just as interesting, featuring battles between the Sabines and Romans. These days, the food and wine on offer is a definite highlight and typical of a walk along St Francis' Way.
Day 8 | Piediluco – Poggio Bustone | 22 km / 5–6 hours
Continuing your journey along St Francis' Way, cross the Umbrian border into Lazio, climbing to the commune of Labro. Sitting at just over 600 metres above sea level, this hilltop village is quietly impressive place with a magnificent castle watching over the residents and surrounding countryside. This stage sees you cross the verge of the Reatini mountain range, which means a day packed with views before arriving at Santuario di Poggio Bustone, located at 820 metres above sea level. The evening views here are simply divine.
Day 9 | Poggio Bustone – Rieti | 17 km / 4 hours
Today, St Francis' Way offers up a mix of ascents and descents along a very peaceful trail. There'll be some walking on smaller mule tracks as well as the occasional paved road, eventually delivering you in the ancient city of Rieti. Set on a hilltop with lovely views of the Sabine Mountains, Rieti is the departure point for the final 100 kilometres of St Francis' Way to Rome.
There's plenty to see in town, with a particular highlight being the Rieti Cathedral. With construction beginning in 1109, it was consecrated in 1225 and rebuilt in the 17th century, though the magnificent, 13th-century bell tower still remains. All your Italian staples can be found in town; gelati, pizza, pasta. There's really no better way to celebrate finishing your walking journey along St Francis' Way!
Day 10 | Finish in Rieti
Unless you decide to continue the road to Rome, your journey along St Francis' Way officially ends after breakfast this morning.
Visit www.wanderingtheworld.com.au for more information.
Inclusions
8 nights accommodation, all carefully selected to enhance your Italian walking experience
Private en-suite facilities
Daily luggage transfers from hotel to hotel (1 x 20kg bag unless indicated otherwise)
Daily breakfast
Information packs with route maps and instructions on how to locate hotels
Luggage identification tags
Pilgrims passport
Emergency contact details and 24/7 local on-the-ground support
Pre-departure and ongoing support from Australian office
Optional Inclusions
Suggested rest days as outlined in itinerary or if required
Upgraded accommodation including agriturismo (country) properties and premium/high-end styles
Private vehicle transfers to the trip's starting point
Single supplement for your own room
Additional night's accommodation before or after trip (please advise at time of booking)
Not Included
Flights
Travel to trip's starting point
Transfers not already outlined in detailed trip itinerary
Lunches
Evening meals
Accommodation
We know from personal experience that a good night's rest can make or break a trip, which is why we carefully hand-select all our accommodation. We ensure we pass on our knowledge and firsthand experience of the best places to stay to all our walkers.
Your accommodation along Italy's walking trails is booked in advance, is on a twin share basis with private facilities, chosen to make your pilgrimage experience as rewarding as possible. You may be staying in local bed and breakfast style properties including small hotels and guesthouses. At times we will stay in small remote villages, with limited choices, however, our assortment always guarantees your own private en-suite facilities. Wherever you end up, you'll be well looked after, warm and comfortable and, most importantly, ready to tackle the next day's walk.
Single supplements for your own room are on a request basis.
In many places there are luxury, upgraded options available. We can recommend some very special, unique places to enjoy the Italian hospitality in 4 and 5 star or more.  Please ask us about these options.
Dining 
Italy is world famous for its cuisine and although you've come for the walking, the eating will be a focal point, with countless famous and traditional must eat meals awaiting your discovery. Italians are the masters of turning simple into spectacular, with the focus on regional, seasonal and fresh ingredients.
Breakfast at your place of accommodation, is usually continental style and may include cereals, yoghurt, bread, pastries, ham, tea, coffee, and juices.
Lunch, at your own expense, will depend on where you are on your walk and what is available, and is often purchased at a local café or bar. Lunch choices along the trail may include a slice of pizza, some panetteria (bakery) delights and if you have a sweet tooth the choices are many, not forgetting the gelati to round off any meal. Or perhaps a picnic you have brought with you to enjoy in the perfect spot.
There are plenty of choices for dining on the walking paths in Italy.  In most places you can choose from the less formal eateries such as an enoteca, osteria or a trattoria, serving local wines and simple tasty wholesome food.  There is usually a pizzeria in town that cater for early diners, and in the larger cities there is overwhelming options and with Michelin recognised and quality establishments you are spoilt for choice.
THE WALKING
This trip is a self-guided itinerary, ideal for groups and independent travellers who prefer to navigate their own way, in their own time.
You will be provided with an information pack with easy to read maps and instructions, complete with directions to guide you on the well-marked paths and tracks. Your information pack will be available at your joining hotel on the first day of your trip.
TRIP GRADE
Moderate – This itinerary is carefully designed for easy to manage walking days.  Between 14-24 km per day, approx. 4-6 walking hours. There is a basic level of fitness required and some uphill stretches in part.
Given you only need carry a lightweight day bag and your water supply, which can be replenished in the various villages on route and other essentials such as snacks and rainwear. It makes this trip very manageable for an inexperienced walker with a reasonable level of fitness.
LUGGAGE TRANSFERS
For your comfort and enjoyment Wandering the World arrange a daily luggage transfer. All you need to carry is a day pack and be free to enjoy your walking. Luggage allowance is one bag per person of no more than 20kg. Luggage must be left in the reception of your hotel before breakfast (8am) each day, before you move on.
It is essential to attach a bag tag provided to ensure your luggage is delivered to your next accommodation.
*Please note only one bag will be moved each day, additional charges will apply if your bag is heavier than 20kg. Should you require special arrangements for additional luggage transfers, this can be booked ahead of time.
GROUP SIZE
Wandering the World guided groups have a maximum group size of 12 participants. This small group size has many advantages including flexibility to stay in a wider range of accommodation options, dining together of an evening, the opportunity to get to know your travelling companions, and the freedom to walk alone or together.
TRANSFERS/TAXIS
If for any reason you wish to shorten your walking day, there are taxi and sometimes train options in the villages.
On some itineraries, there are times when Wandering the World may arrange a transfer for you or can do so at your request. For example, this might be where small villages do not have accommodation with private facilities, or we want to take you to a special out of the way hotel we know you are going to love. In this case Wandering the World will either arrange a transfer for you or suggest in your trip notes that you will need a taxi at your own expense.
Occasionally transfers are required due to limited accommodation options.  A simple procedure is outlined in your trip notes explaining the details of your private transfer, the designated meeting point and the agreed time.
WEATHER
The weather and climate on our Italian walks is varied, from region to region, and of course from day to day. Each season has its benefits, with lovely long warm and sunny days in Spring and early Summer, to cooler walking temperatures early Spring and late Autumn. Some sections may be too hot for walking mid-summer, and some more likely to be wet, or even snow at other times. Talk to Wandering the World when making your plans, to discuss your preferences.
Once on your walk, the weather can play an important part on the enjoyment of the journey.  Checking the forecast can assist with your plans.  If you strike warm weather, which you think may be uncomfortable, leaving early to avoid the hottest part of the day can make a difference.
24/7 SUPPORT
Your information pack will include details of local emergency contacts and international contacts.
We have local on the ground support to give you any assistance you may need
We also check in with each hotel at the end of each day to endure your arrival.
GETTING THERE / GETTING HOME
This itinerary begins in Assisi and ends Rieti.
The closest airport to Assisi is Rome International Airport.
There are bus and train options for arriving and departing your walking commencement destination.
Train bookings are recommended.  Please note you can only book two months in advance of the date of travel.
From Fiumicino Airport take the Leonardo Express – a Trenitalia train connecting Fiumicino airport with a non-stop service to the main train station in Rome, Termini. It takes approx. 32 minutes and leaves the airport every half-hour.
From Rome Termini you can then travel to Assisi by bus or train (approx 3.5 hrs).  For more information see:
Getting from Rieti
To Venice S. Lucia Rail Station:
The journey from Rieti to Venice takes approx. 2 hrs by taxi/train and 2.5 hrs by bus.
Refer below for more information:
www.omio.com
To Rome Termini and onward to International Airports:
Train and Bus Options:
The journey from Rieti to Rome Termini is approx. 6-10 hrs (depending on whether you travel by train or bus).
From Rome Termini it takes approx. 32 mins to arrive at Fiumicino Airport on the Leonardo Express.  Trains leave every half-hour.
More information at the links below:
www.omio.com
INSURANCE
Insurance is compulsory for everyone who travels with Wandering the World. The insurance policy must include cover against personal accident, medical expenses, emergency repatriation and personal liability. Wandering the World recommends insurance coverage for cancellation to be taken at the same time your deposit is paid, as no exception to the cancellation provisions can be made.
BOOKING AND TRAVEL TERMS AND CONDITIONS
Wandering the World's full booking terms and conditions are available upon request and will also accompany your initial invoice for deposit.