Scotland : The Great Glen Way
9 days / Self-guided walking
Fort William to Inverness
The Great Glen Way
This nine-day, self-guided walk – where the path is marked by the ubiquitous Scottish thistle – takes you through Scotland's famous Great Glen from Fort William, near the foot of Ben Nevis, to the Highland capital of Inverness.
DURATION/LENGTH
9 days/117 kms
DATES
Any date to suit you
START/END POINT
Fort William to Inverness
PRICE P/P TWIN SHARE
From GBP 1,290
Make Enquiry
SAVE/PRINT ITINERARY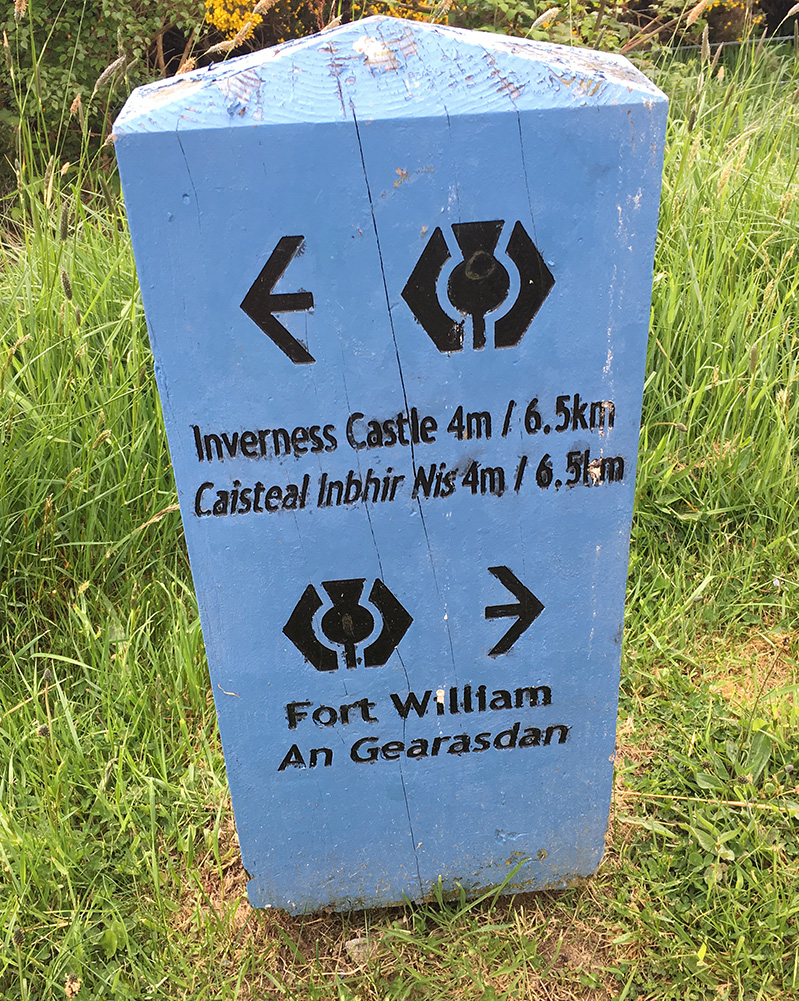 The 117-kilometre Great Glen Way is one of Scotland's premier walking routes. It follows a narrow valley and the Caledonian Canal from west Scotland to the east, travelling through atmospheric villages, along the shores of four spectacular lochs and past historic forts and castles that have witnessed some of the most famous and bloody scenes of Scotland's turbulent history.
The landscapes may vary along the way, but the beauty does not. And thanks to the cosy accommodations, hearty meals and memorable local characters, you'll soon realise that 'great' is an understatement when it comes to the Great Glen Way.
Day 1 | Arrive Fort William
Wedged between Loch Linnhe and Ben Nevis, Britain's highest mountain, Fort William is a busy highland town and a major tourist centre, which just happens to be set in one of Scotland's most magnificent landscapes. The surrounding area of Lochaber is recognised as the Outdoor Capital of the UK thanks to the world-class mountain biking at Aonach Mor and the serious walking trails in the hills around Glen Nevis to the north of the town.
There's plenty to do once you arrive in Fort William. You may wish to pay a visit to the Nevis Range, which is accessed by taking a trip on Britain's only mountain gondola system to 2150 feet above sea level on the north face of Aonach Mor. The views of the Great Glen, Ben Nevis and the surrounding areas are truly breathtaking. Alternatively, explore the picturesque town and perhaps track down some Scottish delicacies like buttery shortbread, Scottish salmon or even haggis. Wash it down with a Highland whiskey and rest easy for the start of the Great Glen Way tomorrow morning.
Day 2 | Fort William – Spean Bridge | 16 km
The Great Glen Way begins at the Old Fort by Loch Linne. Though there are few remnants of the fort today, there are interpretation signs providing some really interesting information about the history of both the fort and town. From here you'll head out of town on the banks of the loch, passing the shinty (a Scottish game similar to hurling) pitch, and joining the historic Caledonian Canal where it meets the Atlantic Ocean at Corpach.
It's in Corpach that you'll begin walking along Scotland's longest glen (a narrow valley). Follow the canal tow path and you'll come across Neptune's Staircase, a spectacular flight of five locks, in the town of Banavie. It's an incredible feat of engineering, particularly if you haven't seen many locks before. There'll be some fine views of Ben Nevis throughout the day so keep an eye out to your right as you're walking.
Day 3 | Spean Bridge – Invergarry | 18 km
Today's route is mainly along the peaceful forest tracks that hug the western shores of Loch Lochy. This land belongs to the Cameron Clan and walkers can visit the Clan Cameron Museum at Achnacarry, a short detour from the main route. This site was also home to one of the toughest commando training camps in the world during WWII. As you walk into Invergarry to end the day, you'll be greeted with wonderful views of the surrounding mountains. This serene settlement is pure Scotland, with a thistle stop and lock-side boathouses serving up homemade food accompanied by views that are too good to pass up.
Day 4 | Invergarry – Fort Augustus | 18 km
Join the track this morning at the side of the Caledonian Canal by following a lovely canal-side path through a variety of tall trees planted by Thomas Telford, who was responsible for engineering a number of canals, tunnels and roads across Scotland during the 18th and 19th centuries.
The path will take you almost as far as Laggan Swing Bridge to Loch Oich, one of Scotland's most beautiful lochs, with natural woodland lining both banks and an abundance of wildlife. You'll then follow the old railway line, which was abandoned in 1946, before eventually arriving at the lovely little village of Fort August, on the southern banks of the famous Loch Ness.
Day 5 | Fort Augustus – Invermoriston | 13 km
Today you're faced with two choices. You can either walk the original 'low route' of the Great Glen Way or take the 'high route'. Singing "you take the high road and I'll take the low road, and I'll be in Scotland afore you," is considered optional, but highly encouraged.
Both options depart Fort Augustus together and take to the trees above the banks of Loch Ness. The low route then carries on along a forest track among the trees, never climbing higher than 100 metres, while the high route begins with a steep climb on a well-constructed path and takes you up above the tree line. You'll be rewarded with impressive views of Loch Ness, Loch Oich and the distant mountains.
The two routes reunite before a final descent to the small village of Invermoriston, which is your destination for the night. 'Inver', for those wondering, means the mouth of a river and is a common prefix in the names of Scottish towns.
Day 6 | Invermoriston – Drumnadrochit | 23 km
Today you'll once again have the choice of walking either the low or high route. Both begin with a steep climbout of Invermoriston, along a minor road, before dividing soon after. The low route then traverses the hillside above Loch Ness while the high route continues further uphill to the tree line.
The low route will then continue along forest tracks and gradually descend almost to the shores of Loch Ness, while the high route is quite varied, alternating between thick forests, open ground and birch woodlands, with clear views – weather dependent – to the north and west. There's a fantastic viewpoint along the high route that perfectly frames the distant mountains. Once the two routes unite once more, you'll encounter a lengthy section of forestry track, which takes you to the crofting community at Grotaig, before following Loch Ness to Drumnadrochit.
Day 7 | Drumnadrochit – Abriachan | 11 km
After a solid Scottish breakfast, depart Drumnadrochit along a track that leaves the roadside to climb steadily through farmland. There are some unforgettable views behind you over both Loch Ness and Urquhart Castle. Continue winding your way through the woodland with occasional glimpses of the water below and perhaps the Scottish coastline off in the distance. From here, you'll be transferred back to Drumnadrochit for a second night of well-deserved rest.
Day 8 | Abriachan – Inverness | 18 km
This morning's walk along a quiet minor road offers expansive views across the surrounding crofts and distant peaks. Continue on to Blackfold then follow the track through Craig Leach forest and emerge at a reservoir with dramatic views of Inverness, the capital of the Highlands, and the Moray Firth stretching out behind it.
The final descent will take you past the chambered cairn – a Neolithic burial ground – at Leachkin and across some pleasant countryside before joining the Caledonian Canal once more and entering Inverness. The canal and riverside paths will lead you through the beautiful city to your finishing point at Inverness Castle and, if you time things perfectly, you may even be bagpiped in from the Great Glen Way.
Day 9 | Finish in Inverness
Although your walk comes to an end after breakfast, the beauty of the Great Glen Way will stay with you forever.
Visit www.WanderingtheWorld.com.au for more information.
Inclusions
8 nights accommodation, all carefully selected to enhance your walking experience
Private en-suite facilities
Daily luggage transfers from hotel to hotel (1 x 20kg bag unless indicated otherwise)
Daily full English breakfast
List of suggested places to dine in the evening
Information packs with route maps and instructions on how to locate hotels
Luggage identification tags
Emergency contact details and 24/7 local on-the-ground support
Pre-departure and ongoing support from Australian office
Optional Inclusions
Suggested rest days as outlined in itinerary or if required
Upgraded accommodation choices such as premium/high-end style
Private vehicle transfers to the trip's starting point
Single supplement for your own room
Additional night's accommodation before or after trip (please advise at time of booking)
Not Included
Flights
Travel to trip's starting point
Transfers not already outlined in detailed trip itinerary
Dinners
Lunches
Accommodation
We know from personal experience that a good night's rest can make or break a trip, which is why we carefully hand-select all our accommodation. We ensure we pass on our knowledge and firsthand experience of the best places to stay to all our walkers.
Your accommodation along the trail is booked in advance and is chosen to make your walking experience as rewarding as possible. Our carefully selected guest houses, inns and hotels, often steeped in history, offer a charming, cosy feel, all with private en-suite facilities. Knowing you have delightful and characterful accommodation waiting for you makes all the difference.
All our places we stay in the UK and Ireland are chosen to keep you comfortable and content. From quaint B&Bs to refurbished highland manor houses complete with roaring fires and rare whiskies, the comfort of our accommodations is matched only by the views.
Single supplements are available so you can enjoy your own room with private en-suite, and a single supplement will apply if you are travelling alone, or if there is no gender share option.  However, you can request a shared room through Wandering the World at the time of booking, however this is not guaranteed.
In many places along the trails there are luxury, upgraded options available. Perfect for a special occasion, to celebrate a milestone or to enhance your entire journey should you choose. We can recommend some very special, unique places to indulge in the local hospitality in extraordinary style. Please ask us about these options.
Food & Dining
Walking and eating go hand in hand and your wander through this spectacular countryside gives you ample opportunity to experience each regions finest produce and cooking.
Breakfast at your place of accommodation, is always a highlight and you will start your day well fuelled. Enjoy a hearty, full cooked breakfast with all the trimmings, as well as fresh fruits, cereals, yoghurt, tea, coffee, and juices.
Lunch, at your own expense, will depend on where you are on your walk and what is available.  You may discover local cafes or a pub en route to order some local fare. Some days you will need to carry your own picnic lunch, which can be arranged the evening prior, through your accommodation. Keep on the lookout for a traditional scones and cream afternoon tea to reward yourself at the end of your walking day.
Having walked these routes many times, Wandering the World is in the know as to where our walkers can enjoy a great evening meal. Dinner is your own choice and expense and we provide many suggestions on where to dine.  Ambient and traditional places where you can delight in a traditional Irish stew, freshly caught Scottish Salmon, good old Bangers and Mash or other home cooked dishes these regions are well known for.
THE WALKING
This trip is a self-guided itinerary, ideal for groups and independent travellers who prefer to navigate their own way, in their own time.
You will be provided with an information pack with easy to read maps and instructions, complete with directions to guide you on the well-marked paths and tracks. Your information pack will be available at your joining hotel on the first day of your trip.
TRIP GRADE
Moderate – This itinerary is carefully designed for easy to manage walking days. Averaging less than 20km on most days, approximately 4-6 walking hours. Surfaces are fairly even with moderate ascents and descents. A reasonable level of fitness is recommended.
Given you only need carry a lightweight day bag, this trip is very manageable for those new to walking holidays. Preparation and training make all our walks more enjoyable.
LUGGAGE TRANSFERS
For your comfort and enjoyment Wandering the World arrange a daily luggage transfer. All you need to carry is a day pack and be free to enjoy your walking. Luggage allowance is one bag per person of no more than 20kg. Luggage must be left in the reception of your hotel before breakfast (8am) each day, before you move on.
It is essential to attach the bag tag provided to ensure your luggage is delivered to your next accommodation.
*Please note only one bag will be moved each day, additional charges will apply if your bag is heavier than 20kg. Should you require special arrangements for additional luggage transfers, this can be booked ahead of time and must be paid as a part of your final payment to Wandering the World.
GROUP SIZE
Wandering the World guided groups have a maximum group size of 12 participants. This small group size has many advantages including flexibility to stay in a wide range of accommodation options, dining together of an evening, the opportunity to get to know your travelling companions, and the freedom to walk alone or together.
TRANSFERS/TAXIS
There may be options to amend your itinerary or shorten your walking day that include a transfer. Adding in extra days is also an option. Please talk to us about this when planning your trip.
On some itineraries, there are times when Wandering the World may arrange a transfer for you or can do so at your request. For example, this might be where small villages do not have accommodation with private facilities, or we want to take you to a special out of the way hotel we know you are going to love. In this case Wandering the World will either arrange a transfer for you or suggest in your trip notes that you will need a taxi at your own expense.
WEATHER
The weather and climate in the United Kingdom varies from region to region, and of course from day to day. Each season has its benefits, with lovely long warm and sunny days in Spring and early Summer, to cooler walking temperatures early Spring and late Autumn. Some walks may be too hot or wet at times. Talk to Wandering the World when making your plans and to discuss your preferences. Our expertise can guide you.
Once on your walk, the weather can play an important part on the enjoyment of the journey.  Checking the forecast can assist with your plans.  If you strike warm weather, which you think may be uncomfortable, leaving early to avoid the hottest part of the day can make a difference.
24/7 SUPPORT & CARE
Your information pack will include details of local emergency contacts and international contacts.
We have local on the ground support to give you any assistance you may need.
We also check in with each hotel at the end of each day to ensure your arrival.
GETTING THERE / GETTING HOME
This itinerary begins in Fort William and ends in Inverness.
The closest airports to the start of the walk are London (all), Glasgow International and Glasgow Prestwick.
There are bus, train & flight options for arriving and departing your walking commencement destination.
Remember all train bookings are recommended, and you can only book two months in advance of date of travel.
By Rail:
Nearest Railway Station: Glasgow Central Station and Glasgow Queen Street Station.
The journey from London Euston to Glasgow Central Station takes approximately 5 hours 30 minutes. It is then a 10 minute walk or bus to Glasgow Queen Street Station where services depart for Fort William.  Frequent services are operated on the West Coast Mainline to Glasgow.
Getting to Fort William
Scotrail operate train services to Fort William and to other destinations around the country. There are usually 3 services from Glasgow Queen Street Station each day and 2 on a Sunday (journey time 3 hours 50 minutes). There are also regular Citylink coaches to Fort William each day (journey time 3 hours).
Returning from Inverness
By Rail:
There are train services south to Glasgow and Edinburgh. There are usually 3 services per day (journey time 3 hours 45minutes).
By Bus:
There are regular Citylink bus services to Edinburgh and Glasgow (journey time 4 hours).
INSURANCE
Insurance is compulsory for everyone who travels with Wandering the World. The insurance policy must include cover against personal accident, medical expenses, emergency repatriation and personal liability. Wandering the World recommends insurance coverage for cancellation to be taken at the same time payment is made, as no exception to the cancellation provisions can be made.
BOOKING AND TRAVEL TERMS AND CONDITIONS 
Wandering the World's full booking terms and conditions are available upon request and will also accompany your initial invoice for deposit.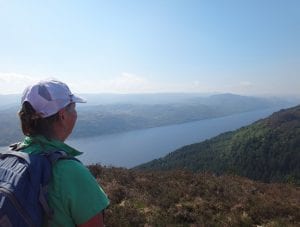 "The Great Glen Way is the icing on the cake after walking the West Highland Way. You'll head straight out of Fort William towards Inverness and, like most parts of Scotland, have a choice between the high road and the low. The most memorable views are always from the top so, naturally, I always choose the high road. Every day is more beautiful than the last. The majesty of the landscapes is hard to put into words and the path encounters historic castles, pre-historic burial grounds and tiny villages bursting with Scottish charm".  – Glenyce, Founder of Wandering the World.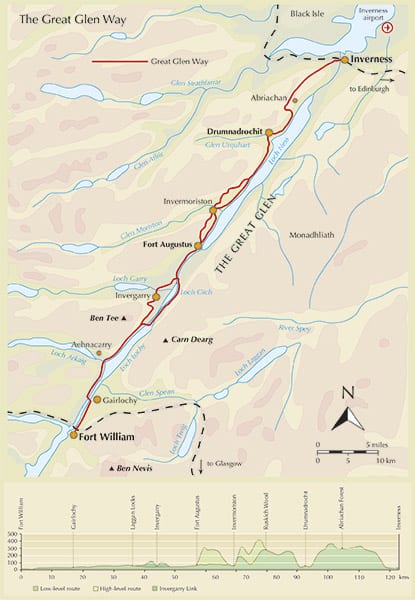 SCOTLAND – GREAT GLEN WAY 
The walking tour that we did with you was amazing!  Everything was organised so well we didn't really have to think about things too much.  All the B&B's, guest houses & hotels were superb, the hosts & hostesses were friendly & accommodating – they went out of their way to make us welcome.  
The food was great and the walking was fabulous!   It was wonderful to know that our bags would be at our destination when we arrived.  Everything went so smoothly allowing us to enjoy the beautiful scenery and soak up the history of that wonderful country. 
Thank you for everything, was very much appreciated.     Sharon Smart, GGW,  2019