What a way to start my year of walking in 2021
By Glenyce Johnson, Founder of Wandering the World
My first group walk this year was one I was thrilled to be a part of. An inspiring day and a great learning experience for me leading a group of blind and low vision walkers.
A few years ago, while walking a Camino in Spain, I encountered a group of low vision travellers making their way to Santiago de Compostela with their trusty companion by their side. I chatted to many of them as we walked and was very inspired by the experience they described and how much they were loving their journey. I was very drawn to the idea that their disability was no barrier to enjoying walking in nature and experiencing all the Camino has to offer. That day I resolved to hopefully one day share my passion for walking and the Camino with a group such as this.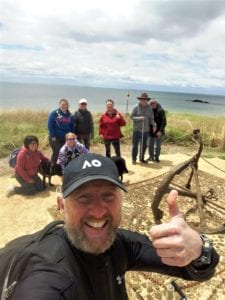 On a windy but clear day in January I was very fortunate to be able to fulfill this personal goal and lead a small group of blind and low vision walkers on Wandering the World's Ferry, Walk and Dine Experience, on the Bellarine Peninsula. Working together with Cocky Guides, specialists in travel for blind and visually impaired people, we escorted the group including two beautiful guide dogs on a fabulous day trip.

While walking and talking, I was completely inspired by their positive outlook on life and found their enthusiasm and goal setting infectious. It gave me a far greater understanding of the motivation of blind and low vision individuals to lead a fulfilling life, a life seemingly without fear. I heard many interesting stories and learnt that every person is at a different stage on the scale of blindness, with each condition unique.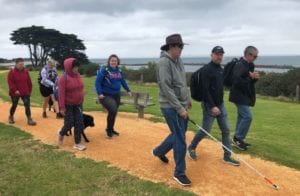 Some people were born blind while others faced their sight deteriorating over time and understandably, they seemed to have an urgency to experience as much as possible as soon as possible, so they have those memories to retain. I had the absolute pleasure of meeting one young low vision traveller who has lived and worked all over Australia, travelled to Canada, bungy-jumped amongst other adventurous sports and plans on visiting a huge waterfall before her vision deteriorates further. I was blown away by her determination and accomplishments.

I know this special group of walkers had a tremendous day enjoying the walking, the great outdoors, the conversations and the food and it was my absolute pleasure to host them. In the words of Peggy, part of the group – "Thank you for a wonderful day and insights. It was so lovely to explore your town and I am looking forward to coming back soon ".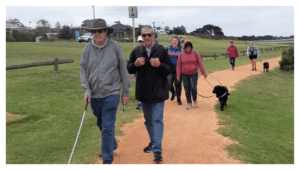 However, I think perhaps, after walking with such an inspiring group of people, it was me that found the day most rewarding.