I'm going to do that when I'm older
By Glenyce Johnson, Founder of Wandering the World
2021 – The year for walking in Australia has begun!
It's likely you have heard some people say, or perhaps said yourself – "I'm going to leave travel in Australia until I'm older".  After last year we are all a year older and certainly a lot wiser and all too aware how our world can totally change in an instant. So, I'm off! I am certainly not leaving Australia until later.
I simply can't wait to get my boots on, dust off the poles, and get out there to explore this incredibly diverse continent. And there is no better way than on foot, to get up close to the natural beauty, flora and fauna of this spectacular country of ours.
Sweeping coastlines, long empty beaches, dramatic cliffs, thick bush, rainforest, unique wildlife, spectacular native flora, appetising food and fabulous company – just some of what awaits us this year at Wandering the World.
We have put together some brilliant, guided group walking trips, showcasing all corners of Australia. As you can expect from any Wandering the World trip, we stay in comfortable accommodation, a mix of lodge, cottage and hotel style, we transfer your luggage, have an experienced guide and of course, a focus on great food, wine, and company.
I'm kick starting the year with a fun day trip on the Bellarine Peninsula in February with our "Ferry, Walk and Dine" experience. In the first half of the year, we explore our South Eastern corner, discovering the bushlands, lakes, mini mountains and coastlines of Victoria and Tassie. We head north to Kakadu mid-year then off to arguably the world's best coastline out West to walk the rewarding Cape to Cape and Bibbulmun Tracks (Albany to Denmark and/or Walpole to Denmark).
So, if you are not 'leaving it till later' and would like to explore the best Australia has to offer on foot, we have limited spots left on some of our trips, enquire with Glenyce at glenycej@wanderingtheworld.com.au or call my mobile +61 402 910 552.
Annual Wandering the World Walk – Save the Date
April 18, 2021
We are delighted to announce we are once again hosting our annual walk in the Melbourne Botanical Gardens. It's a great opportunity to re–connect with your Wandering the World friends and meet past and future travellers as we walk a leisurely 10km loop.
More details to follow, please let us know if you are planning to join us.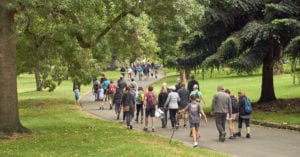 See below for more details about our Australian Guided Walks:
Victoria
The Grampians Peaks Trail – 4 days
Discover East Gippsland – 3 days
Great Ocean Walk – 3 days
Tasmania
Experience Three Capes – 4 days
Western Australia
The Bibbulmun Track: Walpole to Denmark – 8 days
The Bibbulmun Track: Albany to Denmark – 7 days
Cape to Cape Track – 8 days
Northern Territory
Kakadu, Arnhem Land, Nitmiluk & Litchfield – 8 days
Find your holiday inspiration on our website
www.wanderingtheworld.com.au