Stay young till a ripe old age.
By Glenyce Johnson, Founder of Wandering the World
Allow me to share the story of "Nin Nin", a very special person in my life, and how it comes to be her, in her 90th year, that brings you our new walk in the Grampians.
I was in my twenties when my parents passed away, and was very fortunate to be surrounded by so many fabulous friends and family to support me in my time of loss. One of those incredible people, who has been like a mother to me from my teenage years is "Nin Nin". Of course, that is how she is affectionately known. She was Mrs. Carter well into my thirties, as was the more formal ways of those times. She invited me many times to call her Margaret, but it just didn't feel quite right. When her eldest granddaughter affectionately replaced Grandma with Nin Nin, it was a name I could easily adopt too, so Nin Nin she became. Despite having seven children of her own, she was generous with her time and love and I have always felt privileged to feel like one of them.
Recently Nin Nin celebrated a milestone and turned 90. While the party had to be shelved due to current restrictions, her daughter was able take her on a special drive down memory lane from her home in Warrnambool to her birth house just out the road in Kirkstall. She had a photo taken standing out the front of the place she was born – a perfect memento of her 90-year history.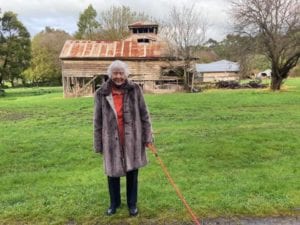 When I spoke to Nin Nin that morning, we reminisced about the many wonderful times she had spent in the Grampians. For families from Warrnambool it was like an extension of our backyard. Nin Nin enjoyed many wonderful visits in the region, and she reminded me what a spectacular place it is and how wonderful it was to walk in Australia. She also said she can't wait to get back there when restrictions lift – priding herself in staying fit, with the sharpest mind, she is one in a million and I know she could surely walk its paths if she chose.
My conversation with Nin Nin and the wonderful times we have shared, inspired me to return to the magical Grampians, and I really wanted to offer this walk for others to enjoy. So in honour of our inspirational Nin Nin, and all of the other significant "Nin Nin's" in our lives, Wandering the World brings you this special walk in the Grampians.
4-day Grampians Peaks Trail walking experience
Dates: March 1, & May 15, 2021
Price: From AUD 1,880
Starting in Melbourne, we head to Halls Gap, where we stay for 3 nights, exploring the majestic Grampians region. We combine discovering this beautiful region on foot, with an exploration into Australia's native bush foods, led by our experienced local guide who is also is a qualified chef keen to share the regions flavours.

To lock in your trip for either of the above dates, please get in touch with Glenyce at glenycej@wanderingtheworld.com.au or give her a call on 0402 910 552.
Start dreaming right here on our new site:
www.wanderingtheworld.com.au