Three sisters, three different stories, and one family walk to be remembered forever.
By Sienna, Lexi & Charli, three young Wandering the World Travellers
Animals, Lemonades and Birthday Cake – by Sienna, aged 12
My first memory from the French Camino was getting a birthday cake at dinner for my 8th birthday. The next morning, we got our Camino passports and our very first stamp to start our journey. One thing that I loved about the trip was I got to see so many animals, there were: horses, cats, dogs, pigs, lots of birds and there was even a donkey. I loved seeing the shells everywhere and the arrows that helped us stay on track. On our walk we saw amazing flowers. There were lots of different colours and shapes that were all very different from what we have back home.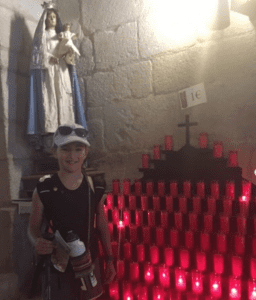 Before I left for my trip the grade 2 class teacher asked me to light a candle for her along 'The Way'.  She had read so much about the journey but never been able to make the trip herself as yet.  She explained to me how fortunate I was to be able to experience it firsthand.  I had many opportunities to light a candle for her and I sent her this picture. Each day was different but what I loved was the time I got to spend with my Mum, Dad and big sisters and also the new members of our group that came from countries all over the world. One lovely lady had a daughter back home and I enjoyed hearing the stories about her school life in the UK. Sometimes we walked with a few of us together – other times one on one. Walking along and talking about all the things you loved made you forget about how many steps you were doing. I kept checking the watch mum had lent me to see how far we had come. It always surprised me – as we did so many more steps than I felt. There was so much to see that I enjoyed the whole trip.  Often our last step for the day was met with being handed a cold lemonade on arrival which was very welcome. We often arrived in the afternoon so we still had time to play in the sunshine or kick back in our rooms. One day we even went for a swim in this huge pool. The cool water was refreshing on our legs. One lunch stop we came across hammocks and we just lay around in the shade and laughed for ages….they were so comfortable we wanted to stay all day. But our lemonade at our night stop was calling….
Learning so much, meeting new people and the swinging Botafumeiro – by Lexi, aged 14
Disembarking off the train in Sarria we made the short journey across the road to our hotel. We loved the comfort of seeing the smiling and excited faces of Glenyce & Dawn waiting for us on the platform.  I was 10 years old at the time. I feel very privileged being able to experience this journey with my family and hope to return again one day. One of the best parts was the preparation for our trip as a family and the many great walks we did together in the lead up. To be honest I found the distances each day really easy……my sisters and I often left mum and dad strolling behind. I kept a journal and a record of the Kms walked each day on our French Camino.  24, 26, 16, 15, 19, 20 it was a total of approx. 120 kms.  The little villages along the way were a great place to stop and find a yummy snack and rehydrate. Sometimes we gave our feet a rest and even changed our socks if necessary, this was one of Glenyce's tips to avoid sore feet and blisters. One of the highlights walking the French Camino was meeting different people from all over the world. I loved the conversations along the way – sometimes with one person or sometimes in a group. It was great to tell them about my friends and family back home and learn about their lifestyle, culture and experiences living in their country. This was a different way of learning and I sure learnt A LOT. It was far different to learning in a classroom – this was firsthand and such fun. And I loved getting fit while learning. The Shell is a symbol of the Camino and along with the yellow arrows on the way that guided us. There were also posts with how many kms left until Santiago de Compostela. It was a fun countdown to the finish line.
We saw many churches along the way, most of these were where we got our stamps for our Camino Passport. Collecting stamps on our passport along the way was a fun way to record our journey – and I loved looking through this again recently – reminding us of the quaint churches and interesting places that we visited.  I got to see many animals along the way….there was even a dog called 'Fatboy' which translated from his Italian name, completing the Camino journey with his owners. We saw him a few times along our path.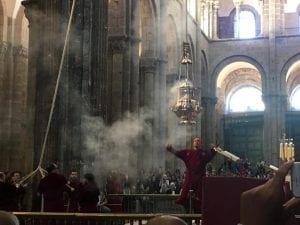 Walking the French Camino was a very special thing to be able to do and to come back and share our experiences with our teaches, family and friends was very rewarding and fulfilling. In Santiago we got to witness the Botafumeiro, this was a swinging lantern over a meter tall, hanging from a really long, thick rope, swung back and forth by 12 monks. It was a sight that was unforgettable. It swung nearly to the ceiling then swept at great speed past the floor and high up to the other end of the church. A great way to end this incredible journey.
A perfect balance, an escape and memories to last a lifetime – by Charli, aged 16
As a 12-year-old and having never experienced something similar to the Camino, I was sceptical of the whole experience. I would much rather be lying in the Spain hot summer sun or walking the streets of Barcelona with my arms full of shopping bags. But I can promise you after completing the Sarria to Santiago walk on the French Way, I look back and I am so very thankful for the experience. I am proud of myself for completing the same walk that millions before me have similarly done and I even hope that one day I'll get the chance to walk the whole thing. The French Camino for me was a way to escape the business and hustle and bustle of being a year 7 in an environment with new people and many new challenges awaiting me. Surrounded by many others – all with their own stories and reasons for undertaking the huge commitment of the pilgrimage to Santiago de Compostela. Many laughs were shared, and memories made as each day brought beautiful landscapes and exciting cultural experiences. It was crazy for me how quickly I adapted and felt apart of the journey.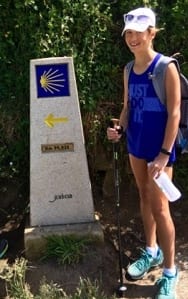 The Camino offers a perfect balance of alone time and social time. It allows you to think and reflect while also catching up with others own stories from their countries back home. To anyone contemplating if the Camino is for them, I say just do it with an open mind and you won't be disappointed. The memories I made on this trip will last with me forever and the lessons learned continue to influence my day to day life. I can confidently say I learnt so much about myself and what I want to do with my life. Dear Camino, can't wait till we meet again 🙂